Energy Bull
955 51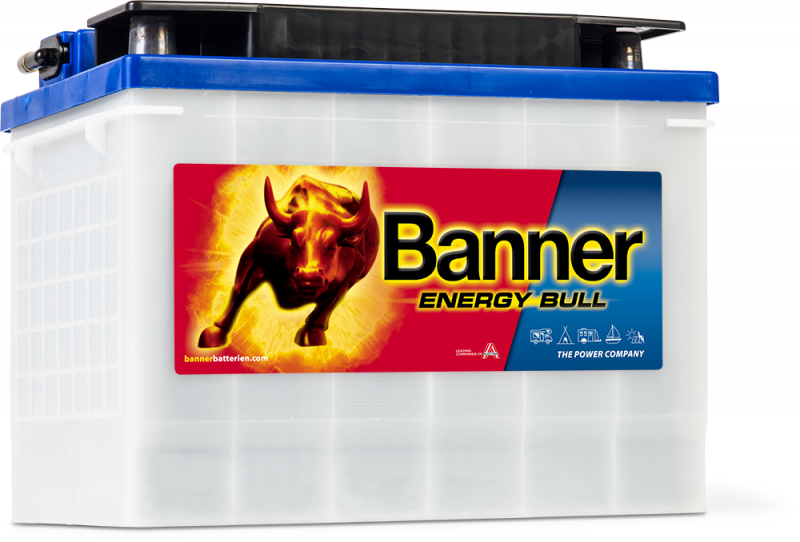 Fits the following applications
THE ENERGY BULL
HAS CONVINCING DEEP CYCLE CHARACTERISTICS.
With the Energy Bull, Banner presents a special battery for hobbies and leisure. The robust Energy Bull's characteristics make it an ideal power pack for camping/caravans, boats and use in many other applications, which extend to signal systems and electrical motor drives.
In tandem with bag separators and a special mass composition, the robust mesh structure of the battery ensures extreme cyclical resistance. The advantages at a glance:
TECHNICAL DATA AND INFORMATION
The Energy Bull offers up to 4 times the cyclical resistance of standard starter batteries and
is extremely durable
MIN/MAX markings on the transparent battery casing and easy opening make the battery maintenance-friendly
Backfire protection is integrated into the battery cover and surge protectors
Low maintenance is secured by minimum water consumption and self-discharge
The suitability of any standard charger makes charging straightforward
High classification V3 vibration resistance rating pursuant to EN 50342-1 is secured by plate bonding to the battery bottom and pocket separators with a glass web layer
Optimum capacity that is perfect to dealing with cyclical loads
Delivery in a filled and charged condition is both user- and environment-friendly
Practical handles for easy transport
We recommend the following charger

FOR CONSUMERS
Accucharger 6A Recovery
UNIVERSAL CHARGER

Fully automatic 8-step charging with automatic charge retention and special recovery mode for deeply discharged batteries.

FOR PROFESSIONAL USERS
Accucharger Pro 25A
25A PROFESSIONAL DEVICE FOR THE WORKSHOP

Fully automatic battery charging system with special 16V refresh mode for deeply discharged batteries.
Our upgrade recommendation
for increased energy demand or cold start requirements
Value of your current product:

Traction Bull Bloc AGM
AGM