Power Bull PROfessional
PRO P110 40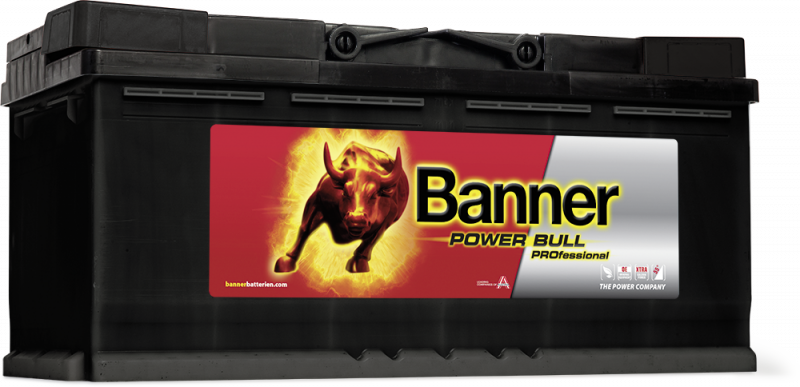 Fits the following applications
POWER BULL PROfessional
ORIGINAL QUALITY FOR RETROFITTING.

The new top versions of the Power Bull PROfessional with increased performance are based on proven Power Bull technologyand fulfil precisely the requirements of leading German automotive manufacturers. These power packs are designed for moderncars with very high energy demands but without a start/stop system.
The Power BULL PRO – the PROlongation of a success story.
The triumphal progress of the Power Bull PRO starter batteries is set to continue, as the Banner top seller quite literally combines prizewinning product quality with premium performance in a perfect symbiosis. This is simply original part excellence for retrofitting.
TECHNICAL DATA AND INFORMATION
5 types with capacities of 63 Ah/77 Ah/84 Ah/100 Ah /110 Ah
A further improvement in cold start characteristics (A)
Up to 50,000 engine starts
OEM quality according to BMW and VW stipulations
175/190mm original height
Improved cyclical behaviour thanks to an optimised mass recipe
Cold discharge test current EN (A)
We recommend the following charger

FOR CONSUMERS
Accucharger 10A Recovery
PROFESSIONAL CHARGER

Fully automatic 8-step charging with automatic charge retention and special recovery mode for deeply discharged batteries.

FOR PROFESSIONAL USERS
Accucharger Pro 25A
25A PROFESSIONAL DEVICE FOR THE WORKSHOP

Fully automatic battery charging system with special 16V refresh mode for deeply discharged batteries.
Our upgrade recommendation
for increased energy demand or cold start requirements
Value of your current product:
| | |
| --- | --- |
| Capacity K20 (Ah) | 110 |
| Cold discharge test current EN (A) | 900 |

Running Bull AGM
AGM 605 01
| | |
| --- | --- |
| Capacity K20 (Ah) | 105 |
| Cold discharge test current EN (A) | 950 |