Uni Bull
50 500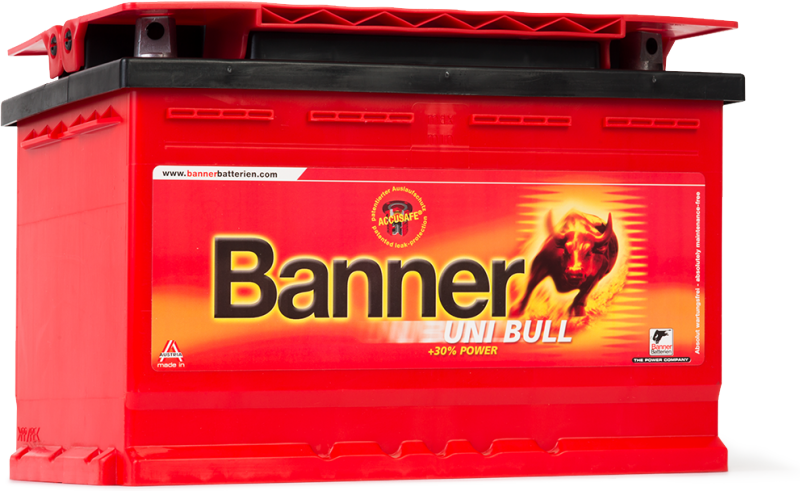 Fits the following applications
Sustainability
SAVE FUEL AND CO2 AND THEREBY REDUCE ENVIRONMENTAL IMPACT
with the sustainable batteries from Banner. 100% environmentally compatible used battery recycling.

TOP Tested Quality
TOP QUALITY from Banner for retrofitting, proven a million times over.
FULL Calcium Power
Absolute maintenance-free owing to modern calcium technology.
Security Proven
Banner battery quality, which has been proven a million times over ensures maximum starting certainty and operational safety.
UNI BULL
THE UNIVERSAL GENIUS.

ABSOLUTE MAINTENANCE-FREE AND SUITABLE FOR OVER 900 CAR MODELS!
With only four types, the Uni Bull universal starter battery fits into over 900 car models and therefore saves dealers storage capacity and money.
Round and Ford terminals, as well as a variable bottom strip with additional adapter, mean that the battery can be used virtually everywhere. Moreover, the comfortable handles also serve as a terminal cover. The Uni Bull employs modern calcium technology and a Gore membrane as leak protection, which adds up to over 30 per cent more performance than that provided by a standard DIN battery.
Alternative types as Uni Bull replacement:
50 100 T4/LB1 - Power Bull PRO P50 42/P44 09 - Layout 0
50 200 T5/LB2 - Power Bull PRO P63 42/P60 09 - Layout 0, Starting Bull 560 08 - Layout 1
50 300 H5/L2 - Power Bull PRO P63 40/P62 19 - Layout 0, Starting Bull 560 08 - Layout 1 (Box T5/LB2)
50 500 H6/L3 - Power Bull PRO P77 40/P74 12 - Layout 0, Starting Bull 572 33 - Layout 1
TECHNICAL DATA AND INFORMATION
Absolutely maintenance-free with calcium technology for minimum water consumption
Up to 30% more power, as compared to standard DIN batteries
Perfect installation with four-terminal connection that is suitable for 900 vehicle models
Reliable in extreme temperatures with full power at all times
Safe leak protection and high levels of operational safety due to the patented Accusafe system with Gore membrane
Cold discharge test current EN (A)