Starting Devices
Banner P12/24 Start Truck Evo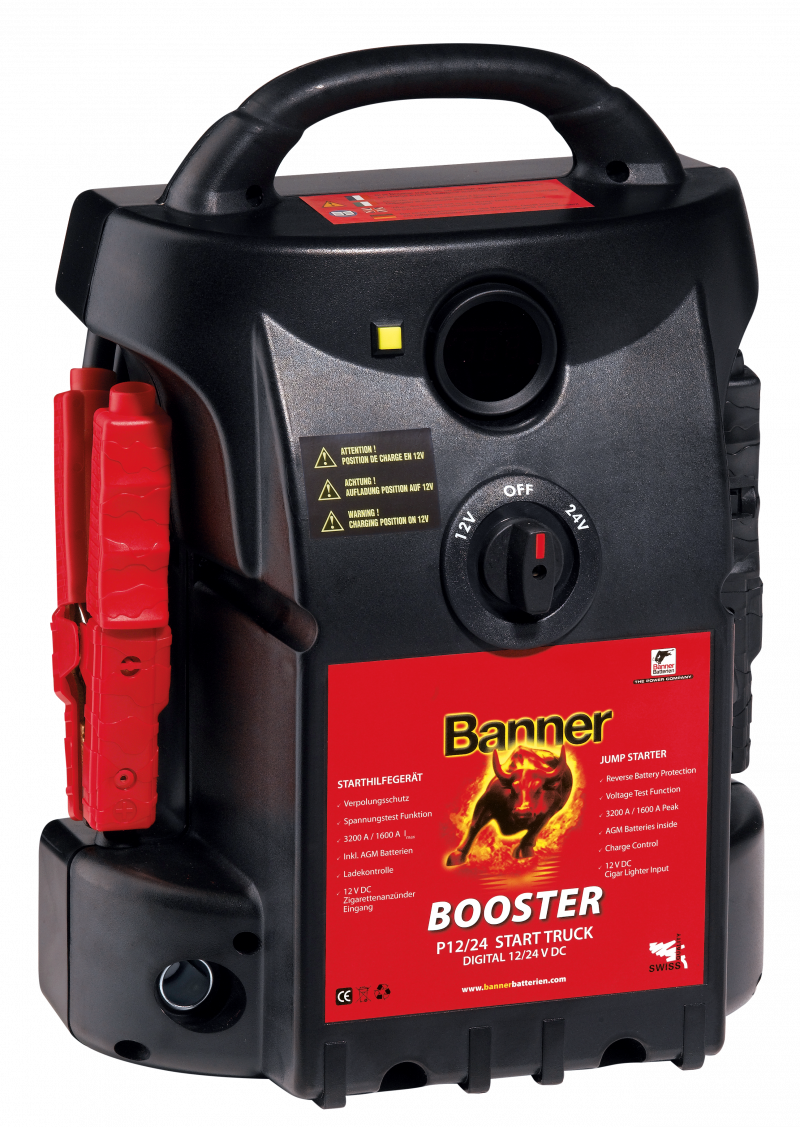 Fits the following applications
Banner P12/24 START TRUCK EVO

12V AND 24V PROFESSIONAL BOOSTER
Optimised, powerful booster for all common cars and trucks. Solid design, easy and safe operation including reverse polarity protection with visual and acoustic warning. May also be used as energy supply for mobile devices such as electric tools (supply of 230V devices also possible with converter).
Including exchangeable high-performance AGM batteries. Starting power of up to 3.200 A.
Suitable for 12V/24V wet, AGM and start/stop batteries.
Banner Jump Starters provide mobile power at any time and in any place. The portable boosters can be used quickly and are not complicated to use. Easy to operate and maximum safety.
TECHNICAL DATA AND INFO
Starting power of up to 3.200A
High-performance AGM batteries, exchangeable
Large LCD display
Exchangeable, fully isolated brass tongs with LED working light
12V/24V/off switch, reverse polarity protection including visual and acoustic warning
Solid housing, high-quality copper cable including tong holder
Test function: Voltage test of battery with integrated digital voltmeter
Automatic charger or direct charging via car 12V DC connection
Exchangeable 500A fuse with viewing window including replacement fuse
Scope of delivery: Charging cable for car cigarette lighter input (12V DC), automatic charger
Banner P12/24 Start Truck Evo
Internal battery capacity (Ah)