Bike Bull AGM
AGM 518 22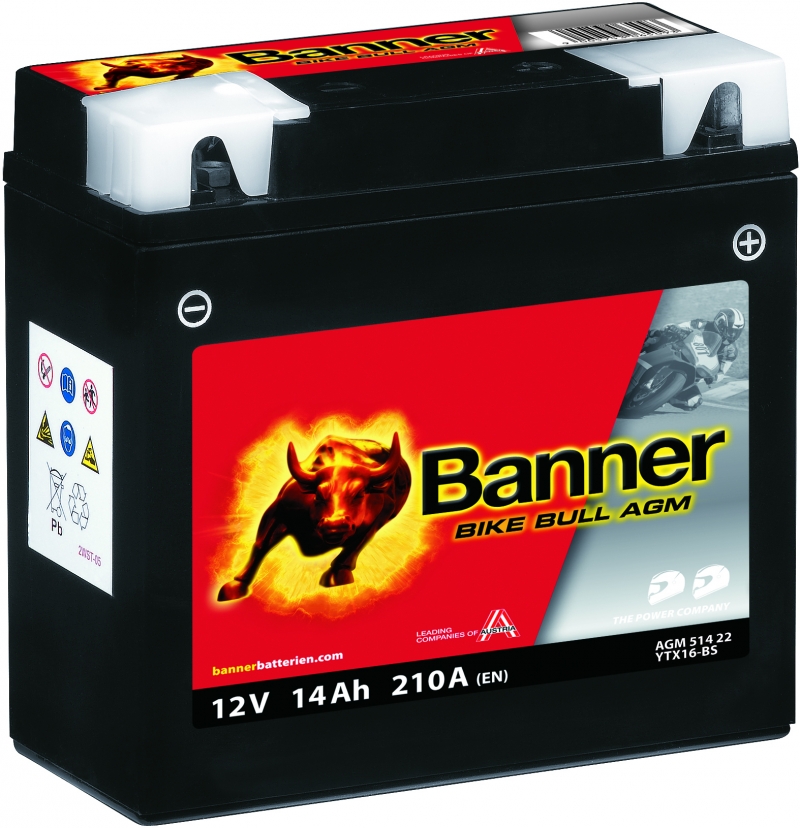 Fits the following applications
Sustainability
SAVE FUEL AND CO2 AND THEREBY REDUCE ENVIRONMENTAL IMPACT
with the sustainable batteries from Banner. 100% environmentally compatible used battery recycling.

AGM
AGM = absorbent glass mat, which absorbs the battery acid and thus binds it in.

Above all, AGM technology is employed in the start/stop systems with energy recuperation used in mid-range and premium class cars, as well as in motorcycle batteries.
Security Proven
Banner battery quality, which has been proven a million times over ensures maximum starting certainty and operational safety.
BIKE BULL AGM
THE LATEST AGM TECHNOLOGY
FOR UNIVERSAL APPLICATIONS.
This is Banner power for motorbikes, ATVs/quads, jet skis and tractor mowers. The Bike Bull AGM is an absolutely maintenance-free battery employing the latest absorbent glass mat (AGM) technology. The acid is bound into a glass fibre web and therefore cannot escape.
TECHNICAL DATA AND INFORMATION
High start performance with safety reserves
AGM technology (absorbent glass mat)
Absolute maintenance-free
Vibration-resistant
Dry, pre-charged; enclosed electrolyte in the precisely required volume
Cold discharge test current EN (A)