Buffalo Bull SHD
SHD 725 11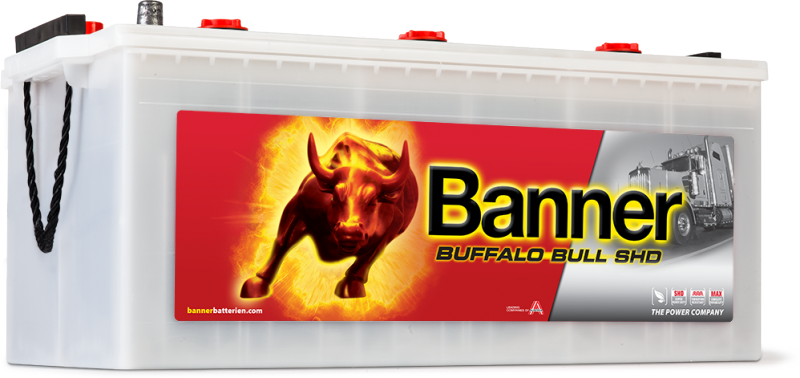 Fits the following applications
Sustainability
SAVE FUEL AND CO2 AND THEREBY REDUCE ENVIRONMENTAL IMPACT
with the sustainable batteries from Banner. 100% environmentally compatible used battery recycling.

MAX LONGLIFE durability
Maximum, long-term durability owing to highly advanced battery design using thick and robust mesh structures with a closed frame, special mass compositions and further innovative details.
Super Heavy Duty
SHD = SUPER HEAVY DUTY; for toughest, continuous operations.

SHD: extra cycle/vibration resistant - high E3/V3 classification pursuant to EN 50342-1.
Vibration Resistant
RF = vibration-resistant batteries for cars, the commercial vehicle segment, hobby/leisure and motorcycle.
BUFFALO BULL SHD
IS THE NEW FORCE FOR COMMERCIAL VEHICLES.

Rugged, constant use in commercial vehicles puts batteries to the severest test. Furthermore, over the years the demands made on modern batteries have increased greatly and in additionto cycle and vibration resistance, characteristics such as ease of maintenance, operational reliability and cold start performance are more important than ever. The optimised Buffalo Bull SHD constitutes the prefect response.
TECHNICAL DATA AND INFORMATION
Maintenance-free hybrid technology ensures minimum water consumption
SHD means extra cyclical and vibration resistance with a top E4/V3 rating pursuant to EN 50342-1
The use of special surge protectors with integrated backfire protection safeguards against battery leaks
and ensures operational safety
The ConCast production process and mesh design secure reliable cold start performance
Cold discharge test current EN (A)
We recommend the following charger

FOR CONSUMERS
Banner Accucharger 10A Recovery
PROFESSIONAL CHARGER

Fully automatic 8-step charging with automatic charge retention and special recovery mode for deeply discharged batteries.

FOR PROFESSIONAL USERS
Banner Accucharger Pro 35A
35A PROFESSIONAL DEVICE FOR THE WORKSHOP

Fully automatic battery charging system with special 16V refresh mode for deeply discharged batteries.
Our upgrade recommendation
for increased energy demand or cold start requirements
Value of your current product:
| | |
| --- | --- |
| Capacity K20 (Ah) | 225 |
| Cold discharge test current EN (A) | 1150 |

Buffalo Bull SHD PROfessional
SHD PRO 725 03
| | |
| --- | --- |
| Capacity K20 (Ah) | 225 |
| Cold discharge test current EN (A) | 1150 |

Buffalo Bull EFB
EFB 740 17
| | |
| --- | --- |
| Capacity K20 (Ah) | 240 |
| Cold discharge test current EN (A) | 1200 |