Bike Bull GEL
GEL 530 01 / BGT30-3 - GT30-3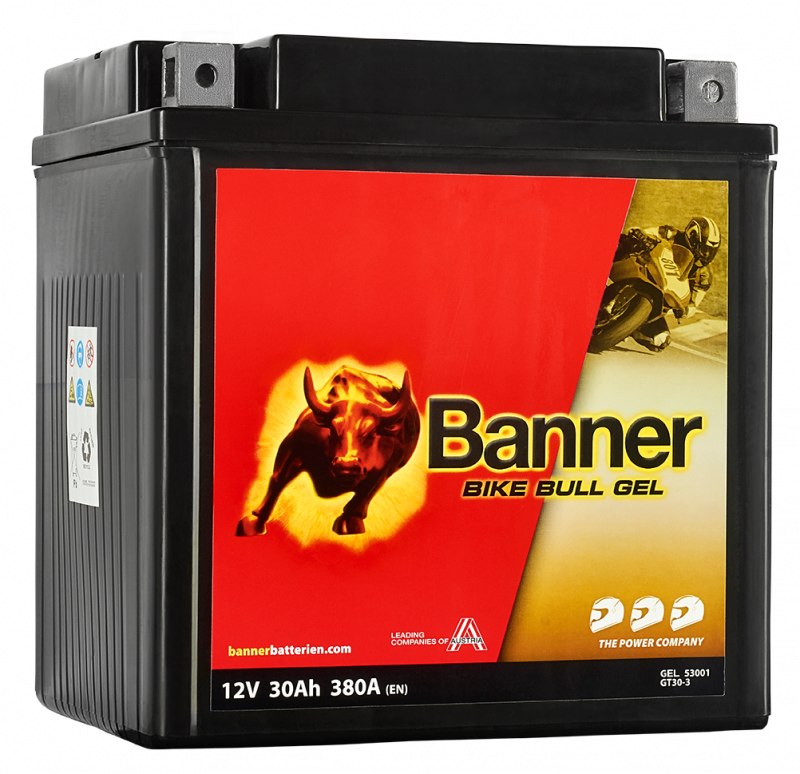 Fits the following applications
BIKE BULL GEL
GEL POWER FOR OFF-ROAD AND TOURING RIDERS.
The new Bike Bull GEL combines innovative GEL technology with outstanding user satisfaction levels and operational safety. It is ideally suited to enduro and touring bikes. The Bike Bull GEL is an advanced, top quality battery with non-woven web separator and fixed electrolyte for increased start performance and outstanding vibration and cyclical resistance.
TECHNICAL DATA AND INFORMATION
First class start performance
Excellent vibration and cyclical resistance
Absolutely maintenance-free
Completely leak-proof
Lateral installation possible
Pre-charged and ready for immediate use
GEL 530 01 / BGT30-3 - GT30-3
Cold discharge test current EN (A)
We recommend the following charger

FOR CONSUMERS
Banner Accucharger 3A
PERFECT ALL-ROUND CHARGER

Automatic 8-step charging with automatic charge retention. LED text display with instructions and notes.

FOR PROFESSIONAL USERS
Banner Accucharger 6A Recovery
UNIVERSAL CHARGER

Fully automatic 8-step charging with automatic charge retention and special recovery mode for deeply discharged batteries.
Our upgrade recommendation
for increased energy demand or cold start requirements
Value of your current product:
| | |
| --- | --- |
| Capacity K10 (Ah) | 30 |
| Cold discharge test current EN (A) | 380 |

Bike Bull AGM PROfessional
AGM PRO 530 01 / BETX30L - ETX30L
| | |
| --- | --- |
| Capacity K10 (Ah) | 26 |
| Cold discharge test current EN (A) | 400 |