LOOKING FOR THE
RIGHT BATTERY?
RUNNING BULL AGM
PIONEERING ABSORBENT GLASS MAT TECHNOLOGY
AGM for start/stop vehicles with energy recuperation.
Leakproof
thanks to electrolyte bound into the glass web
AREAS OF APPLICATION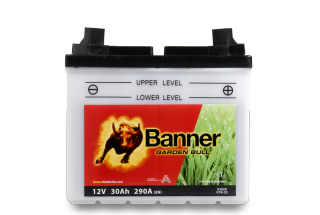 Garden Bull
Professional power for garden lawns.
Springtime and the gardening season are approaching and Banner has
already prepared the ground in timely fashion by enlarging its product portfolio with the new Garden Bull battery line. This has been specially designed for garden equipment such as tractor and ride-on mowers, and was launched onto the market during February.
Banner, which is based in Leonding, Upper Austria, has for many years been successfully manufacturing starter batteries for the sport and leisure segment, which are installed in motorcycles, quads, jet skis,
ATVs, scooters and snowmobiles. Now, Banner is additionally covering the gardening equipment market with its new, top quality Garden Bull batteries, which were specifically designed for this purpose. These are equipped with the latest lead battery technology and not only offer maximum user-friendliness and operational safety, but also outstandingly low self-discharge rates and high levels of cold start power. Furthermore, the Garden Bulls provide excellent performance and reliability in combination with a long
service life.
As Andreas Bawart, Banner's Commercial CEO states: "We are proud of the fact that with this addition to our portfolio we can attain market coverage of around 90 per cent. This has been achieved through the offer of six different battery versions for the garden mower segment." These six models have capacities ranging from 18 to 30Ah and as Andreas Bawart adds: " One of our key focal points during the creation of the Banner Garden Bull was on the type of terminal generally used for ride-on mowers. This was naturally taken into account and the design matched accordingly."
The quality Garden Bull is dry pre-charged and is supplied with a pack containing a precisely measured quantity of electrolyte. Once this is filled into the battery, it is immediately ready for use. The Banner Garden Bull is a maintenance-free wet battery, which when installed vertically offers safety against tipping and leakages. Owing to its first class design, it also offers up to thirty per cent more starting energy than standard batteries and if charged up in winter will remain reliable and powerful, not just for a season but
many years. For this purpose, Banner recommends the use of a suitable Banner Accucharger device.
Further information see pdf-document.
PDF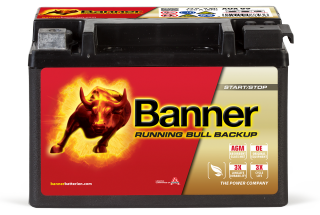 E-mobility is an opportunity for Bull power.
E-mobility is an important business area for Banner and deliveries are already being made to numerous partners.
E-mobility has for quite some time been the dominant topic of discussion in the automotive branch. Consequently, as an established manufacturer of lead-based starter batteries, Banner is confronting the resultant challenges to a greater extent than ever before.
With its AGM and EFB batteries, Banner is making a significant contribution to sustainable emobility.
It is still impossible for any e-vehicle to operate without a 12V lead-acid battery on board for the supply of its electrical systems and therefore apart from future-oriented start-ups, Banner is also supplying leading automotive manufacturers such as the BMW Group with its quality batteries. For example, the electrical system in the BMW i3 is stabilised by a Banner Running Bull AGM Backup, which feeds power to the car's 12V consumers.
The German Post Office also delivers with Banner.
For more than a year, Deutsche Post (Germany Post Office) has been using DHL e-transporters for short delivery runs. In the so-called StreetScooters, which are the product of an innovative start-up, the battery is installed behind the driver's cab and must therefore be maintenance-free. At present, Banner is supplying the required power with a Starting Bull and an 8A charger has also been installed in order to allow the simultaneous recharging of the 12V and high-voltage batteries over night.
Lead-acid batteries supply flexible energy.
Future-oriented, fuel-saving vehicles require a reliable energy source. Therefore, owing to their high levels of cyclical resistance, in particular advanced lead-acid batteries in the form of absorbent glass mat (AGM) and enhanced flooded batteries (EFB) are employed in micro-hybrid concepts. Above all, the AGM battery, which uses glass webs, is an extremely efficient battery technology that allows the flexible and extensive energy management that is vital for the vehicle technologies of tomorrow.
An emphasis on research and development
The automotive industry sees lithium-ion technology as possessing the greatest future potential for full hybrid vehicles. And although Banner is regarded as one of the leading suppliers of AGM and EFB batteries for micro-hybrid vehicles with start-stop systems, as an innovative company it is careful not to rest on its laurels. For as Andreas Bawart, the Banner Commercial CEO, explains: "A number of development projects are in progress, which are aimed at further boosting the efficiency of the AGM
battery. We have set ourselves the target of improving power charging and discharge through optimised cell design, additives in the active mass and various design measures."
Further information see pdf-document.
Download Mediainfo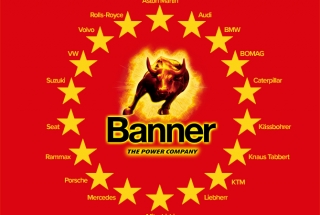 Büffelpost
The Banner customer magazine with the latest news!
THE FUTURE. BULL POWER FOR E-MOBILITY.
Top news short noticed:
- DIGITISATION. Banner WEBSITE & SERVICES FIT FOR THE FUTURE.
- COMMERCIAL VEHICLE BATTERIES. BUFFALO BULL SHD PROFESSIONAL OPTIMISED.
- BRAND NEW. INNOVATIVE PRODUCTS & EXCITING FEATURES.
Further information see pdf-document.
Download Büffelpost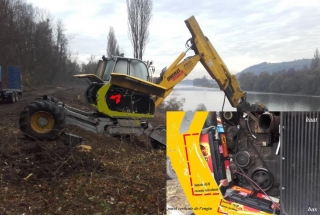 Menzi Muck - Ruck Zuck.
Walking excavators powered by Banner.
Walking, or spider, excavators are construction industry machines that are employed in terrain that is relatively inaccessible such as forests, steep mountainsides and ski slopes.
The walking excavator was invented in 1966 by the 69-year-old Swiss manufacturer, Ernst Menzi, who marketed the idea via his company Menzi Muck. The name "Muck" was adopted as a reference to the German fairy tale character "Muck, the man who's small, but can do it all." Initially, the machines were of very simple design and offered few comforts, as confirmed by an article in the " Neue Zürcher Zeitung" from the end of the 1960s, which described the excavator as, "A digger with spindly legs and the charm of a badly-lit telephone box."

Today, the Menzi Muck walking excavator owes its international success to a wealth of innovative details. These include its sophisticated high-tech chassis and the patented digger boom, as well as the various hydraulic cylinders that enable the all-rounder to match its wheels and supports to any terrain. This is the reason why in some countries, the walking excavator is known as a spider excavator.

In tracked excavators, the tipping edge is fixed, however in the case of the Menzi Muck this can be altered in line with the working operation by means of the adjustable wheel and claw supports. It is thus possible that lifting and breakout can be achieved, which are unobtainable with a standard tracked excavator. In fact, a 9.5t Menzi Muck offers the same output as a 20 t tracked excavator.

Owing to the extremely high vibration levels and the special installation position, Banner Running Bull AGM batteries are being used increasingly to start the engine of the Menzi Muck and supply its electrical system.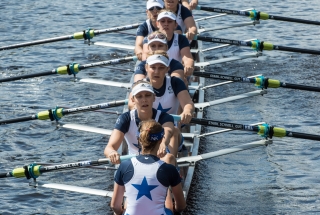 The RV Wiking Linz women's eight is powered by Banner!
Gliding over water.
Rowing? Isn't that boring? And doesn't it merely make one's arms tired? Naturally, such questions are a matter of opinion. However, in fact it is not easy to find another sport that gently stretches every muscle group to such a degree and can be enjoyed by anyone from the age of eight to eighty.
Reasons enough for the Banner buffalo to add its beef to the women's racing eight of RV Wiking Linz.

Prior to the summer break, this crew contested three of five races in Frankfurt, Münster and Hamburg, and did extremely well in what were tough competitions.

Accordingly, the Banner buffalo would like to wish the eight further sporting success and always sufficient water under its keel.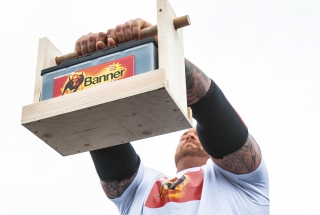 Iceland´s Strongest Man Contest 2016.
Most Impressive Strongest Man Competition.
These competitors pick up metal chests weighing 300kg like others lift a shopping bag, raise smooth, stone balls with half the weight of a Mercedes Smart into the air and lug complete car bodies around. We are talking about the Strongest Man Contests.
The English term strong man now applies to power athletes, who demonstrate their physical prowess in a range of differing competitive disciplines. These each make individual demands and therefore this sport requires maximum strength, endurance and fitness.

Cleverly directed show numbers such as rolling up frying pans and tearing telephone directories apart, etc. were and are public attractions.

Accordingly, the Icelandic Strongest Man Contest is characterised by very special and extremely tough disciplines such as the Banner battery lift. The contestants have to stand with outstretched arms for as long as possible, while being loaded with Banner batteries.

The victor in Iceland, Hafthor Julius Bjornsson, who is nicknamed "The Mountain", was crowned the island's strongest man for the fifth time and this year broke a 1,000-year-old Viking record by lifting a ship's mast weighting 650kg. Hard to believe!

In view of this performance (and the tattoos) the Banner Buffalo is mightily impressed and wishes to congratulate all the brave contestants and the victor.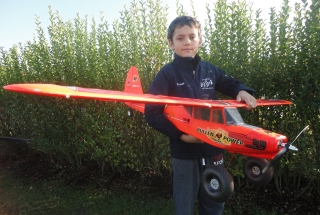 BannAIR BULLPOWER reaches for the sky!
Flying model aircraft is fascinating and not just technology for children!
Many pilots start young in the truest sense of the word and it is no secret that they frequently begin by flying model aircraft. This might even turn out to be true in the case of Oliver Fenz, a nine-year-old from Stegersbach/Burgenland (A).
His hobbies are flying model aircraft and go-karting, and he has been piloting model planes since he was five.

Along with his father, Robert Fenz, Oliver is an active member of the Stremtal Model Flying Club, which has a superb landing strip for model aircraft and allows the Fenz's to enjoy their shared hobby together.

After many hours of training, Oliver is now able to not only fly standard model planes, but also e-impeller jets and helicopters using Banner BULL POWER!

Naturally enough, he wants a career as a jet pilot and the Banner buffalo would like to wish him every success with the fulfilment of his dream, as well as plenty of flying fun in the years to come.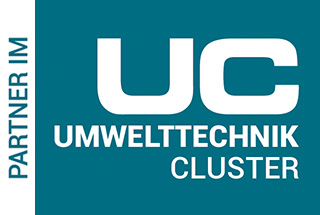 Banner is an partner in the Environmental Technology Cluster!
The Environmental Technology Cluster combines the potential and competences of its more than 2,000 partner companies, thereby increasing both their innovative strengths and international competitiveness.
The exchange of know-how and experience in the cluster creates clear competitive advantages. Specialist conferences, branch-related training and workshops, discussion groups and exclusive tours of partner companies all serve to secure vital information leadership.

The primary aim of the cluster to create an improved framework within the environmental technology branch. This is important as companies bear a major responsibility to both people and the natural world.

Accordingly, for many years Banner has undertaken an obligation to ensure optimum safety, health and environmental protection. Strict directives, which are continually updated in line with new know-how, offer strong safeguards for employees, neighbours, customers, users and the environment.

Moreover, Banner's durable start/stop batteries offer fuel savings and hence reduced ecological impact:

- A cut in annual fuel consumption of 35 million litres
- A reduction in CO2 emissions amounting 85,000t p.a.
- 100% environmentally compatible used battery recycling
- Sustainable production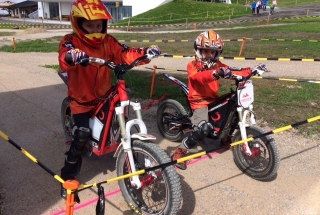 E-crosser
Loads of fun out of the socket.
This is the initial conclusion of the tests carried out by the "Steiner riders", the son and daughter of our colleague Silvio Steiner, the motorcycle battery and battery accessories product manager.
"Great fun, top speeds and no noise, not to mention really excellent output, service life and charging times.

The Banner buffalo wishes the Steiner kids more great, crash-free riding and plenty of power.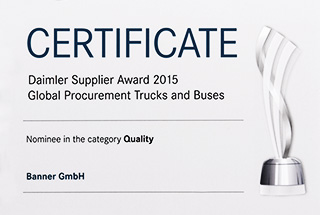 Banner nominated for the Daimler Supplier Award.
During the nomination process for its 2015 Supplier Awards, the Daimler AG selected Banner as one of its top three in the "Quality" Category
Banner was nominated for an award in the "Quality" Category as one of only three suppliers worldwide and the company's Technical CEO, Thomas Bawart, was present at the presentation ceremony in Stuttgart, which he described as: "A very special honour". He went on to say that: "This nomination is confirmation of our adopted strategy for success and underlines the importance of partnerships with innovative companies such as Daimler."
Bull Power references
Our OE customers, your trust.