ACCUCHARGER


ALWAYS LOADED
AUTOMATICALLY

TRACTION BULL
BLOC AGM

DEEP CYCLE
GOLF POWER

STAND BY BULL

SAVE SOLAR
ENERGY

TRACTION BULL

NOT ONLY FOR
IMPOSTORS

STAND BY BULL

BARRIER
ZONE ALARM!

TRACTION BULL

IDEAL FOR
AIRPORT TUGS

STAND BY BULL GEL

SAVE
WINDPOWER

STAND BY BULL

= COMMUNICATION-
SYSTEMS
LOOKING FOR THE
RIGHT BATTERY?
NEW! BUFFALO BULL EFB
THE LONG-DISTANCE TRUCK POWER.
Designed for highest energy demand due to increasing comfort functions in long-distance trucks.
Offer of two standard battery sizes (boxes B and C) with 190 Ah or 240 Ah
Increased cyclical resistance owing to the active mass recipe and non-woven covers
Robust design and top vibration resistance due to special set bonding
Improved mesh corrosion resistance due to the use of the continuous production process
Calcium technology for minimal water consumption
AREAS OF APPLICATION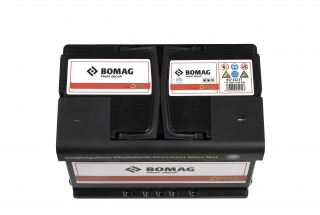 BOMAG supplier award
BOMAG Supplier Award for Banner!
Banner has been awarded by BOMAG for the fourth time in a row.
Banner wurde zum vierten Mal in Folge von BOMAG ausgezeichnet.
BOMAG, manufacturer of compaction machines, uses extremely vibration and cycle resistant EFB and AGM batteries from Banner.
The world market leader in the soil compaction sector regularly assesses its suppliers in detail and has now awarded batteries from Banner four times in succession: Banner was again able to increase slightly and, with an overall result of over 96%, will again receive the top supplier classification "A-supplier" for the year 2017.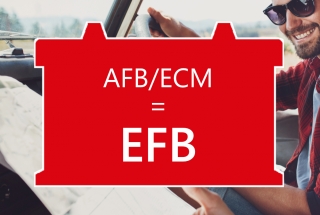 Is it possible that AFB and ECM batteries are also used for start/stop applications or generally for high energy requirements in cars?
Yes.
This is exactly the same technology as the Banner Running Bull EFB batteries.
There are often different names used on the market for start/stop technology in the battery sector:
AFB = Advanced Flooded Battery
ECM = Enhanced Cyclic Mat
EFB = Enhanced Flooded Battery

AFB and ECM car batteries can be replaced by the Banner Running Bull EFB. In identical housing and identical performance class.
PDF Banner Running Bull EFB:
EFB technology is mainly used in start/stop systems with high energy requirements. The Running Bull EFB battery is the ideal solution for small cars up to the upper middle class.
Is it possible that VRLA batteries are also suitable for start/stop applications or generally for the highest energy consumption in cars?
Yes.
This is exactly the same technology as Banner Running Bull AGM batteries.
Only different designations from different suppliers are used. For example, Mercedes notes VRLA on the top label of AGM start/stop car batteries.
VRLA car batteries can be replaced by the Banner Running Bull AGM. In identical box and in the same performance class.
AGM = Absorbent Glass Mat, the acid is absorbed in the glass fleece and thus bound.
VRLA = Valve Regulated Lead Acid, a valve-regulated lead/acid battery with AGM technology.
PDF Banner Running Bull AGM:
AGM technology is mainly used in start/stop systems with maximum energy consumption and brake energy recovery. The Running Bull AGM battery is the ideal solution here, primarily for medium and luxury vehicles.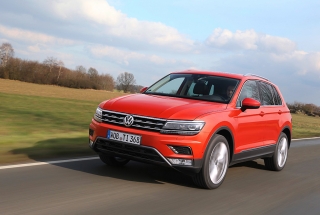 What is recuperation?
Quite simply, brake energy recovery.
When you accelerate or brake, some of your car's kinetic energy is usually lost. Part of this energy is recovered through the recuperation process.
This is because the alternator (also called generator) intentionally puts more strain on it in this phase, the voltage of the alternator is raised so that the charging process is accelerated and thus more energy is supplied to the battery. The alternator converts the kinetic energy into electricity, in principle like a bicycle dynamo. In acceleration phases and in normal operation, the output of the alternator can be partially reduced or even set to zero, which means more energy is available for the drive.
The reason: The vehicle now uses the energy that the battery has previously stored. This saves fuel and emissions.
Because Banner Running Bull series car batteries are real CO2 and fuel savers.
Energy for the environment.
Brake energy recovery and start/stop systems make modern cars much more environmentally friendly. With sustainable fuel savings and CO2 emission reductions.
Basic requirement: An extremely cycle-resistant start/stop battery Banner Running Bull, which reliably delivers maximum performance at start for start and drive for drive.
PDF Running Bull EFB*, Running Bull BackUp and Running Bull AGM**: With the highly specialized batteries of the Running Bull series, Banner completely covers the segment of power supply for start/stop vehicles. The particularly high cycle stability makes Running Bull the ideal on-board power plant that safely masters the extreme loads caused by the multiple starting processes of micro-hybrid vehicles.
EFF = Enhanced Flooded Battery, the cycle-proof starter battery
AGM = Absorbent Glass Mat, the acid is absorbed in the glass fleece and thus bound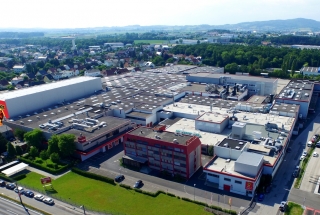 Banner breaks through the €300 million sales revenue barrier for the first time
Sales revenues increased by more than eleven per cent as compared to the previous year and amounted to €302 million, which was the highest figure in the company's 80-year history. Banner is Austria's sole battery manufacturer.
As Andreas Bawart, Banner's co-owner and commercial CEO, explains: "Quality and reliability are two of our main success factors in the hotly contested battery market. This is borne out by our highly satisfactory figures and the fact that the BMW Group has opted for our EFB batteries is especially gratifying." Banner batteries are also first fitted into numerous models from Audi, Caterpillar, Jungheinrich, Kässbohrer, Liebherr, Mercedes, Mitsubishi, Porsche, Seat, Volvo and VW.
Banner can reflect upon a successful 2017/18 financial year (1 April 2017 to 31 March 2018):
- Record sales revenues of €302 million from across all business areas
- 4.6 million starter batteries sold
- Growth due to the strong demand for starter batteries for start-stop vehicles
- Deliveries of EFB batteries (Enhanced Flooded Battery = cycle-resistant starter battery) to the BMW Group from the beginning of 2018
- Investments of more than €30 million at the Leonding location since 2015
- A focus on environmental protection: 100 per cent recycling quota
For further information see press release
PDF The Banner Running Bull EFB for start-stop vehicles with a high energy requirement
PDF Andreas Bawart, the Banner GmbH Commercial CEO*
*© Andreas Wenter/Permanent Moments
Picture caption:
Factory shot Banner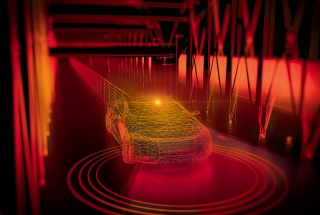 Actual Büffelpost online.
The Banner customer magazine with the latest news!
SHAPING THE FUTURE WITH INNOVATIONS.
Top news short noticed:
- PORTFOLIO. READY FOR TRENDS WITH NEW PRODUCTS
- FIRST FITTING. AGM & EFB POWER IN PREMIUM CLASS VEHICLES
- ENVIRONMENTAL MANAGEMENT. CONSERVING RESOURCES, FROM RAW MATERIALS TO RECYCLING
Further information see pdf-document.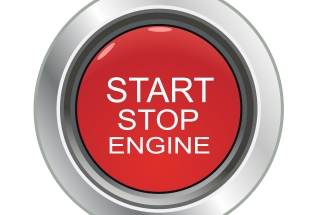 How does a start/stop system work?
Saves fuel at every red light, protects your wallet and is good for the environment.
The automatic start/stop switches the engine off and on again automatically, ...

... if you walk off or step on the clutch or brake during a stop. The savings potential: Depending on the driving situation, especially in city traffic, you use up to 0.8 l less fuel per 100 km!
The basic requirement: A particularly strong and cycle-proof start/stop battery that remains fully efficient even during frequent charging and discharging processes.
INNOVATIVE POWER FOR ENVIRONMENT-FRIENDLY MOBILITY.
Our top batteries for modern start/stop vehicles. Because Banner start/stop car batteries are real CO2 and fuel savers.

PDF With the highly specialised batteries of the Running Bull series, consisting of the Running Bull EFB*, Running Bull BackUp and Running Bull AGM**, Banner covers the entire energy supply segment in the start/stop vehicle area. Particularly high cyclical resistance makes the Running Bulls an ideal in-board power pack that safety masters the extreme loads created by frequent starts in micro-hybrid cars.
*EFB = Enhanced Flooded Battery, the cycle-resistant starter battery.
**AGM = Absorbent Glass Mat, which absorbs the battery acid and thus binds it in.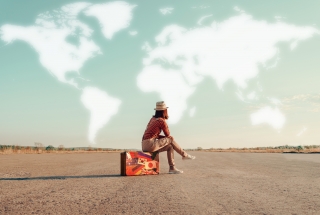 Battery-tip: Heat causes car batteries to sweat!
"Summertime blues" for batteries.
Those needing a new battery in winter have generally made a mistake in summer.

The problem is that high temperatures cause the battery water to evaporate to such as extent that the plates are literally left out to dry. The battery becomes weak and fragile.
Banner's advice is to have the battery checked every time the vehicle goes to the repair shop.
Regular checks of the electrolyte level in wet batteries and if necessary, top up with demineralized or distilled water to
the maximum acid mark, or 15 mm above the upper plate edge. Never refill with acid!
In the case of high water losses, a specialist should check the governor voltage.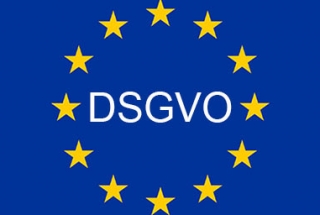 What does DSGVO mean?
Briefly simply General Data Protection Regulation.
The new EU Data Protection Ordinance (DSGVO) has been in force since 25 May 2018.
The main aim of the Basic Data Protection Ordinance is to regulate the handling of data uniformly throughout Europe.
The most important innovation of the DSGVO for website operators are the data protection regulations. Every website must contain a privacy policy. The data protection declaration is the text in which a company explains all data protection measures to its customers or visitors.
More information see PDF document.
PDF Banner Privacy Policy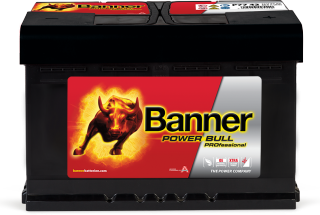 POWER BULL PROfessoinal - Original part quality for replacement needs.
Primarily used in small cars up to the luxury class.
These power packs are designed for modern cars with very high energy requirements but without a start/stop system.
The new top versions of the Power Bull PROfessional with increased performance are based on proven Power Bull technologyand fulfil precisely the requirements of leading German automotive manufacturers. These power packs are designed for moderncars with very high energy demands but without a start/stop system.
The Power BULL PRO – the PROlongation of a success story.
The triumphal progress of the Power Bull PRO starter batteries is set to continue, as the Banner top seller quite literally combines prizewinning product quality with premium performance in a perfect symbiosis. This is simply original part excellence for retrofitting.
Precisely for this reason, the product portfolio has been augmented with the following three battery types in T-boxes:
Power Bull
PRO P50 42 (T4/LB1 box – 50 Ah/400 A EN)
PRO P63 42 (T5/LB2 box – 63 Ah/600 A EN)
PRO P77 42 (T6/LB3 box – 77 Ah/680 A EN)
These represent intelligent additions to the range because numerous Ford and Vauxhall/GM models (without start/stop function or braking energy recuperation) require original battery replacements with a total height of 175 mm.
Power Bull PRO product/customer advantages in brief:
• Now 9 types with capacities of 50 Ah/63 Ah/77 Ah/84 Ah/100 Ah /110 Ah
• Double Top lid for twice the leak protection:
• and 100 per cent leak protection up to an angle of 55°
• Absolutely maintenance-free due to modern calcium technology
• A further improvement in cold start characteristics (A)
• OEM quality according to BMW and VW stipulations
• 175/190mm original height
• Improved cyclical behaviour thanks to an optimised mass recipe
In readiness for next season, at the latest the batteries will be available from the spring or summer of 2018.
Please take very careful note of these tips during battery exchanges!
Warning! Under no circumstances install a conventional wet battery in a vehicle (with start/stop function), which in serial production has been fitted with an AGM or EFB battery. Should an exchange be necessary, only use an AGM or EFB battery with an identical box and in the same performance class.
Banner Tip! A Power Bull battery can be upgraded to an even more powerful Power Bull PRO battery in T4/LB1 (44 Ah), T5/LB2 (60 Ah), H5/L2 (62 Ah), T6/LB3 (72 Ah), H6/L3 (74 Ah) and H8/L5 (95 Ah) boxes. Please contact your Banner customer advisor.
PDF The new, performance-enhanced top versions Power Bull PROfessional are based on the proven Power Bull technology and exactly meet the requirements for car batteries of leading german car manufacturers such as BMW and VW.
Bull Power references
Our OE customers, your trust.