RUNNING BULL

TOP START-STOP PERFORMANCE

ACCUCHARGER


ALWAYS LOADED
AUTOMATICALLY

TRACTION BULL
BLOC AGM

DEEP CYCLE
GOLF POWER

STAND BY BULL

SAVE SOLAR
ENERGY

TRACTION BULL

NOT ONLY FOR
IMPOSTORS

STAND BY BULL

BARRIER
ZONE ALARM!

TRACTION BULL

IDEAL FOR
AIRPORT TUGS

STAND BY BULL GEL

SAVE
WINDPOWER

STAND BY BULL

= COMMUNICATION-
SYSTEMS
LOOKING FOR THE
RIGHT BATTERY?
NEW! BUFFALO BULL EFB
THE LONG-DISTANCE TRUCK POWER.
Designed for highest energy demand due to increasing comfort functions in long-distance trucks.
Offer of two standard battery sizes (boxes B and C) with 190 Ah or 240 Ah
Increased cyclical resistance owing to the active mass recipe and non-woven covers
Robust design and top vibration resistance due to special set bonding
Improved mesh corrosion resistance due to the use of the continuous production process
Calcium technology for minimal water consumption
AREAS OF APPLICATION
Banner Hoffest 2018
Knapp 600 Besucher beim Banner Hoffest 2018!
Wir sagen DANKE!
Wir haben unser 80-jähriges Bestehen sowie die Fertigstellung der Produktionserweiterung zum Anlass genommen um mit unseren Mitarbeitern und deren Familien zu feiern!

"Unsere Erfolgsgeschichte begann 1937 in Vorarlberg und seit damals hat sich vieles getan. Die 80 Jahre als erfolgreicher Starterbatterieproduzent verdanken wir vor allem unseren engagierten Mitarbeitern. So zählen heute Qualität und Zuverlässigkeit zu unseren Erfolgsfaktoren in einem heiß umkämpften Batteriemarkt," betont Andreas Bawart, Eigentümer und kaufmännischer Geschäftsführer. "Als Dank dafür haben wir eine Veranstaltung mit einem abwechslungsreichen Programm und kulinarischen Highlights geplant," ergänzt Bawart.
Attraktive Aktivstationen, wie beispielsweise eine eBobby Car Challenge oder ein Drohnen Workshop, ein Bauchredner oder auch eine unterhaltsame Zaubershow für die kleinen Gäste zählten zu den Höhepunkten des Nachmittags. Weiters öffnete Banner die Produktionshallen des kürzlich fertiggestellten Zubaus. Eigene Kinderführungen, die die Funktionalität eines Roboters bzw. fahrerlose Transportsysteme beinhalteten, rundeten das umfangreiche Programm ab.
Weitere Informationen siehe Presseinformation
PDF Engagierte Banner Mitarbeiter als Erfolgsfaktor
PDF Mag. Thomas Bawart, technischer Geschäftsführer Banner GmbH; Mag. Walter Brunner, Bürgermeister Leonding; Franz Bäck, Vizebürgermeister Leonding; Andreas Bawart, kaufmännischer Geschäftsführer Banner GmbH (v.l.n.r.)
Fotocredit: Banner Batterien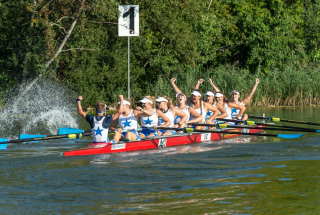 Bronzemedaille für den Banner JKU WIKING Linz-Achter bei der deutschen Bundesliga
Für das Team erfüllte sich in Bad Waldsee der Traum vom Stockerlplatz!
Mit dem sensationellen 3. Platz kehrten die Ruderinnen des Banner JKU WIKING Linz-Achters vom letzten Bewerb der Deutschen Ruder-Bundesliga zurück.
Was die Sportlerinnen rund um den Teamleiter Boris Hultsch als das große Ziel nach drei fünften und einem vierten Platz ausgegeben hatten, wurde Wirklichkeit. Mit Platz 3 am Stockerl und mitten drin im Spitzenfeld der schnellsten Sprintliga der Welt. Bei der stimmungsvollen Siegerehrung nahmen die Sportlerinnen die Bronzemedaille entgegen und freuten sich darüber hinaus über den fünften Gesamtrang.
Boris Hultsch, der Rennsportverantwortliche des RV Wiking und Teamleiter des Banner JKU Wiking Linz-Achters, zeigte sich naturgemäß begeistert: "Das war der krönende Abschluss einer tollen Saison. Gratulation an die Ruderinnen und an ihren Steuermann! Zudem sind wir froh und schätzen es sehr, dass unser RV Wiking Linz und der Partnerverein Alemannia Korneuburg diese tolle Unternehmung unterstützen. Nicht zu vergessen unser Sponsor und Förderer Banner Batterien. Allen möchte ich am Ende dieser erfolgreichen Saison ein großes Dankeschön aussprechen!"
Bildnachweis (Copyright: Alexander Pischke/Ruder-Bundesliga)
PDF Banner JKU WIKING Linz "Geschafft" (v.l.n.r.: Stm. Brian Lindner, Marie Steinbeck, Mira Steinbeck, Klara Hultsch, Britta Haider, Carmen Fink, Miriam Kranzlmüller, Chiara Halama, Philumena Bauer)
PDF Banner JKU WIKING Linz "Siegerehrung" (Brian Lindner, Marie Steinbeck, Mira Steinbeck, Klara Hultsch, Britta Haider, Carmen Fink, Miriam Kranzlmüller, Chiara Halama, Philumena Bauer, Rosa Hultsch, Lisa Howora)
17. WKO Businesslauf Linz
Am 5. September war es wieder soweit auf der Linzer Gugl!
4 starke Banner 3-Teams gingen heuer an den Start und meisterten die 5,4 km lange Strecke bravouriös.
Wir gratulieren unseren starken LäuferInnen zu den tollen Ergebnissen und wünschen weiterhin viel Freude an der Bewegung!
Der WKO Businesslauf ist jedes Jahr ein ganz tolles Teambuilding Event - auch nächstes Jahr sind wir wieder dabei!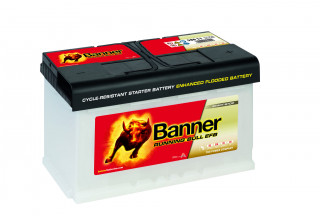 Banner at the Automechanika 2018
Staying in the fast lane with sustainable battery systems
As a key element in future mobility, innovative battery technologies are the object of increasing attention.
Therefore, Banner is working continuously on the development of optimum battery systems, which meets the demands of tomorrow. Consequently, the starter battery specialist's very latest product advances in the commercial vehicle, car and accessories areas will form the centrepiece of its exhibit at the Automechanika 2018.
Günter Helmchen, the CEO of Banner Batterien Deutschland GmbH, sees the premium supplier's presentation at this year's Automechanika as demonstrating that: "With the enhanced flooded battery (EFB) and absorbent glass mat (AGM) technologies for micro-hybrid drives and start-stop applications, we provide clear evidence of our sense of responsibility with regard to a resource-protective and sustainable business approach. During the past financial year alone, with our start-stop batteries we contributed to fuel savings of around 66 million litres and a reduction in CO2 emissions of approximately 164,000t. In addition, our new battery management systems for cars and commercial vehicles represent a systematic continuation of our successful strategy for the sustainable mobility of the future. In this connection, environmental protection and the common good constitute the number one priority, which is also linked to the fact that today lead-acid batteries can be recycled to an unsurpassed degree of virtually 100 per cent."
For further information see press release
PDF Banner Running Bull EFB for start-stop vehicles with a high energy requirement
PDF Banner's location in Leonding numbers among Europe's most modern battery plants
PDF Günter Helmchen, CEO, Banner Batterien Deutschland GmbH (centre), with the Banner Group's CEOs, Thomas Bawart (l.) and Andreas Bawart (r.)
PDF Leading automotive manufacturers trust Banner batteries
PDF The Banner recycling loop
Fotocredit: Banner Batterien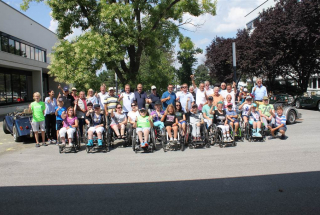 Aktivwoche von MMC OÖ
Anfang Juli haben wir die Aktivwoche von MMC OÖ, der Selbsthilfegruppe für Kinder und junge Erwachsene mit Spina Bifida & Hydrocephalus, unterstützt.

Im Zuge der Aktivwoche konnten 18 Kinder im Rollstuhl, mitsamt Geschwister, intensiv traineren, neue Erfahrungen machen und an ihre Grenzen gehen.
Die Aktivitäten reichten von Rollstuhl-Tennis, Tischtennis mit Olympiasieger Andreas Vevera bis hin zu einem Besuch bei SK Rapid Wien, um hinter die Kulissen zu blicken. Auch eine Ausfahrt mit den Autos vom Morgan Sports Car Club stand am Plan.
In den täglichen Trainingseinheiten der Aktivwoche wurden die Fähigkeiten der Kinder verbessert und durch die unterschiedlichsten Sportarten ausprobiert.
Mehr zur Aktivwoche auf der Facebookseite MMC OÖ und unter mmc-ooe.at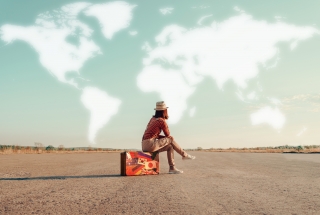 Battery-tip: Heat causes car batteries to sweat!
"Summertime blues" for batteries.
Those needing a new battery in winter have generally made a mistake in summer.
High air temperatures cause the water in a conventional wet battery to evaporate to such an extent that the battery plates are literally dry. The battery becomes weak and fragile.
Banner professional tip:
Make a battery check, on every vehicle, in the workshop run!
Control for longer life.
A battery supplies energy permanently when its optimum state is maintained. With the banner test and inspection devices you can test charge conditions, voltage, the status of the battery acid and much more. This way you know immediately if and which measures are necessary to maintain full battery power.
Regularly check the electrolyte level in wet batteries and, if necessary, top up demineralised or distilled water to the maximum acid level or 15 mm above the upper edge of the plate.
There is no need to top up water on Banner's absolutely maintenance-free wet starter batteries (applies to Starting Bull, Power Bull/PRO and Running Bull EFB). Under normal operating conditions, no water needs to be refilled for the entire battery life of the Bull product variants mentioned above.
In case of high water loss, the controller voltage should be checked by a specialist. Never top up acid!
Please note with Running Bull AGM batteries:
The screw connections of the AGM batteries must not be opened! An acid density measurement or refilling of distilled water is not possible or not necessary!
Battery check with banner testing devices - important routine control for optimal performance and longer life of every car battery.
Does the supply battery in a motorhome/caravan differ from a conventional starter battery?
Yes, essential.
A conventional starter battery is, as the name suggests, basically designed to provide a high short energy boost to start the vehicle.
As soon as the engine is running, the vehicle's charging system ensures that the energy taken from the battery is recharged and supplies all other electrical loads.

When compared to running, the starter battery of the Sprinter and the long-term discharge battery would be a marathon runner.
A long-term discharge battery in the hobby/leisure time range is required in order to supply a considerably lower current for the on-board power supply and a large number of electrical/electronic consumers over a longer period of time; it is also discharged and recharged several times.
This means that the technology and components differ significantly from those of a starter battery, so that the use of a starter battery in a cyclic application can lead to premature battery wear or even total battery failure in the first months of operation.
Banner Tip: For a long service life of an on-board battery.
An on-board battery should be discharged to a maximum of 50% charge. In principle, the lower the discharge, the shorter the expected service life. Please ensure immediate and sufficient recharging after each discharge.

Energy Bull - the cycle-proof long-term discharge battery for the hobby/leisure sector. Portable energy for motorhomes, caravans and camping or sailing and electric boats.
Accucharger - for professional battery charging and charge maintenance. Guarantees a safe start, optimum on-board power supply and prolongs the service life of every battery.
BBT Digital Voltmeter DV1 - for voltage testing of all automotive batteries. This is a handy measuring device that measures the battery voltage quickly and reliably. The display is an easy-to-read LCD display.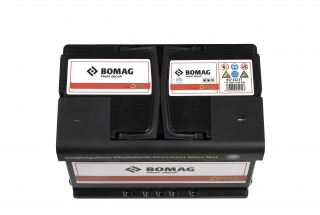 BOMAG supplier award
BOMAG Supplier Award for Banner!
Banner has been awarded by BOMAG for the fourth time in a row.
Banner wurde zum vierten Mal in Folge von BOMAG ausgezeichnet.
BOMAG, manufacturer of compaction machines, uses extremely vibration and cycle resistant EFB and AGM batteries from Banner.
The world market leader in the soil compaction sector regularly assesses its suppliers in detail and has now awarded batteries from Banner four times in succession: Banner was again able to increase slightly and, with an overall result of over 96%, will again receive the top supplier classification "A-supplier" for the year 2017.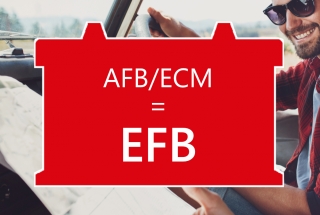 Is it possible that AFB and ECM batteries are also used for start/stop applications or generally for high energy requirements in cars?
Yes.
This is exactly the same technology as the Banner Running Bull EFB batteries.
There are often different names used on the market for start/stop technology in the battery sector:
AFB = Advanced Flooded Battery
ECM = Enhanced Cyclic Mat
EFB = Enhanced Flooded Battery

AFB and ECM car batteries can be replaced by the Banner Running Bull EFB. In identical housing and identical performance class.
PDF Banner Running Bull EFB:
EFB technology is mainly used in start/stop systems with high energy requirements. The Running Bull EFB battery is the ideal solution for small cars up to the upper middle class.
Is it possible that VRLA batteries are also suitable for start/stop applications or generally for the highest energy consumption in cars?
Yes.
This is exactly the same technology as Banner Running Bull AGM batteries.
Only different designations from different suppliers are used. For example, Mercedes notes VRLA on the top label of AGM start/stop car batteries.
VRLA car batteries can be replaced by the Banner Running Bull AGM. In identical box and in the same performance class.
AGM = Absorbent Glass Mat, the acid is absorbed in the glass fleece and thus bound.
VRLA = Valve Regulated Lead Acid, a valve-regulated lead/acid battery with AGM technology.
PDF Banner Running Bull AGM:
AGM technology is mainly used in start/stop systems with maximum energy consumption and brake energy recovery. The Running Bull AGM battery is the ideal solution here, primarily for medium and luxury vehicles.
Bull Power references
Our OE customers, your trust.