Energy Bull
956 01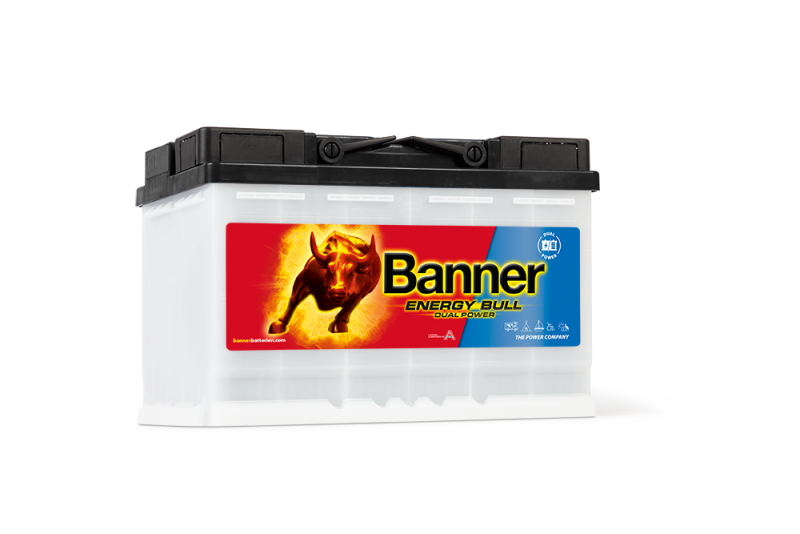 Fits the following applications
THE ENERGY BULL
HAS CONVINCING DEEP CYCLE CHARACTERISTICS.
With the Energy Bull, Banner presents a special battery for hobbies and leisure. The robust Energy Bull's characteristics make it an ideal power pack for camping/caravans, boats and use in many other applications, which extend to signal systems and electrical motor drives. In tandem with bag separators and a special mass composition, the robust mesh structure of the battery ensures extreme cyclical resistance.
NEW: Now designed as DUAL POWER battery means extended use towards launching of motor boats and motor yachts (except 959 01)! The advantages at a glance:
TECHNICAL DATA AND INFORMATION
Battery types in box H5 / L2, H6 / L3, H8 / L5 -> maintenance-free, Battery types in Box A, B, C -> Maintenance-friendly

Transparent box enables electrolyte level control

4K lids (Box H5 / L2, H6 / L3, H8 / L5) and safety glands

(Box A, B, C) ensure leakage and operational safety

Easy to load thanks to carbon additives in the plate material

Vibration resistant thanks to bottom bonding of the plates

Higher cycle stability than a starter battery

Optimised capacity - ideal for cyclic loads

Solid cold start values - suitable for most starter

applications

Product improvement at the same price level
Cold discharge test current EN (A)
We recommend the following charger

FOR CONSUMERS
Accucharger 10A Recovery
PROFESSIONAL CHARGER

Fully automatic 8-step charging with automatic charge retention and special recovery mode for deeply discharged batteries.

FOR PROFESSIONAL USERS
Accucharger Pro 25A
25A PROFESSIONAL DEVICE FOR THE WORKSHOP

Fully automatic battery charging system with special 16V refresh mode for deeply discharged batteries.
Our upgrade recommendation
for increased energy demand or cold start requirements
Value of your current product:
| | |
| --- | --- |
| Capacity K20 (Ah) | 75 |
| Cold discharge test current EN (A) | 680 |

Traction Bull Bloc AGM
AGM
| | |
| --- | --- |
| Capacity K20 (Ah) | |
| Cold discharge test current EN (A) | |