Energy Bull
957 51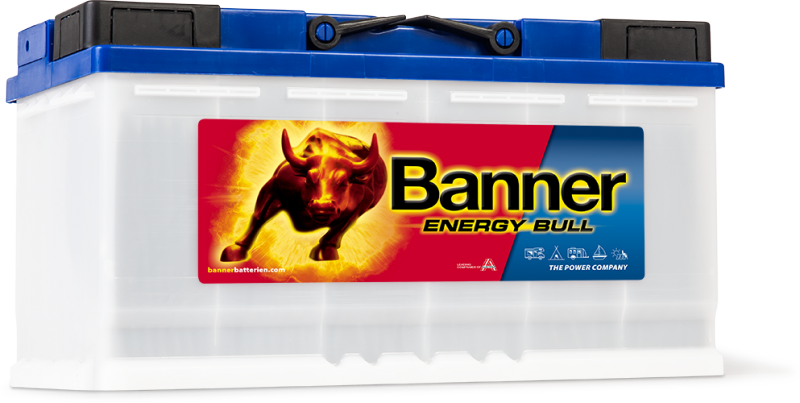 Fits the following applications
Sustainability
SAVE FUEL AND CO2 AND THEREBY REDUCE ENVIRONMENTAL IMPACT
with the sustainable batteries from Banner. 100% environmentally compatible used battery recycling.

TOP Tested Quality
TOP QUALITY from Banner for retrofitting, proven a million times over.
Vibration Resistant
RF = vibration-resistant batteries for cars, the commercial vehicle segment, hobby/leisure and motorcycle.
Security Proven
Banner battery quality, which has been proven a million times over ensures maximum starting certainty and operational safety.
THE ENERGY BULL
HAS CONVINCING DEEP CYCLE CHARACTERISTICS.
With the Energy Bull, Banner presents a special battery for hobbies and leisure. The robust Energy Bull's characteristics make it an ideal power pack for camping/caravans, boats and use in many other applications, which extend to signal systems and electrical motor drives.
In tandem with bag separators and a special mass composition, the robust mesh structure of the battery ensures extreme cyclical resistance. The advantages at a glance:
TECHNICAL DATA AND INFORMATION
The Energy Bull offers up to 4 times the cyclical resistance of standard starter batteries and
is extremely durable
MIN/MAX markings on the transparent battery casing and easy opening make the battery maintenance-friendly
Backfire protection is integrated into the battery cover and surge protectors
Low maintenance is secured by minimum water consumption and self-discharge
The suitability of any standard charger makes charging straightforward
A top V3 vibration resistance rating pursuant to EN 50342-1 is secured by plate bonding to the battery bottom and pocket separators with a glass web layer
Optimum capacity that is perfect to dealing with cyclical loads
Delivery in a filled and charged condition is both user- and environment-friendly
Practical handles for easy transport