Garden Bull
518 19 / US BCI U1R-7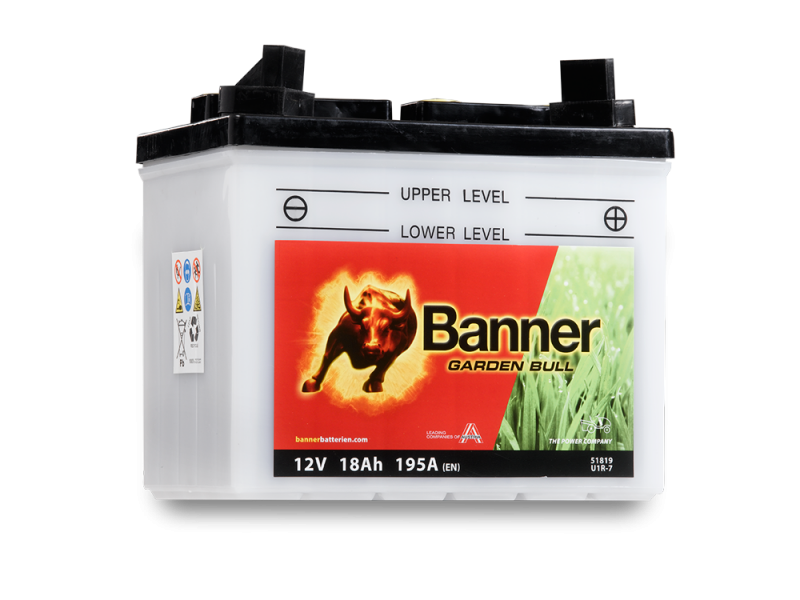 Fits the following applications
GARDEN BULL
PREMIUM QUALITY -
HAS ARRIVED FOR SIT-ON LAWNMOWERS!
For some eighty years, Banner has been producing highly efficient and innovative starter and industrial batteries.
Today, the company supplies automotive, motorcycle and commercial vehicle manufacturers, as well as the free component market via its branches and direct importers in over sixty nations around the world.

Banner also places a special emphasis on a successful and comprehensive range of offers for sport and leisure. Its reliable battery power starts motorcycles, quads, jet skis, all-terrain vehicles, scooters, snowmobiles and as of now, gardening machines such as tractor and sit-on lawnmowers.
Banner GARDEN BULL –
THE NEW POWER FOR LAWNS!
The GARDEN BULL has been developed specially for sit-on lawnmowers and offers the very latest battery technology, which incorporates long service life, excellent performance, outstanding reliability, a low self-discharge rate and high levels of cold start power. How powerful a battery really is shows the performing during the first start after the long, winter break.
THE REAL POWER DEAL!
REALLY PRACTICAL! Every GARDEN BULL is delivered with an enclosed pack containing a precisely measured amount of electrolyte. The battery is dry pre-charged, which means that once filled with electrolyte it is immediately ready to use and does not require charging.
REALLY SAFE! When installed vertically, the GARDEN BULL is safe against tipping and leaks.
REALLY POWERFUL! Owing to its top quality design, the GARDEN BULL offers up to 30 % more starting power than standard batteries. It is therefore also ideal in winter when tractor mowers are used for snow clearance.
SUITABLE FOR OVER 90 % OF ALL TRACTOR MOWERS!
The Banner GARDEN BULL is available in six powerful versions with 18 to 30 Ah and naturally enough, during its design the type of terminal generally used for ride-on mowers was take into full account.
TECHNICAL DATA AND INFORMATION
Offer from six powerful versions with 18 to 30 Ah capacity
Pre-charged with electrolyte pack. After filling ready for use
Shock-resistant, safe against tipping and leaks when installed vertically
Innovative quality: up to 30 % more starting power than standard batteries
Excellent performance, long service life and low self-discharge rate
Ideal in winter when tractor mowers are used for snow clearance

Cold discharge test current EN (A)
We recommend the following charger

FOR CONSUMERS
Banner Accucharger 2A
FULLY AUTOMATIC 6/12V CHARGER

State-of-the-art charging technology controlled by microprocessors guarantees best best battery charge, highest level of safety and extremely easy operation.

FOR PROFESSIONAL USERS
Banner Accucharger 3A
PERFECT ALL-ROUND CHARGER

Automatic 8-step charging with automatic charge retention. LED text display with instructions and notes.
Our upgrade recommendation
for increased energy demand or cold start requirements
Value of your current product:
| | |
| --- | --- |
| Capacity K10 (Ah) | 18 |
| Cold discharge test current EN (A) | 195 |

Garden Bull
524 26 / US BCI U1R-9
| | |
| --- | --- |
| Capacity K10 (Ah) | 24 |
| Cold discharge test current EN (A) | 260 |

Garden Bull
530 20 / US BCI U1R-32
| | |
| --- | --- |
| Capacity K10 (Ah) | 30 |
| Cold discharge test current EN (A) | 290 |