Chargers
Banner Accucharger 10A 24V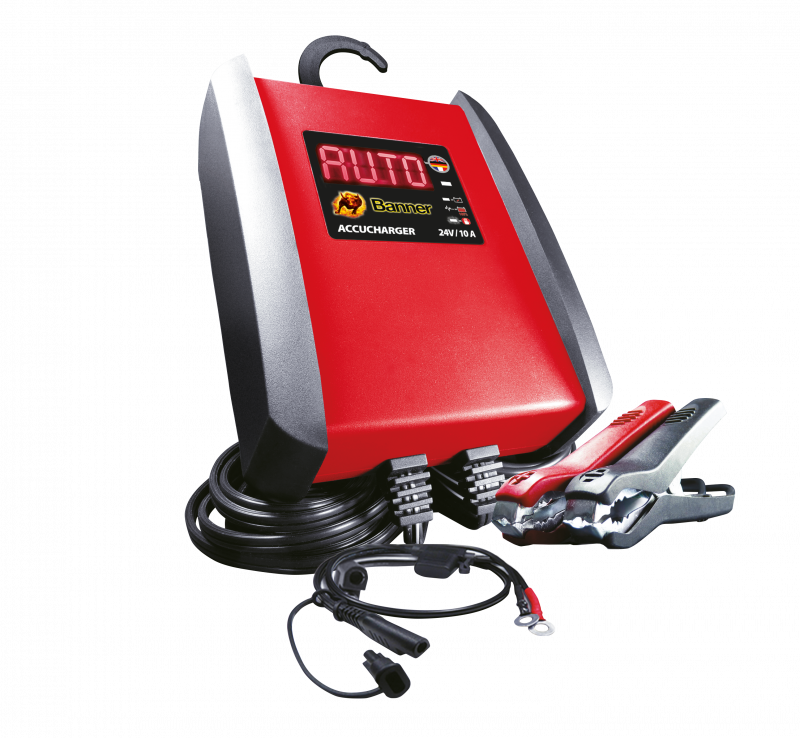 Fits the following applications
Banner ACCUCHARGER
10A/24V

PERFECT FOR TRANSPORTERS AND TRUCKS
Fully automatic 24V charger for optimum charging of large batteries. The very latest charging program, top safety features and extremely easy operation with animated LED text display.
Including mounting hooks and comprehensive accessories.
Suitable for 24V standard, AGM, start/stop and GEL batteries.
Banner chargers facilitate charging for conventional starter batteries without disconnecting from the vehicle wiring system and are especially suitable for cars, commercial vehicles, vintage cars and boats.
TECHNICAL DATA AND INFO
Fully automatic, 8-step charging process
Automatic switching to charge retention
Animated LED display with precise instructions and information in German, English and French
Display of battery charge in percent
Robust housing with edge protection, high-quality isolated terminals, mounting hooks
Protection against polarity, surge, sparking and short-circuiting
Scope of delivery: Charger, terminals, eyelet adapter with fuse, storage bag and instructions
Banner Accucharger 10A 24V
Standard, Ca, AGM, EFB, Start/Stop, GEL