Chargers
Accucharger Pro 35A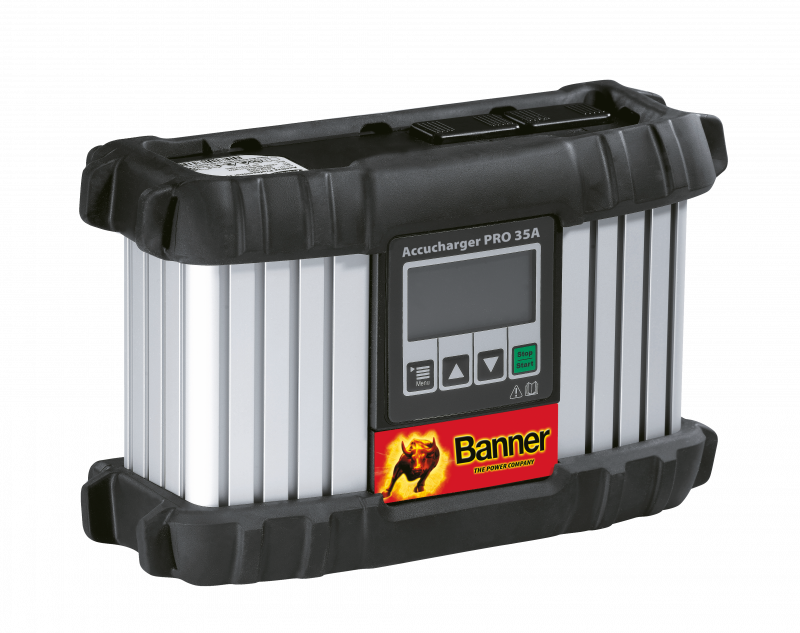 Fits the following applications
Banner ACCUCHARGER PRO

PROFESSIONAL DEVICE FOR THE WORKSHOP
Fully automatic battery charging system with special 16V refresh mode for deeply discharged batteries. Large graphics display for easy operation and clear display. Automatic charging and buffering of parallel loads. Flash operation supplies the vehicle during diagnosis and software update. A support function and power adapter mode are included. Charging characteristic IUoU / IU. Robust design with top safety features.
Suitable for standard, AGM, start/stop and GEL batteries.
Banner chargers facilitate charging for conventional starter batteries without disconnecting from the vehicle wiring system and are especially suitable for cars, commercial vehicles, vintage cars and boats.
TECHNICAL DATA AND INFO
Automatic charging and buffering of parallel loads
Diagnosis and software update - the buffering operation supplies the vehicle during diagnosis
Standby mode during battery exchange
Power supply mode - external power supply without battery
Refresh mode for deeply discharged batteries
Self-identifiable code of battery voltage with 6V, 12V, 24V
Pluggable charging and mains cables
Edge protection for structural stability
Optional USB interface for software updates
Standard, Ca, AGM, EFB, Start/Stop, GEL