Testing and Checking Equipment
Battery Tester BBT 505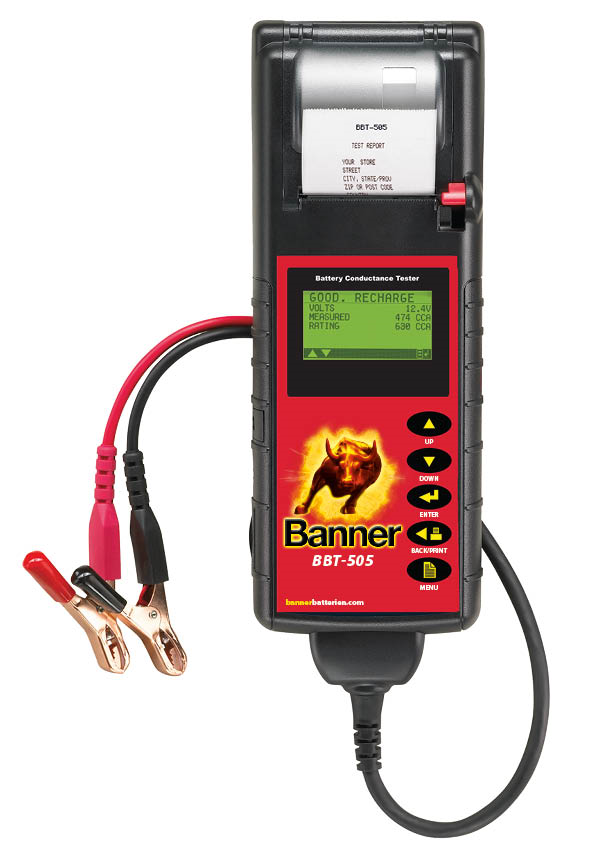 Fits the following applications
Tester Banner BBT 505
The optimal tool for trade and workshop
With the new compact BBT 505, motorbike, car and commercial vehicle batteries can be tested in seconds.
The battery's open-circuit voltage is displayed as soon as it is connected and the user is guided through the selection menu in an easy-to-understand way.
This tester allows an optimal and accurate quick diagnosis of new and used batteries.
With the Banner test devices you can test charging conditions, voltage and much more.
TECHNICAL DATA AND INFO
Measures voltage of 6V and 12V batteries, charging system test of 12V and 24V
Quick Selection possible, detection of defective cells
Robust acid-resistant housing, robust terminals. graphic printer
Reverse polarity protection, difference new / old battery high accuracy
Printing of last result possible
Heading on printout can be invidually defined by the user ( e. g. workshop name)
Compatible with different standard systems (

SAE, EN, IEC, DIN and JIS.)
Battery Tester Banner BBT 505
Standard, AGM, EFB, Start/Stop