Running Bull AGM
AGM 592 01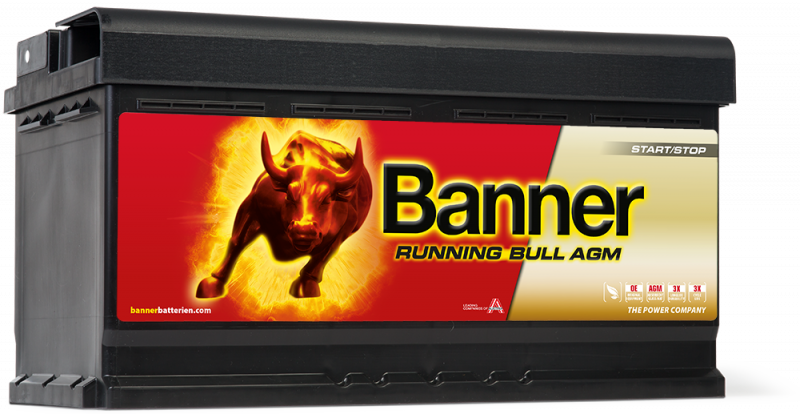 AGM 590 01
AGM59001
AGM 595 01
AGM59501
Fits the following applications
RUNNING BULL AGM
AGM FOR START/STOP VEHICLES
WITH ENERGY RECUPERATION.

Over 95 per cent of all new vehicles will be fitted with an engine start/stop function, in order to achieve the CO2 limitation targets set by the EU by means of sustained fuel consumptionsavings and emission reductions. In general, two differing starter battery types are employed in these environment-friendly vehicles, consisting of the absorbent glass mat (AGM) and the enhanced flooded battery (EFB) systems. The use of the appropriate technology depends largely on the fuel and CO2 savings that can be attained.
By and large, AGM technology is employed for start/stop systems with maximum energy requirements and braking energy recuperation.
Within this context, in particular the Running Bull AGM constitutes the optimum solution for mid-range to premium and luxury class vehicles.
TECHNICAL DATA AND INFORMATION
Valve-regulated AGM battery (VRLA)
Range of 6 types with capacities from 50-105 Ah
Up to 360,000 engine starts
Double cycle stability compared to the Energy Bull long-term discharge battery: highest M3 classification pursuant to EN 50342-1
Three times greater cycle resistance than conventional starter batteries: highest M3 classification pursuant to EN 50342-1
Leak-proof owing to electrolyte bonding into an absorbent glass mat
Zero maintenance owing to recombination technology
Highest V3 vibration resistance pursuant to EN 50342-1
Maximum starting performance due to very low internal resistance
Installation in a lateral position possible (max. 90° angle)
Flexible use as a starter and on-board power supply battery
Cold discharge test current EN (A)
We recommend the following charger

FOR CONSUMERS
Accucharger 10A Recovery
PROFESSIONAL CHARGER

Fully automatic 8-step charging with automatic charge retention and special recovery mode for deeply discharged batteries.

FOR PROFESSIONAL USERS
Accucharger Pro 25A
25A PROFESSIONAL DEVICE FOR THE WORKSHOP

Fully automatic battery charging system with special 16V refresh mode for deeply discharged batteries.
Our upgrade recommendation

You have already selected the best Banner battery with optimal performance and maximum lifetime for your usage.