Running Bull BackUp
509 00 / AUX 09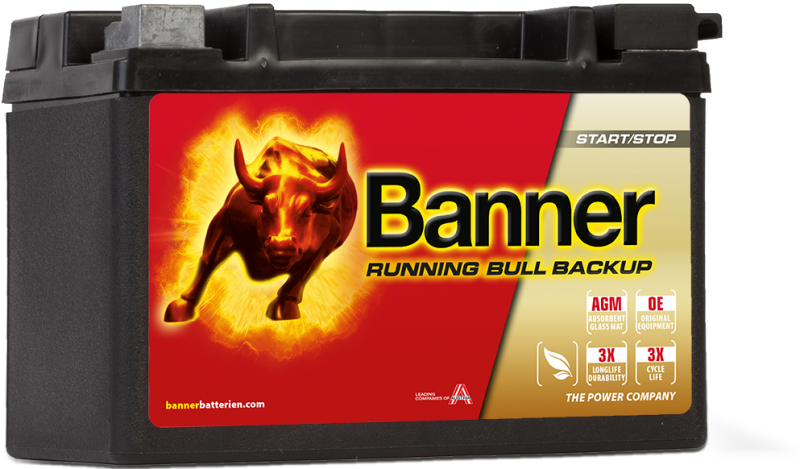 Fits the following applications
Sustainability
SAVE FUEL AND CO2 AND THEREBY REDUCE ENVIRONMENTAL IMPACT
with the sustainable batteries from Banner. 100% environmentally compatible used battery recycling.

original equipment
OE= ORIGINAL QUALITY FOR RETROFITTING.
Banner batteries meet exactly the stipulations of leading German automotive manufacturers. These power packs are designed for modern vehicles with high energy requirements.
AGM
AGM = absorbent glass mat, which absorbs the battery acid and thus binds it in.

Above all, AGM technology is employed in the start/stop systems with energy recuperation used in mid-range and premium class cars, as well as in motorcycle batteries.
3x longlife durability
Three times the service life of standard starter batteries.
3x cycle life
Three times the cycle resistance of conventional starter batteries; E4/M3 classification pursuant to EN 50342-1.
RUNNING BULL BACK-UP
BACK-UP FOR START/STOP VEHICLES
WITH VERY HIGH ENERGY NEEDS.

The Running Bull BackUp is the ideal support for starter batteries owing to the fact that it uses the same trend-setting technology as that employed in the "big" Running Bull. The small power pack is utilised in vehicles with a start/stop system and additional consumers with a high energy requirement such as redundant safety systems or power steering.
TECHNICAL DATA AND INFORMATION
Valve-regulated AGM battery (VRLA)
Range of two types with capacities from 9-12 Ah
Used by Audi, BMW and Volvo as the O.E. fitment.
Three times greater cycle resistance than conventional starter batteries: highest E4/M3 classification pursuant to EN 50342-1
Leak-proof due to electrolyte bonding into an absorbent glass mat
Zero maintenance due to recombination technology
Installation in a lateral position possible (max. 90° angle)

Cold discharge test current EN (A)