Running Bull BackUp
518 01 / AUX 18L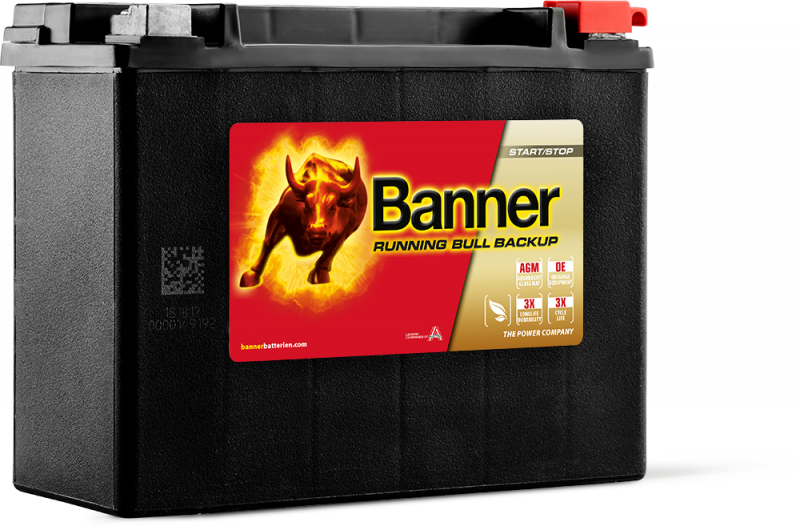 AUX 18L
AUX18L
Fits the following applications
RUNNING BULL BACK-UP
BACK-UP FOR START/STOP VEHICLES
WITH VERY HIGH ENERGY NEEDS.

The Running Bull BackUp is the ideal support for starter batteries owing to the fact that it uses the same trend-setting technology as that employed in the "big" Running Bull. The small power pack is utilised in vehicles with a start/stop system and additional consumers with a high energy requirement such as redundant safety systems or power steering.
TECHNICAL DATA AND INFORMATION
Valve-regulated AGM battery (VRLA)
Range of three types with capacities from 9-20 Ah
Used by Audi, BMW, Mercedes and Volvo as the O.E. fitment.
Three times greater cycle resistance than conventional starter batteries: highest M3 classification pursuant to EN 50342-1
Leak-proof due to electrolyte bonding into an absorbent glass mat
Zero maintenance due to recombination technology
Installation in a lateral position possible (max. 90° angle)
Cold discharge test current EN (A)
We recommend the following charger

FOR CONSUMERS
Accucharger 2A
FULLY AUTOMATIC 6/12V CHARGER

State-of-the-art charging technology controlled by microprocessors guarantees best best battery charge, highest level of safety and extremely easy operation.

FOR PROFESSIONAL USERS
Accucharger 6A Recovery
UNIVERSAL CHARGER

Fully automatic 8-step charging with automatic charge retention and special recovery mode for deeply discharged batteries.
Our upgrade recommendation

You have already selected the best Banner battery with optimal performance and maximum lifetime for your usage.