Running Bull EFB
EFB 538 15 ASIA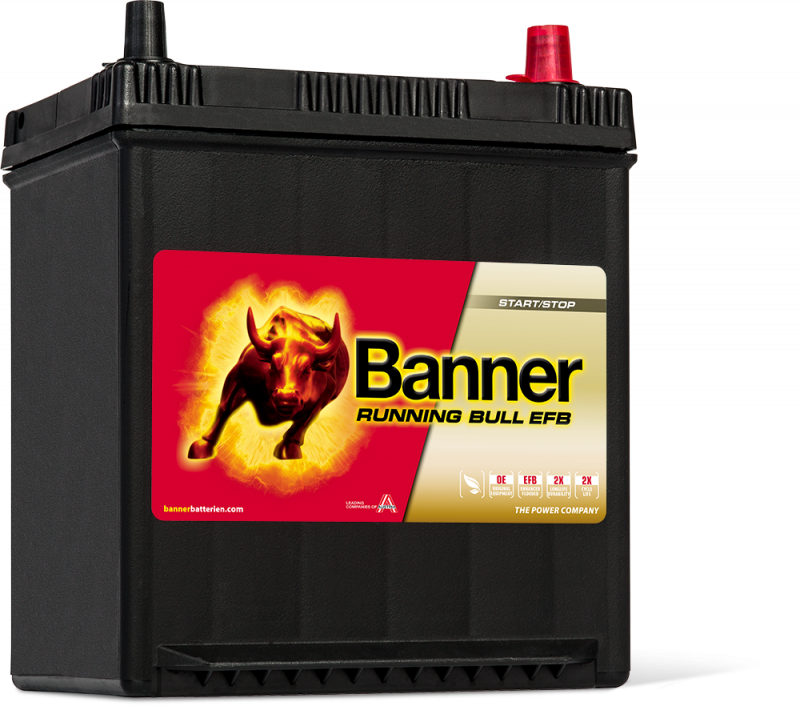 Fits the following applications
RUNNING BULL EFB
EFB FOR START/STOP VEHICLES
WITHOUT ENERGY RECUPERATION.
EFB technology is used primarily for start/stop systems with a high energy requirement.
The Running Bull EFB battery is first and foremost the perfect answer for everything from small to upper mid-range cars.
NEW start/stop batteries with EFB technology.
Banner is enlarging its Running Bull EFB battery programme to meet the challenges of tomorrow.
Especially for European cars.
Three new EFB batteries have been added to the range and will be available from this spring.
The two top seller types, which are primarily for Ford models with start/stop function (ECOnetic):
EFB 565 12 (T6/LB3 box – 65 Ah/650 A EN)
EFB 575 12 (T7/LB4 box – 75 Ah/730 A EN)
are combined with a third, which is suitable for numerous start/stop models from a selection of European carmakers:
EFB PRO 585 11 (H7/L4 box – 85 Ah/780 A EN)
Especially for Asian cars.
Banner introduced the Running Bull EFB Asia battery range into its programme in 2014. We were thus among the first European battery producers to meet the specifications required by Asian vehicle manufacturers, which first fit this type of battery in their start/stop models.
Banner has retained this pioneering status and now three new fast selling batteries are to be added to the familiar EFB 565 00 (new 565 15), EFB 565 01 (new 565 16) and EFB 595 00 (new 595 15) types, which are already available. These all possess EFB technology with a glass non-woven cover on the separator and a friction welded lid with central degassing and integrated backfire protection.
The three new Asia EFB types consist of the:
EFB 538 15 (35NS/B19 box – 38 Ah/400 A EN)
EFB 555 15 (45NS/B24 box – 55 Ah/460 A EN)
EFB 570 15 (D26 box – 70 Ah/680 A EN)
Available from the spring of 2018, or the summer at the latest!
TECHNICAL DATA AND INFORMATION
Range of 11 types with capacities from 38-95 Ah
Up to 270,000 engine starts
Glass fleece cover on the separator and special active mass composition
The key to the durability of the battery is provided by twice the cyclical life of conventional starter batteries and its robust design: M2 classification pursuant to EN 50342-1
Top V3 vibration resistance rating pursuant to EN 50342-1
"Carbon loaded": The carbon additives lead to a marked reduction of the charging time!
Double Top for maximum protection against leaks and operational safety
Zero maintenance due to modern calcium/calcium mesh technology
Cold discharge test current EN (A)
We recommend the following charger

FOR CONSUMERS
Accucharger 3A
PERFECT ALL-ROUND CHARGER

Automatic 8-step charging with automatic charge retention. LED text display with instructions and notes.

FOR PROFESSIONAL USERS
Accucharger 10A Recovery
PROFESSIONAL CHARGER

Fully automatic 8-step charging with automatic charge retention and special recovery mode for deeply discharged batteries.
Our upgrade recommendation

You have already selected the best Banner battery with optimal performance and maximum lifetime for your usage.