Starting Bull
544 09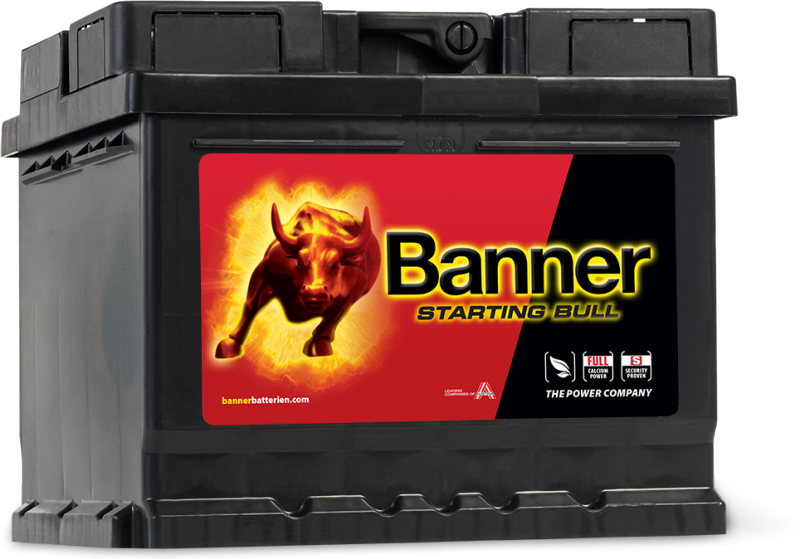 Fits the following applications
Sustainability
SAVE FUEL AND CO2 AND THEREBY REDUCE ENVIRONMENTAL IMPACT
with the sustainable batteries from Banner. 100% environmentally compatible used battery recycling.

FULL Calcium Power
Absolute maintenance-free owing to modern calcium technology.
Security Proven
Banner battery quality, which has been proven a million times over ensures maximum starting certainty and operational safety.
STARTING BULL -
IS THE KEY TO THE Banner BRAND WORLD.
AFFORDABLE QUALITY.
Robust, fully proven and thoroughly optimised the Starting Bull is a powerful entry into the Banner brand world. This absolutely maintenance-free battery scores with top features and performance. In addition to calcium / calcium technology, the Starting Bull offer 12 types with reliable four-chamber leak protection and enhanced safety due to central degassing and integrated backfire frits. First class attractive design with new terminal covers represents a clear indication of the potential of this battery.
TECHNICAL DATA AND INFORMATION
Four-chamber leak protection with integrated backfire sateguard for 12 best sellers from 44-95 Ah
Absolutely maintenance-free due to the use of calcium / calcium technology
Reliable cold starting behaviour
Niche and supplementary types ensure complete coverage of the current vehicle fleet in Europe
Simple classification due to the use of DIN and UK numbers for type designations
Quality and know-how from Austria
Optimum price-performance ratio
Cold discharge test current EN (A)
Our upgrade recommendation
for increased energy demand or cold start requirements
Value of your current product:
| | |
| --- | --- |
| Capacity K20 (Ah) | 44 |
| Cold discharge test current EN (A) | 360 |

Power Bull
P44 09
| | |
| --- | --- |
| Capacity K20 (Ah) | 44 |
| Cold discharge test current EN (A) | 420 |

Power Bull PROfessional
PRO P50 42
| | |
| --- | --- |
| Capacity K20 (Ah) | 50 |
| Cold discharge test current EN (A) | 400 |