Starting Bull
545 79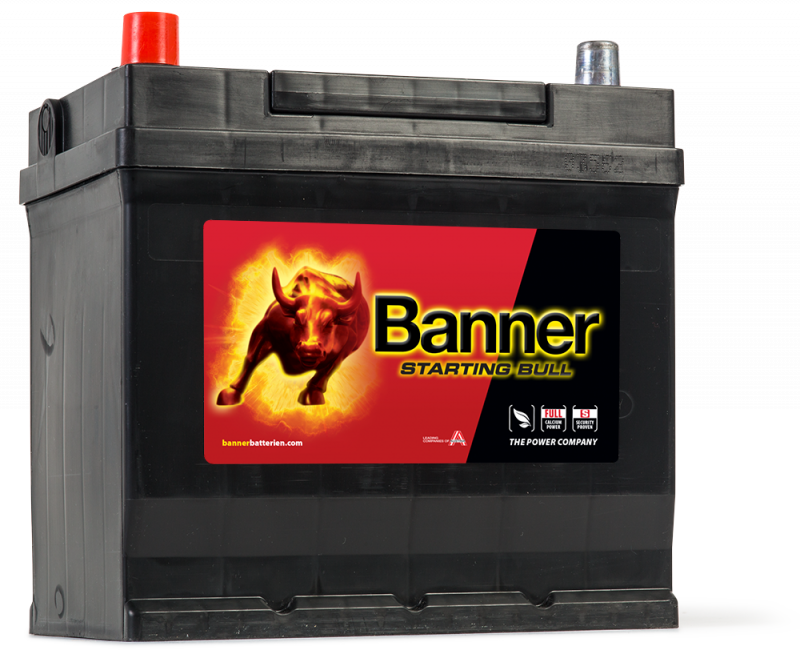 Uni Bull 50 400
UniBull50400
Fits the following applications
STARTING BULL -
IS THE KEY TO THE Banner BRAND WORLD.
AFFORDABLE QUALITY.
Robust, fully proven and thoroughly optimised the Starting Bull is a powerful entry into the Banner brand world. This absolutely maintenance-free battery scores with top features and performance. In addition to calcium / calcium technology, the Starting Bull offer 12 types with reliable four-chamber leak protection and enhanced safety due to central degassing and integrated backfire frits. First class attractive design with new terminal covers represents a clear indication of the potential of this battery.
TECHNICAL DATA AND INFORMATION
Four-chamber leak protection with integrated backfire sateguard for 12 best sellers from 44-95 Ah
Up to 50.000 engine starts (50% depth of discharge)
Absolutely maintenance-free due to the use of calcium / calcium technology
Reliable cold starting behaviour
Niche and supplementary types ensure complete coverage of the current vehicle fleet in Europe
Simple classification due to the use of DIN and UK numbers for type designations
Quality and know-how from Austria
Optimum price-performance ratio
Cold discharge test current EN (A)
We recommend the following charger

FOR CONSUMERS
Accucharger 3A
PERFECT ALL-ROUND CHARGER

Automatic 8-step charging with automatic charge retention. LED text display with instructions and notes.

FOR PROFESSIONAL USERS
Accucharger 10A Recovery
PROFESSIONAL CHARGER

Fully automatic 8-step charging with automatic charge retention and special recovery mode for deeply discharged batteries.
Our upgrade recommendation

You have already selected the best Banner battery with optimal performance and maximum lifetime for your usage.