THE ENERGY AND MATERIAL COST
CHALLENGE
During the last six months, the dominant issue in the supply chain management field has been the continuing high demand for all types of goods, which has meant that the anxieties regarding the availability of raw materials, production and transport capacities have not eased. Banner is also part of the global networks and therefore is equally affected by these bottlenecks and the rapid rise in energy and raw material prices.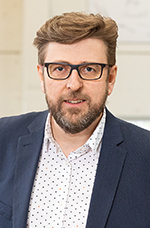 Reinhard Bauer
Supply Chain Manager
FLEXIBLE DELIVERY CHAINS SECURE SUPPLY
The sharp rise in demand, especially in Asia, has meant that insufficient container and shipping capacity has been available in the region for the transport of goods on schedule and as required. Occasionally several weeks have passed before containers and space in ship holds could be booked for the passage of cargo to Europe. Furthermore, there were also delays in and around the European ports owing to congestion. Nevertheless, although in autumn 2021 these longer transport times and more frequent hold ups led to irregular supplies, Banner's supply chains were adapted to this situation and these factors have been integrated into stock and replenishment planning.
PRODUCTION SECURD DESPITE DISRUPTION

In recent weeks, Banner has been increasingly affected either directly or indirectly by temporary delivery failures at suppliers or their subcontractors. These problems stem from both the persistent shortages of raw materials and the absence of production staff at suppliers. It is frequently the case that several employees are on sick leave at the same time owing to the highly contagious corona mutation omikron. Consequently, with growing frequency Banner and its suppliers have been forced to carry out the special production and transportation of some raw materials and components, or find alternative suppliers and purchase their goods, subject to the proviso that additional production capacities and raw materials are still available. However, despite the tense supply situation, thanks to the commitment of our employees and suppliers, as well as our production flexibility, in recent months we have succeeded in maintaining uninterrupted output at a very good level. We were therefore able to provide sufficient batteries for the autumn/winter season and fulfil all our delivery obligations.
SUPPLY CHAINS ON THE TEST STAND

A season like this has put many supply chains to the test, but Banner has shown itself to be in good shape. Indeed, despite the fluctuating inflow of raw materials and components, in close coordination with our suppliers and forwarding agents, the Purchasing, Planning and Logistics departments have managed to prevent any production stoppages due to a lack of purchased parts. Therefore, although the pressures in world markets have still not relaxed, we are nevertheless quietly confident, that we will be able to master further challenges. This is because in the current exceptional circumstances, we have gathered the experience required to implement the measures necessary for the maintenance of our ability to deliver and meet our supply obligations.