AVAILABILITY
Banner AS STABLE PARTNER
The Banner name stands for a reliable partner that delivers on time and has a twin focus upon product quality and service.
A stable supply of primary and raw materials is a prerequisite for Banner's ability to maintain its standard delivery punctuality. However, as a result of the events of the past year, suppliers and supply chains, that until a few months ago were considered to be stable and reliable are now facing major problems.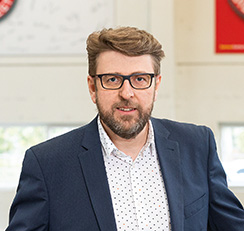 Reinhard Bauer
Supply Chain Manager
FLEXIBILITY IS REQUIRED
During roughly the past two years, the predominant theme in the supply chain management field has been the sharp increase in demand for goods of all types. This has been accompanied by a shortage of raw materials, production and transport capacities, which amongst suppliers and their subcontractors has led to significantly longer delivery times and even temporary delivery failures. As a result, Banner and its suppliers have been increasingly forced to employ special production and transportation for some raw materials and components and, where required, adapt at short notice their own manufacturing programmes in line with the availability situation.
KNOW-HOW OF A STRONG PARTNER
Furthermore, in one product group, the conflict in Ukraine and the decision of the European Union to ban the import of certain Russian products as a response has necessitated a reorientation of the supply chain. This was due to the fact that our supplier was no longer able to obtain the primary material from the original source. Therefore, deliveries had to be switched to alternative oveseas providers and a stable supply chain established. Despite the tense supply situation, thanks to the efforts of our employees and suppliers, in recent months stable supply chains have been maintained or re-established. This has enabled us to guarantee uninterrupted production and ensures our future ability to continue to meet all our supply obligations as usual.