BANNER DEFINES THE ROUTE INTO THE FUTURE
AGENDA 2030
AGENDA 2030: OFF TO TOMORROW!
With the AGENDA 2030, Banner has defined its route into the future.
Banner has always been a company with vision and has responded to the rapid developments in the automotive industry with a strategic realignment.
AGENDA 2030 maps out the road to the future and as Andreas Bawart explains, "We have analysed the market and demand, and placed a focus upon our strengths in organization, production and product range. We are also deepening existing cooperations and opening up new opportunities in Europe, Asia and around the world." Nonetheless, starter batteries will remain the company's core business area.
NEW BUSINESS UNITS
Banner has also responded to the upheavals in the market with the creation of the Automotive and Energy Solutions business units. In the automotive sector, there are two major market segments. The first of these is original equipment, where leading OEM customers such as BMW, VW, Audi, Mercedes-Benz, Porsche and Rolls-Royce are supplied. The second is the aftermarket, for which Banner foresees growing demand for start-stop batteries.
STRATEGIC SITE DEVELOPMENT
During the past three years, Banner has invested over EUR 30 million in the development of its Leonding headquarters and in order to drive the AGENDA 2030 realignment forward, the company envisages further expansion at this location. Andreas Bawart, "We plan to make major investments in order-related production, warehouse and logistics capacity, and the digitalisation and automation of our processes." In addition, specifically for the new Energy Solutions business unit, a new production centre has been opened nearby in Thalheim at an investment cost of around ten million euros. Moreover, during the location selection process Banner deliberately chose to occupy an existing site rather than build on undeveloped land. This decision was taken in order to comply with the company's environmental and sustainability obligations and with the AGENDA 2030, the company will continue to help shape a sustainable energy future.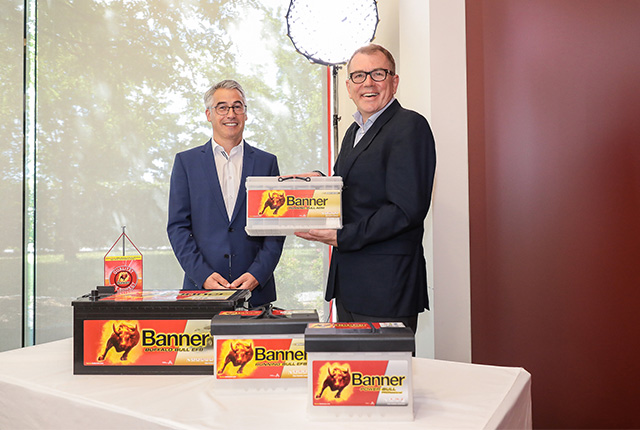 Franz Märzinger (Head of Sales and Marketing) und Andreas Bawart (Commercial CEO)