Buffalo Bull AGM
AGM 710 01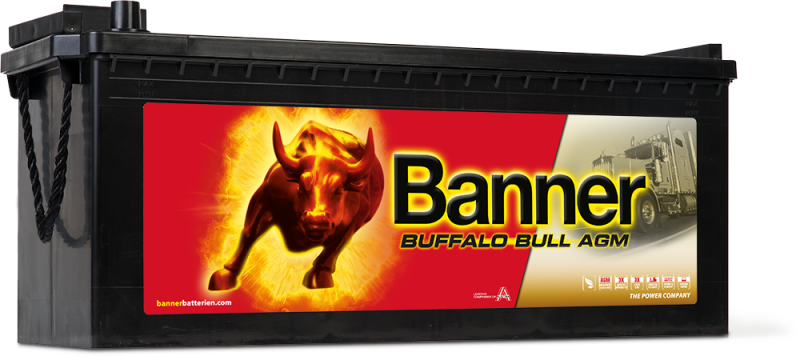 Fits the following applications
BUFFALO BULL AGM
THE MEGA POWER FOR LONG-DISTANCE HGVS
The starter and on-board electrical system battery in the commercial vehicle sector is increasingly having to meet more specific requirements: the highest energy demand due to increasing comfort functions in long-distance HGVs. The driver spends the night in the vehicle and uses a large number of different electrical consumers. Banner is launching the new Buffalo Bull Absorbent Glass Mat to meet these extensive demands. Because nowadays, a long-distance HGV is more than just a means of transporting goods from A to B. It's the driver's place of work (keyword office) as well as their home (keyword kitchen, living room/bedroom), for up to a week, ideal for the use of the Buffalo Bull Absorbent Glass Mat.
* ESD = ElectroStatic Discharge. Electrostatic discharges are voltage breakdowns caused by large potential differences. These discharges (may be visible as sparks) cause a short, high electric current and can lead to the ignition of flammable substances. The electrostatic discharge plug reliably prevents this.
TECHNICAL DATA AND INFO
Valve regulated lead acid battery (VRLA)
Offer of a standard battery size (housing C) with 210 Ah
Three times the cycle stability compared to conventional SHD batteries, due to active mass formulation and mat supports
Robust design and best vibration resistance thanks to special set fixing
Improved corrosion resistance of the grids due to the use of continuous manufacturing processes
No acid stratification due to Absorbent Glass Mat design
Excellent charge absorption: regulator voltage of the vehicle is sufficient even for deeply discharged batteries
Calcium technology ensures minimum water consumption.
Designed for highest energy demand due to increasing comfort functions in long-distance HGVs.
Optimal for integral rear mounting (EURO exhaust gas class 5/6)
Central degassing with integrated backfire protection
Add-ons to improve product safety: short-circuit protection, electrostatic discharge plugs
Dimensions according to EN 50342-4:2009
Cold discharge test current EN (A)
We recommend the following charger

FOR CONSUMERS
Accucharger 10A Recovery
PROFESSIONAL CHARGER

Fully automatic 8-step charging with automatic charge retention and special recovery mode for deeply discharged batteries.

FOR PROFESSIONAL USERS
Accucharger Pro 35A
35A PROFESSIONAL DEVICE FOR THE WORKSHOP

Fully automatic battery charging system with special 16V refresh mode for deeply discharged batteries.
Our upgrade recommendation

You have already selected the best Banner battery with optimal performance and maximum lifetime for your usage.