Running Bull EFB PROfessional
EFB PRO 575 11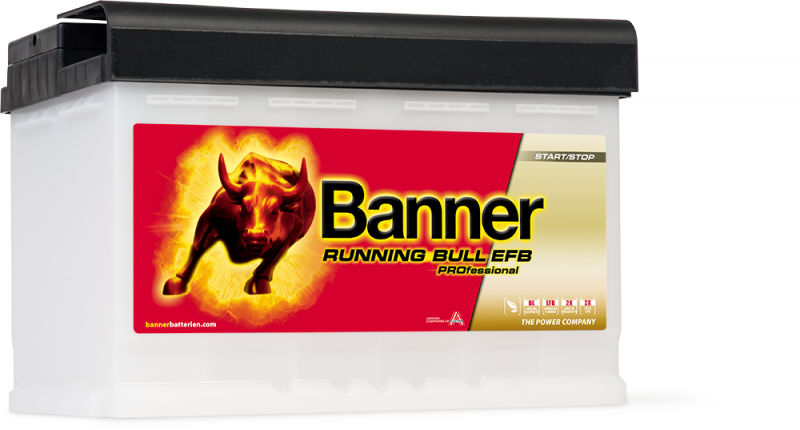 EFB 570 11
EFB57011
Fits the following applications
RUNNING BULL EFB PRO
ORIGINAL QUALITY START-STOP CAR BATTERIES FOR RETROFITTING
The new, performance-enhanced top versions of Running Bull EFB PROfessional are based on tried-and-tested Running Bull EFB technology and meet or even exceed the specifications for start-stop car batteries for leading German car manufacturers such as BMW and VW. These energy storage units are designed for modern start-stop cars with high energy requirements.
Please note: They are also being increasingly used as a back-up battery in electric cars!
EFB technology is mainly used for start-stop systems with high energy requirements.
The Running Bull EFB battery is the perfect solution for small cars up to the upper middle class.
TECHNICAL DATA AND INFORMATION
3 types are available with 65 Ah, 75 Ah and 85 Ah capacity
Further increased capacity (Ah) and cold start properties (A/EN)
Up to 270,000 engine starts
Glass coating on the separator and special active ingredient formula
Cycle life that is twice as long as conventional starter batteries; classification M2 according to EN 50342-1
High shake-resistance V3 in accordance with EN 50342-1
"Carbon loaded": the carbon additives lead to the charging time being significantly reduced!
Double top cap ensures maximum leakage and highest operational safety
Completely maintenance-free thanks to modern calcium grid technology
Original equipment quality according to BMW and VW specifications
190 mm original construction height
Running Bull EFB PROfessional
Cold discharge test current EN (A)
We recommend the following charger

FOR CONSUMERS
Accucharger 6A Recovery
UNIVERSAL CHARGER

Fully automatic 8-step charging with automatic charge retention and special recovery mode for deeply discharged batteries.

FOR PROFESSIONAL USERS
Accucharger Pro 25A
25A PROFESSIONAL DEVICE FOR THE WORKSHOP

Fully automatic battery charging system with special 16V refresh mode for deeply discharged batteries.
Our upgrade recommendation
for increased energy demand or cold start requirements
Value of your current product:
| | |
| --- | --- |
| Capacity K20 (Ah) | 75 |
| Cold discharge test current EN (A) | 700 |

Running Bull AGM
AGM 570 01
| | |
| --- | --- |
| Capacity K20 (Ah) | 70 |
| Cold discharge test current EN (A) | 720 |