Bike Bull AGM
AGM 506 14 / BTX7L-BS - YTX7L-BS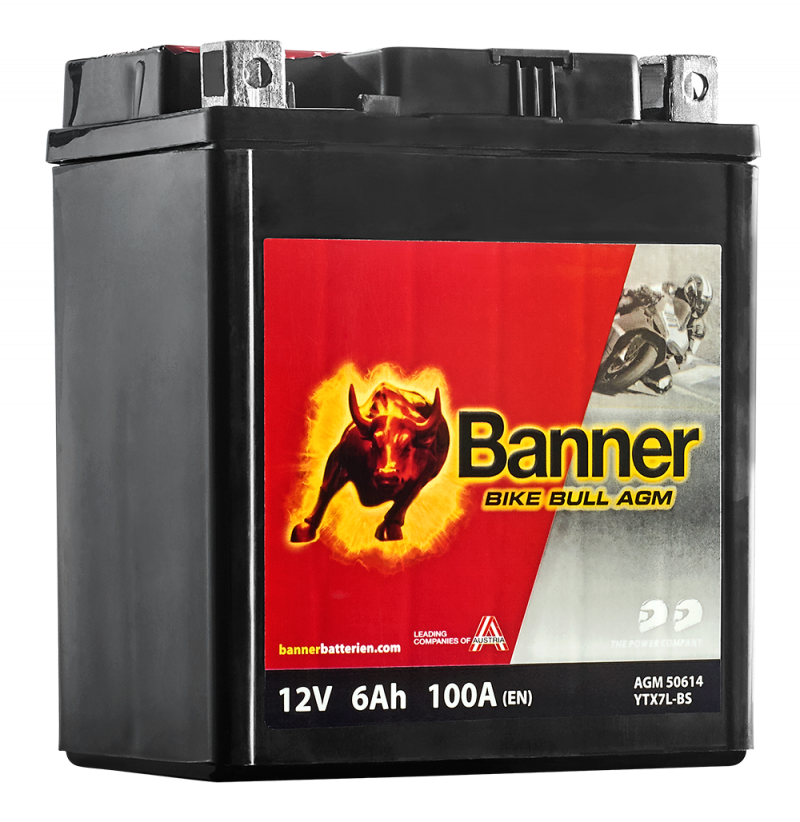 Fits the following applications
BIKE BULL AGM
THE LATEST AGM TECHNOLOGY
FOR UNIVERSAL APPLICATIONS.
This is Banner power for motorbikes, ATVs/quads, jet skis and tractor mowers. The Bike Bull AGM is an absolutely maintenance-free battery employing the latest absorbent glass mat (AGM) technology. The acid is bound into a glass fibre web and therefore cannot escape.
TECHNICAL DATA AND INFORMATION
High start performance with safety reserves
AGM technology (absorbent glass mat)
Absolute maintenance-free
Vibration-resistant
Dry, pre-charged; enclosed electrolyte in the precisely required volume
Current application in the field of agricultural machinery
Bike Bull AGM 506 14 is the matching cab battery in the AGCO combine harvester IDEAL - model series 7, 8, 9 and 10. Currently in use with the AGCO group brands Massey Ferguson and Fendt.
AGM 506 14 / BTX7L-BS - YTX7L-BS
Cold discharge test current EN (A)
We recommend the following charger

FOR CONSUMERS
Accucharger 2A
FULLY AUTOMATIC 6/12V CHARGER

State-of-the-art charging technology controlled by microprocessors guarantees best best battery charge, highest level of safety and extremely easy operation.

FOR PROFESSIONAL USERS
Accucharger 3A
PERFECT ALL-ROUND CHARGER

Automatic 8-step charging with automatic charge retention. LED text display with instructions and notes.
Our upgrade recommendation

You have already selected the best Banner battery with optimal performance and maximum lifetime for your usage.