Power Bull
P50 03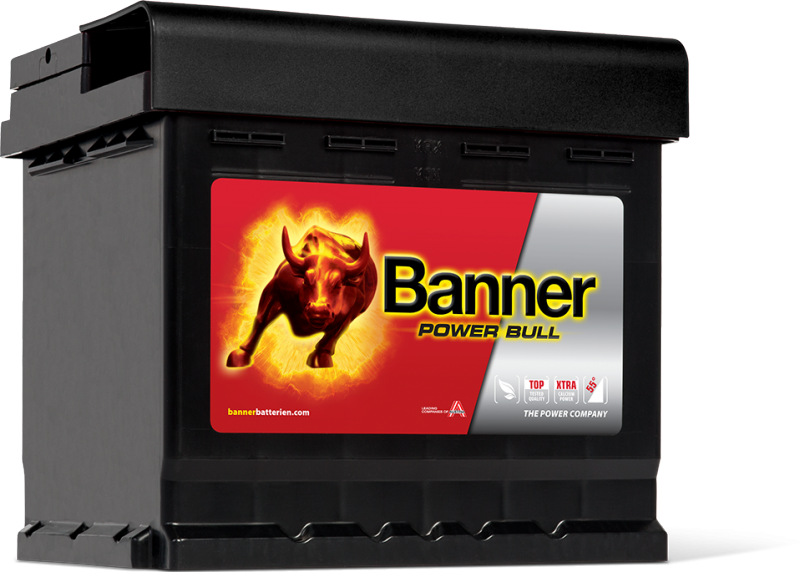 Fits the following applications
Sustainability
SAVE FUEL AND CO2 AND THEREBY REDUCE ENVIRONMENTAL IMPACT
with the sustainable batteries from Banner. 100% environmentally compatible used battery recycling.

TOP Tested Quality
TOP QUALITY from Banner for retrofitting, proven a million times over.
XTRA Calcium Power
Absolute maintenance-free owing to calcium technology. Increased starting power - maximum safety - improved deep charging capability - easier charging.
55°
DOUBLE TOP - twice the leak protection and 100% leak-safe up to an angle of 55°.
POWER BULL -
OFFERS INNOVATIONS FOR THE STRICTEST DEMANDS.
O.E. quality for the aftermarket. The Power Bull is Banner's premium starter battery for modern vehicles. Designed in accordance with the OEM standards of BMW and VW, the Power Bull is a logical first choice when it comes to replacement battery selection.
TECHNICAL DATA AND INFORMATION
Robust cyclical behaviour with E2 classification pursuant to EN 50342-1
Double Top lid for twice the leak protection:
and 100 per cent leak protection up to an angle of 55°
Absolutely maintenance-free due to modern calcium technology
Extensive coverage of the European and Asian vehicle fleets owing to 30 battery types from 40-110 Ah V2
Vibration resistance rating pursuant to EN 50342-1 due to the bonding of the plates to the battery floor and robust cell connections
Improved backfire and ESD safety levels (against electrostatic discharge)
Cold discharge test current EN (A)