Buffalo Bull SHD PROfessional
SHD PRO 725 03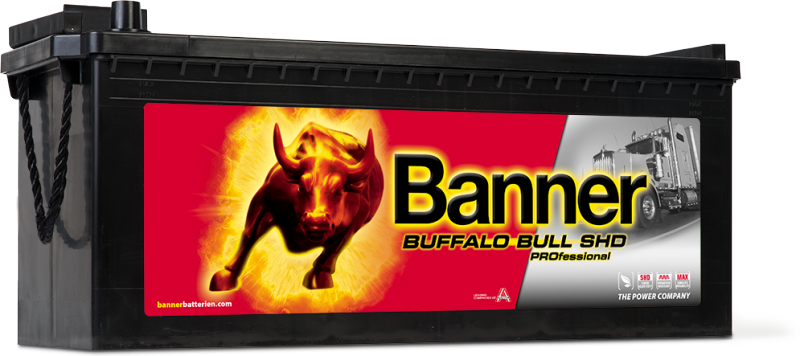 Fits the following applications
Sustainability
SAVE FUEL AND CO2 AND THEREBY REDUCE ENVIRONMENTAL IMPACT
with the sustainable batteries from Banner. 100% environmentally compatible used battery recycling.

original equipment
OE= ORIGINAL QUALITY FOR RETROFITTING.
Banner batteries meet exactly the stipulations of leading German automotive manufacturers. These power packs are designed for modern vehicles with high energy requirements.
MAX LONGLIFE durability
Maximum, long-term durability owing to highly advanced battery design using thick and robust mesh structures with a closed frame, special mass compositions and further innovative details.
Super Heavy Duty
SHD = SUPER HEAVY DUTY; for toughest, continuous operations.

SHD: extra cycle/vibration resistant - high E3/V3 classification pursuant to EN 50342-1.
Vibration Resistant
RF = vibration-resistant batteries for cars, the commercial vehicle segment, hobby/leisure and motorcycle.
BUFFALO BULL SHD
PROfessional
DECISIVELY MORE POWER FOR COMMERCIAL VEHICLES.
The Buffalo Bull SHD PROfessional is a top product that really starts to show its problem-solving capacity in tough situations such as stop & go and cold starts, etc., when other batteries have long given up the ghost. The battery has consolidated its firmly established position in the premium battery retrofitting market. Indeed, Banner has equipped the Buffalo Bull with unbeatable advantages that make it ideal for modern distribution trucks and line buses.
TECHNICAL DATA AND INFORMATION
Meets the requirements of Mercedes Trucks
Maintenance-free: calcium technology ensures minimum water consumption
Central degassing and patented four-chamber leak protection
Captive, welded-in backfire frits and safety screws
PinFin protection against short circuits caused by tools
SHD means extra cycle/vibration resistance in the highest E4/V3 category pursuant to EN 50342-1
ConCast mesh production process and optimised mesh design provide reliable cold start performance
EN 50342-4 casing height
Buffalo Bull SHD PROfessional
Cold discharge test current EN (A)
Our upgrade recommendation
for increased energy demand or cold start requirements
Value of your current product:
| | |
| --- | --- |
| Capacity K20 (Ah) | 225 |
| Cold discharge test current EN (A) | 1150 |

Buffalo Bull EFB
EFB 740 17
| | |
| --- | --- |
| Capacity K20 (Ah) | 240 |
| Cold discharge test current EN (A) | 1200 |