Chargers
Multicharger 4x5A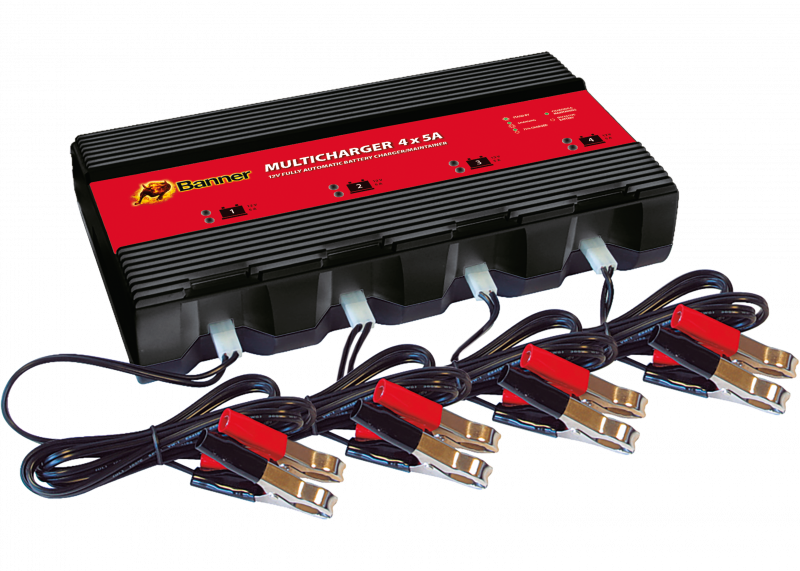 Fits the following applications
Banner MULTICHARGER 4x5A

FULLY AUTOMATIC QUADRUPLE CHARGER FOR 12V BATTERIES

This charger offers the very latest, charging technology, maximum safety and the simplest possible operation. LED display with charging status display per outflow. Ideal for charging batteries to be stored in shops or workshops and for safely maintaining the charge of several batteries over a number of months. Charging current 5A per outflow, charging voltage up to 14.7V.
Suitable for standard, AGM, start/stop and GEL batteries.
Banner chargers facilitate charging for conventional starter batteries without disconnecting from the vehicle wiring system and are especially suitable for cars, commercial vehicles, vintage cars and boats.
TECHNICAL DATA AND INFO
Charger for 12V batteries
Fully automatic 5-step charging process
Automatic switching to charge retention
Robust housing, isolated terminals
Protection against polarity, surge and short-circuiting
Scope of delivery: Charger, 4 x battery terminals, instructions
Standard, Ca, AGM, EFB, Start/Stop, GEL