Bike Bull
007 14 / BB39-6 - B39-6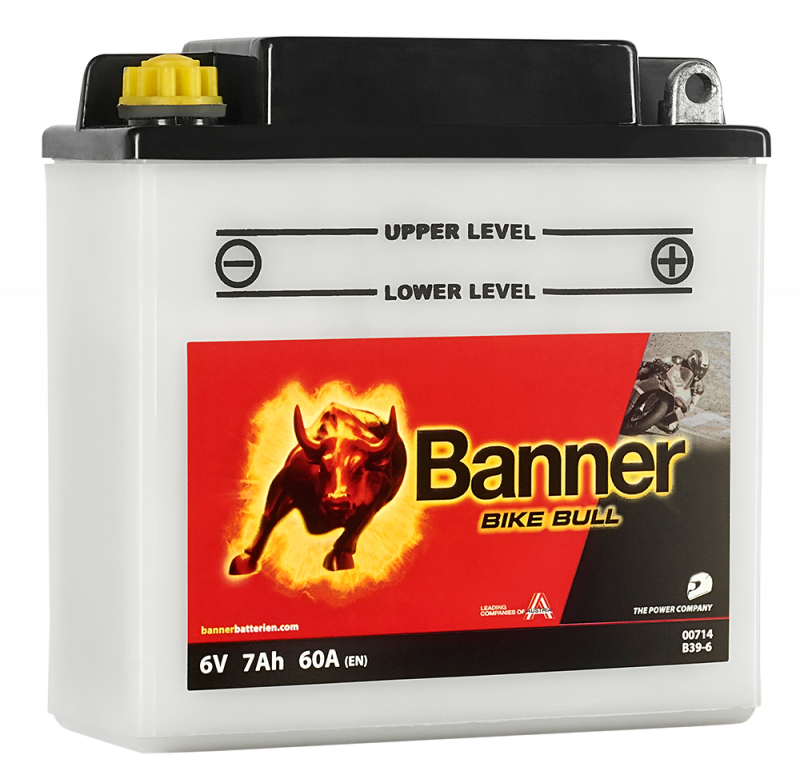 Fits the following applications
BIKE BULL
POWER FOR MOTORBIKES.

Entry into the world of the Banner brand is comprised by classic lead batteries with an electrolyte pack. The robust technology has been specially designed for the burdens relating to motorcycle riding.
These batteries are only opened for start-up and maintenance.
TECHNICAL DATA AND INFORMATION
High load-bearing capacity
Safe starting even in the case of short run use
Extensive programme consisting of 33 types
Dry, pre-charged; enclosed electrolyte in the precisely required volume
Cold discharge test current EN (A)
We recommend the following charger

FOR CONSUMERS
Accucharger 2A
FULLY AUTOMATIC 6/12V CHARGER

State-of-the-art charging technology controlled by microprocessors guarantees best best battery charge, highest level of safety and extremely easy operation.

FOR PROFESSIONAL USERS
Accucharger 3A
PERFECT ALL-ROUND CHARGER

Automatic 8-step charging with automatic charge retention. LED text display with instructions and notes.
Our upgrade recommendation

You have already selected the best Banner battery with optimal performance and maximum lifetime for your usage.