HANDLING
BOAT BATTERIES PROFESSIONALLY
HOW TO HANDLE A BOAT BATTERY PROPERLY
Everything you need to know about transporting, storing, installing, inspecting and recharging boat batteries.
Banner tips for boat batteries
Tip 1: Transportation, storage & installation
Filled batteries should be transported and stored in an upright position, otherwise acids could leak out (exception AGM and gel). When transporting the batteries, secure them against tipping and sliding. Short-circuit protection is mandatory.
Store boat batteries in a cool (0 to +25 °C), dry and frost-free place. Keep out of direct sunlight. Make sure the battery surface is clean and apply grease to the terminal posts.
Conventional wet-cell batteries should, if possible, be installed along the longitudinal axis of the boat – this helps ensure a higher level of leak protection on extreme inclines.
Check whether the battery cable has been connected correctly. Loose battery cables lead to increased
contact resistance. This can lead to insufficient charge being available.
Regularly check the electrolyte level in Energy Bull batteries and, if necessary, top up with demineralised
or distilled water to the max. acid level mark or 15 mm above the upper edge of the plate. Never top up the acid. In the case of high water loss, the regulator voltage should be checked by a technician.
Tip 2: Degassing
We recommend the use of a degassing tube for all lead-acid batteries installed in the interior/passenger compartment.
Some boat batteries are provided with a tube with an attached angle piece for discharging the battery gases. If present, the tube should be inserted via the angle piece into the corresponding degassing opening of the battery. If there is a degassing opening on the other side, it must be closed with a sealing plug.
Banner tip: Reisskamina central degassing system
This system for easy and safe retrofitting was developed specifically for long-term discharge batteries in the hobby and leisure segment, without an integrated central degassing unit in the battery cover.
Ideal for all Energy Bull flat cover batteries with 27 mm screw connections (battery box A – type 960 51, box B – type 963 51 and box C – type 968 01).
AGM and gel batteries do not emit any gas under normal operating conditions (unless there is a fault with the charger or the battery).
Tip 3: Charging
Ensure that the battery is charged sufficiently. We recommend a charging current of at least one-tenth of the capacity (e.g. 100 Ah / 10 = 10 A charging current). Make sure that the charger is compatible with the battery technology and has a suitable characteristic curve.
If your charger has an automatic mode with voltages >14.8 V, the battery must be disconnected from the on-board electronics or removed from the boat altogether.
Check the open-circuit voltage at regular intervals. Our BBT Digital Battery Analyser DBA battery tester is ideal for this purpose. The battery must be recharged immediately with an off-load voltage of 12.5 V. Follow the manual provided by the boat manufacturer.
Caution: A highly explosive oxygen-hydrogen mix can form during charging. Fire, naked flames and smoking are prohibited.
Tip 4: Winterising
Usually, the battery is removed during periods of non-use. Store the boat battery in a cool (0 to +25 °C), dry and frost-free place. Before storage, fully charge the battery and recharge it at the latest at an open-circuit voltage of 12.5 V or leave it connected to the charger with charge retention. Please use voltage-controlled chargers (Banner Accucharger, max. 14.8 V) with automatic switching to charge retention. These charging devices are fully automatic.
Choosing the right battery
Basically, there are three product qualities to choose from, depending on your requirements and application.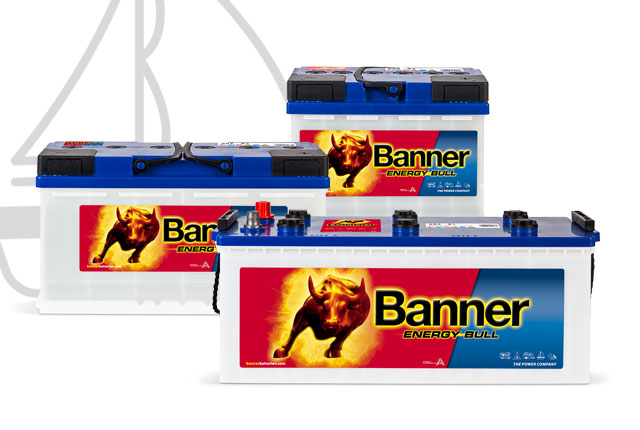 Energy Bull/Marine:
The long-term discharge battery for on-board supply and electrical drives.
For this cyclical application, we have batteries with reinforced grid plates and a specially developed cycle compound in our range.
Batteries in the Energy Bull/Marine series have also proven their use in solar and wind generator technology.
TECHNICAL DATA AND INFO
Extremely cycle-resistant and durable – four times greater cycle resistance than a starter battery
Maintenance-friendly – easy to open and MIN/MAX marking on transparent housing
Backfire-proof – the backfire protection is integrated into the battery cover in surge protectors
Low-maintenance – low water consumption, low self-discharge
Easy to charge – can be charged using any commercially available charger
Shake-resistant – plates bonded to base and pocket separators lined with glass mat; high classification V3 according to EN 50342-1
Optimised capacity – ideal for cyclical loads
Environmentally and user-friendly – delivered filled and charged
Practical carry handle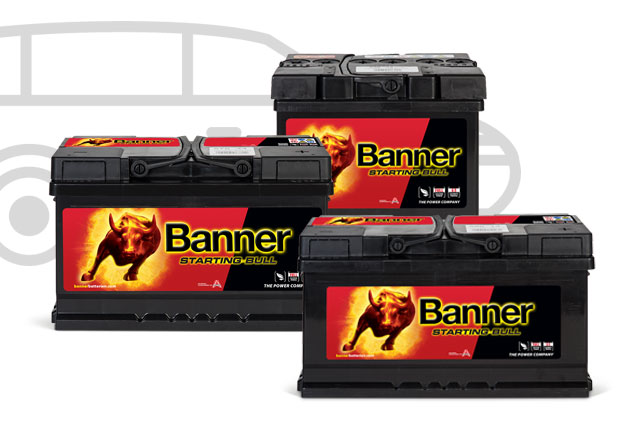 Starting Bull/Marine:
The starter battery for boats.
Experience from starter batteries tried and tested millions of times in the automotive industry formed the basis for the development of the Banner Starting Bull/Marine.
TECHNICAL DATA AND INFO
4-chamber spill protection with integrated backfire protection, even with the 72 Ah racer type
Completely maintenance-free thanks to modern calcium technology
Reliable cold start behaviour
Easy to allocate thanks to DIN and UK type designations
Quality and expertise from Austria
Best value for money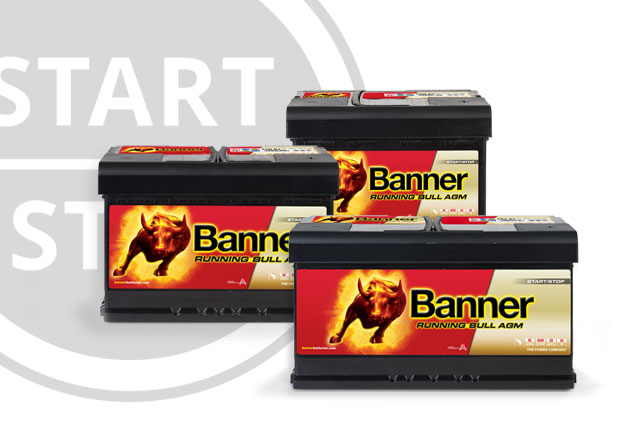 Running Bull AGM/Marine:
The leak-proof starter battery for boats.
The shake-proof, cycle-resistant and leak-proof starter and on-board batteries, also ideal for marine applications.
TECHNICAL DATA AND INFO
Valve regulated lead acid battery (VRLA)
Triple cycle resistance compared to conventional starter batteries: highest rating M3/E4 according to EN 50342-1:2016
Leak-proof thanks to electrolyte bonding in the glass mat (Absorbent Glass Mat)
Completely maintenance-free thanks to recombination technology
High shake-resistance V3 in accordance with EN 50342-1:2016
Highest starting performance thanks to very low internal resistance
Can be installed horizontally (max. 90° angle)
Flexible use as a starter and on-board battery
You might also be interested in the following