A NEW LOCATION
FOR ENERGY SOLUTIONS
This spring has seen the opening of the new Energy Solutions business unit location in Thalheim bei Wels, Upper Austria. Banner is thus breaking new ground, as a provider of cutting-edge, energy storage solutions.
The Energy Solutions business unit's production facility in Thalheim bei Wels, which has been in operation since June 2021, was officially opened on 8 April. When choosing the additional company location, in the interests of sustainability Banner made a conscious decision not to opt for undeveloped land and further ground sealing. Therefore, an existing industrial site was taken over and ten million euros invested in modernisation.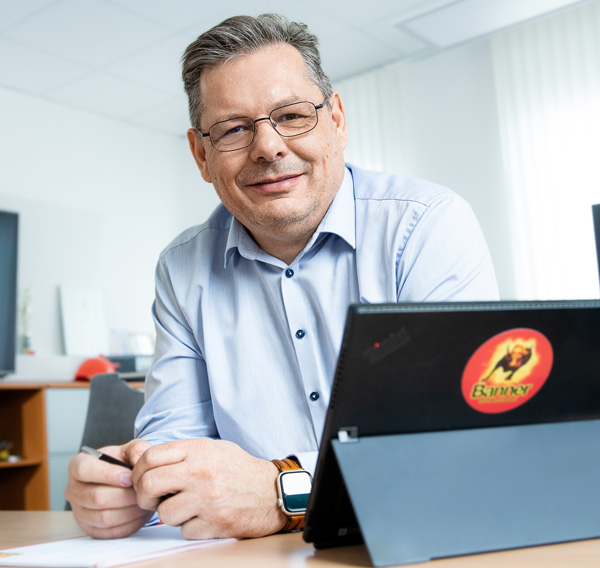 Josef Berger
Head of Energy Solutions
business unit
NEW TECHNOLOGIES

In Thalheim, the production of industrial batteries is being increased significantly. In fact, as a premium supplier of highperformance energy storage solutions and power-packs for mobile and stationary purposes, with its second business unit Banner is truly breaking new ground. The range of possible applications extends from electric forklifts, lifting platforms, self-propelled transport systems, golf carts, safety and emergency power batteries for hospitals or power plants, signalling systems and renewable energies, to electric wheelchairs and the camping, marine and caravanning areas.
Banner POWER IN A BLACKOUT

As Josef Berger, the Head of the business unit, explains, "At Energy Solutions, we develop tailor-made solutions for our customers. The best example in this respect is provided by our energy storage solutions for critical infrastructure, which are employed in hospitals and hydropower plants to counteract blackout scenarios. Our safety and emergency power batteries thus offer support and thereby underline our role as an important partner with regard to the availability of the energy reserves needed in such serious situations."
A TARGETED DOUBLING OF SALES

At present, the Thalheim location has a workforce of 25, but in future Banner intends to double the sales of its new facility. As an internationally recognised provider of energy solutions, the company will also adopt a broad approach to innovative developments in this business field. As Josef Berger emphasises, "For example, we are open to the use of new technologies, as long as they deliver the corresponding customer benefits." The focus is on energy storage solutions that are designed to meet specific customer needs and in this regard, Josef Berger sees individual partner support as offering special potential, "Therefore, in order to develop tailor-made solutions, we will listen more closely than ever to what in the current economic situation our clients require in terms of intralogistics solutions and process management."