Testing and Checking Equipment
Battery Tester BBT HD1+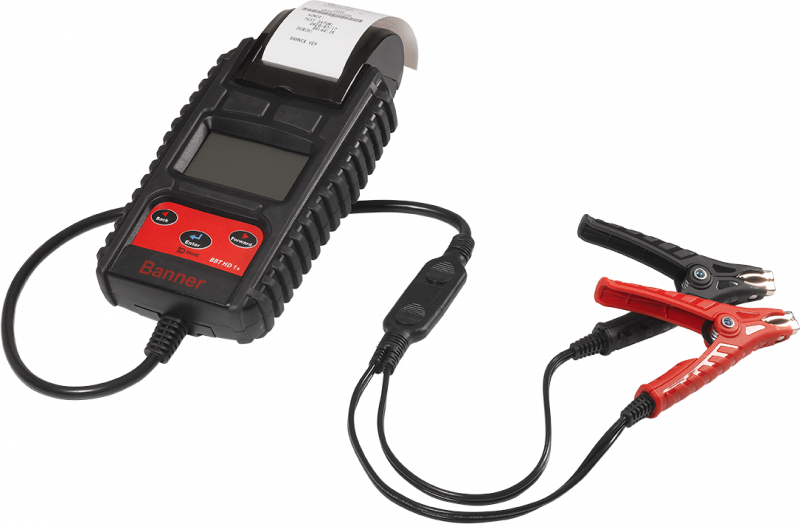 Fits the following applications
Banner
BATTERY TESTER
BBT HD1+

HEAVY DUTY BATTERY TESTER
Ideal tool for measuring motorcycle, car and truck batteries. Solidly built and incorporating 12V and 24V battery charging system test. Easy to operate, high precision and option to print measurement result quickly. Menu guide can be selected in multiple languages. Including Software for recording measurement results on PC. Suitable for 6/12V standard, AGM, start/stop and GEL batteries.
NEW: Internal resistance value shown, temperature compensation, 4 color LCD, robust & heavy-duty clamp set and backward function
With the Banner test devices you can test charging conditions, voltage and much more.
TECHNICAL DATA AND INFO
Voltage measurement 6V and 12 batteries incl. internal resistance in Ohm (mΩ)
System test of 12V and 24V
Microprocessor-controlled measurement for precise and immediate result
Selection of battery type/technology: standard, Ca, start-stop (AGM, EFB), gel batteries
Choice of new or used batteries
Robust housing, robust & heavy-duty clamp set, graphic printer with date and test code, easy operation
Large 4-figure display including graphic depictions, SOC- and SOH-display
Reverse polarity protection and surge protection
Compatible with different norm systems (SAE, EN, IEC, DIN and JIS)
Scope of delivery: BBT HD1+ tester, paper roll for integrated printer, PC software, 6 x 1.5V batteries, hard-shell case, instructions
Standard, Ca, Start-Stopp (EFB, AGM), Gel