À LA RECHERCHE DE
LA BATTERIE ADÉQUATE ?
NOUVELLES! BUFFALO BULL EFB
THE LONG-DISTANCE TRUCK POWER.
Sans entretien (pas d'appoint d'eau) dans des conditions d'exploitation normales
Offre de 2 tailles de batterie standard (bac B et C) avec 190 Ah ou 240 Ah

Meilleure résistance aux cycles grâce à la composition de la masse active et le revêtement en fibres de verre

Design robuste et excellente résistance aux secousses grâce à une fixation de plaques spéciale

Meilleure résistance à la corrosion de la grille grâce à l'utilisation continue de procédés de fabrication

Technologie calcium permettant une consommation d'eau minimale
DOMAINES D'UTILISATION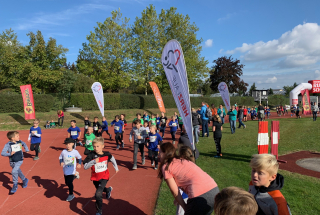 Banner unterstützt Herzlauf durch zwei Patenschaften für Herzkinder
Diesen Sonntag fand der diesjährige Herzlauf in Traun statt. Banner unterstützte die Herzkinder Österreich durch die Übernahme von zwei Patenschaften.
Durch die Veranstaltung der Herzkinder Österreich werden herzkranke Kinder und deren Eltern, die während bzw. nach einer Herzerkrankung in eine materielle, emotionale oder menschliche Notlage geraten sind, unterstützt. Gemeinsam stark für schwache Herzen.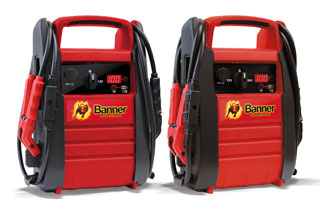 New Banner Power Boosters
Banner has enlarged its booster range with the new PB12 and PB12/24 models.
These modern devices in Banner design are fitted with a high-performance 23 Ah AGM battery and are suitable for every type of vehicle. Moreover, maximum power and new functions provide a wealth of advantages.
As Andreas Bawart, the Banner Commercial CEO, explains, "The new PB12 and PB12/24 Power Boosters combine optimum performance with proven technology and offer improved and new functions in Banner design." With these additions to its booster range, which are immediately available, Austria's largest battery manufacturer has launched new devices onto the market that employ a high-performance absorbent glass mat (AGM) battery and are suitable for any type of vehicle.
Buffalo power that is tangible in seconds
For many years, Banner has been supplying professional chargers, testing devices and boosters based on its precise knowledge of the demands and needs of starter batteries, which emanates from its manufacturing experience. This extensive range has now been supplemented with the PB12 und PB12/24 Power Boosters, which assist starting in extreme temperatures and beef up vehicles with buffalo power in seconds.
A full range of features
A12 Volt DC output facilitates battery charging from external sources, while an additional 2.1. A USB outlet can accommodate tablets smartphones and much more besides. The solid housing is suitable for demanding outdoor use and reverse polarity protection with an acoustic warning guarantees simple and safe handling. An on/off switch prevents both short circuits in the terminals and battery discharge, while an LED light on the tip of the negative, curved terminal makes working in the dark easier. In addition, a robust, flexible and long cable also serves to make things simpler. A large LCD display shows test functions such as the voltage of the vehicle and booster batteries in both volts and percentages.
For further information
see press release
PDF The new Banner PB12 and PB12/24 boosters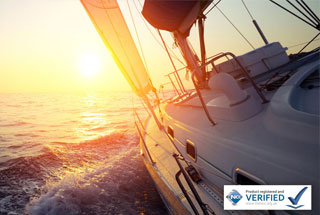 Battery tip: Professional handling of boat batteries
Checking, charging and storing
Our 5 tips help you learn everything you need to know about handling boat batteries.
Tip 1: Installation
Conventional wet batteries should, if possible, be installed in the boat along the longitudinal axis - this ensures greater leakage protection in extreme inclined positions.
Tip 2: Degassing
We prescribe the use of a degassing hose for all lead-acid batteries, which are installed in the interior/passenger compartment, mandatory. Some boat batteries are provided with a hose with attached elbow, for the discharge of the battery gases. If this applies to a boat, the hose must be inserted into the corresponding degassing opening of the battery via the elbow. If there is a degassing opening on the other side, it must be closed with a plug!
Tip 3: Charging
Ensure that the battery is sufficiently charged.
The next two points apply to conventional wet batteries.
- Before charging, check the electrolyte level and, if necessary, fill up desalinated or distilled water to the maximum acid level or 15 mm above the upper edge of the plate.
- The screw connections of the battery must not remain open during charging, it is best to close them again.
Attention: AGM batteries must not be opened! Refilling with distilled water is not possible or necessary.
- Observe the charging characteristics.
- Charging current should be 10% of the capacity.
- Charging voltage (at +25° C): AGM 14.40V - 14.80V constant voltage; conventional 14.4V - max. 16V
- Charging time approx. 12 - 24 hours
For AGM- and GEL-batteries please use a voltage regulated charger e.g. Banner Acchucharger (max. 14,80V)!
Fully automatic chargers with charging voltage limitation up to 14.8V are ideal for use with boat batteries. Depending on the capacity of the battery used, we recommend the following chargers:
- Batteries up to 72 Ah - Banner Accucharger 12V 3A
- Batteries up to 130 Ah - Banner Accucharger 12V 6A Recovery
- Batteries up to 230 Ah - Banner Accucharger 12V 10A Recovery
If your charger has an automatic mode with voltages >14.8V, the battery must be disconnected from the on-board electronics or removed from the boat. Please also observe the operating instructions of the boat manufacturer.
Tip 4: Wintering
If the battery remains installed during unused periods, you should disconnect at least one connecting cable (minus). The battery should always be kept charged, especially before and during the winter. Check the open-circuit voltage at regular intervals. Our battery tester BBT Digital Voltmeter DV1 is suitable for this purpose.
Recharge at 12.50V at the latest!
Tip 5: Storing
Store boat batteries in a cool (0° to 25° C) and dry place. Do not expose to direct sunlight. Ensure that the battery surface and terminals are clean.
If you follow these tips, a successful boating season is guaranteed!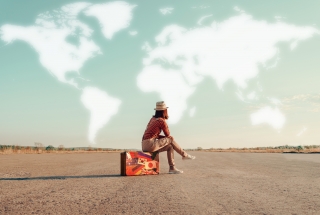 La chaleur de l'été fait transpirer les batteries
"Summertime blues" des batteries
Ceux qui ont besoin d'une nouvelle Batterie en hiver, on surement fait une erreur en été .............
Sur des batterie conventionnelle avec de l'acide liquide, la chaleur de l'été fait évaporer le liquide et l'assèchement des plaques. La batterie deveint alors très fragile !
Faites contrôler votre batterie régulièrement !
Une batterie doit être maintenue bien chargée pour que sa durée de vie soit optimale ! Le niveau de liquide doit être contrôlé régulièrement, sauf bien évidemment sur les produits sans entretien (gamme Starting Bull, Power Bull et EFB)
Dans des conditions d'utilisation normales, aucun appoint d'eau déminéralisée n'est nécéssaire.
Les batteries AGM quant à elles sont totalement sans entretien. Il ne faut jamais les ouvir !!
Pour les véhicules qui ne roulent pas beaucoup ou font des cours trajets, nous vous préconisons une charge externe d'appoint !
Battery check with banner testing devices - important routine control for optimal performance and longer life of every car battery.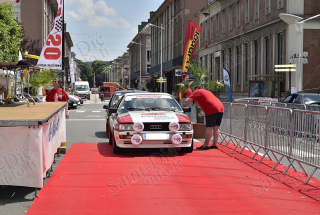 Le Vosges Classic Rallye
21-22-23 juin 2019
Un des plus grand Rallye de Régularité de France se déroule chaque année dans les Vosges.
Il regroupe près de 130 véhicules anciens et de compétition sur trois jours.
Les équipages s'affrontent sur route ouverte et sur circuit (Geoparc de St-Dié), dans différentes
spéciales. Le but est de s'approcher le plus possible de la moyenne de vitesse imposée par l'organisateur
et le road book.
Büffelpost
Das Banner Kundenmagazin mit topaktuellen News!
SUPPLY CHAIN MANAGEMENT. NOCH STÄRKER. NOCH BESSER. NOCH EFFEKTIVER.
Topnews kurz notiert:
- INNOVATION. Banner EFB-BATTERIEN ALS ZUKUNFTSMODELL.
- INERNATIONALISIERUNG. NEUE WEBSITE ALS SERVICEPLATTFORM.
- KRÄFTEMESSEN. STARKE NACHFRAGE AUF FACHMESSEN.
Nähere Informationen siehe pdf-Dokument.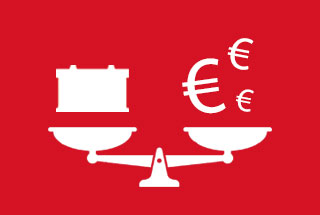 Battery tip: Cheap can be expensive!
When it comes to choosing a car battery, you should focus on quality.
Nowadays, starter batteries are particularly challenged by the use of start-stop systems, additional equipment and climatic conditions. Cheap batteries are often the more expensive solution!
The requirements for starter batteries are strongly dependent on the climatic conditions and the additional electrical/electronic equipment. Today, most new vehicles are also equipped with a start-stop system that switches off the engine when the vehicle is stopped in order to reduce fuel consumption and emissions. Conventional starter batteries can no longer fulfil this challenging task, which is why the use of special start-stop batteries with AGM (Absorbent Glass Mat) or EFB (Enhanced Flooded Battery) technology is required.
Cheap batteries are therefore often the more expensive solution, as they can lead to starting problems in summer and winter.
There is a good reason why Banner quality batteries have established themselves worldwide!
They combine the highest starting power, further increased cold start characteristics, optimised current consumption capacity and thus improved chargeability as well as a long service life.
Banner Tip: Use the next largest battery for your car, for which there is usually enough space. Because these are additional power reserves for your vehicle! The price difference is usually extremely small and the alternator of your vehicle is designed for it!
In our online battery search you will find information about upgrading options for your vehicle.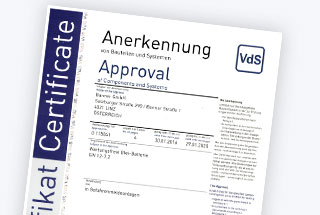 VdS test result - VERY GOOD!
Banner achieved a very good result in test by VdS (Verein der deutschen Sachversicherer)!
The recognised test centre VdS (Verein der deutschen Sachversicherer) tested our maintenance-free lead batteries GiV 12 - 7.2 for use in emergency alarm systems. We were able to achieve a very good result especially in the area of performance.
Here you can find the test result in detail! (Certificate in German)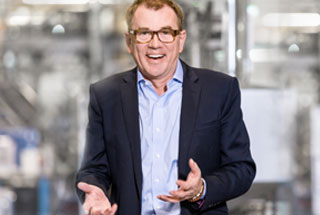 Banner again achieves record sales revenues and turnover
4.8 million starter batteries sold following the enlargement of the Leonding location
The family-owned Banner company can again look back on a highly successful financial year (1 April 2018 to 31 March 2019), as with sales revenues of EUR 307 million it once more achieved the best result in its history, which dates back well over eighty years.
Record sales revenues of EUR 307 million
Increase in sales turnover of 200,000 units over the previous year
Investments of over EUR 40 million in the Leonding location since 2015
Start-stop batteries make a decisive contribution to environment-friendly vehicles
Banner is Austria's only starter battery manufacturer and produces 4.8 million units annually.
According to Andreas Bawart, Banner's Commercial CEO: "In the hotly contested battery market, our quality and reliability count for more than ever. A fact confirmed by new record sales revenues of EUR 307 million immediately following the last successful financial year."
The starter battery specialist continues to have the further development of battery technologies offering greater environment friendliness in focus. For example, Banner's premium class AGM and EFB start-stop batteries number among the forerunners in this branch segment and as Andreas Bawart stresses: "We are convinced that we can raise the sales of these innovative products still further and with this in view, will continue to adhere to our corporate philosophy of manufacturing exclusively in Austria."
For further information
see press release
Picture caption:
PDF Andreas Bawart, the Banner GmbH Commercial CEO*
*© Fotostudio Eder
PDF The Banner starter battery product family
PDF The Banner location in Leonding is one of Europe's most modern battery production plants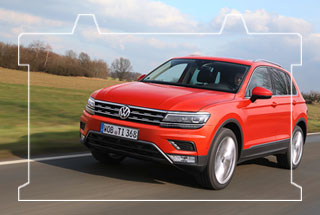 Battery tip: Choose the right battery.
Matching Banner batteries at a glance!
For the battery matching we use extensive industry and manufacturer data. Due to the innumerable battery and vehicle models, however, matching errors cannot be completely avoided. Please note the following information.
Always compare the following parameters with your existing battery before buying a battery:
the dimensions,
the circuit* (=layout) and the pole design,
whether the base strips are necessary for fastening in your application, or whether there is a bracket fastening at the top of the battery cover,
the battery technology (conventional, EFB or AGM battery)
Depending on a possible start/stop function, the additional electrical equipment (e.g. pre-heater, sound system, ...), the climate region or the car manufacturer's plant (= production site), different battery sizes/technologies may be installed.
*Attention - there is often confusion about the circuit (=layout). Please keep in mind that the battery circuit is always assessed with the poles facing the body.
Never install a conventional wet battery in a vehicle with start/stop function that is equipped with an AGM or EFB battery as standard. An AGM or EFB battery in the same housing and performance class must be used again!
Banner Tip: An upgrade from an EFB battery to an even more powerful and cycle-resistant Running Bull AGM battery is possible in housing H5/L2 (60Ah), H6/L3 (70Ah) and H7/L4 (80Ah). In this case it is absolutely necessary to register the new battery (optimal for this one is the BBST Banner Battery Service Tool).
Find a suitable battery now:
Do you need help or is your application missing in the battery search? We are at your disposal:

For our sales partners:
Références Bull Power
Nos clients OE, votre confiance.
(équipements d'origine)