ACCUCHARGER

HELAUTOMATISKT ALLTID LADDAT

TRACTION BULL
BLOC AGM

DEEP CYCLE
GOLF POWER

STAND BY BULL GEL

LAGRA
VINDENERGI
PÅ JAKT EFTER
RÄTT BATTERI?
RUNNING BULL AGM
LEDANDE ABSORBENT GLASS MAT-TEKNIK
AGM för start-/stoppfordon med energiåtervinning.
Läckagesäkert
tack vare att elektrolyten binds av en glasfibermatta
ANVÄNDNINGSOMRÅDEN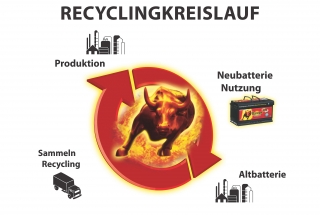 With its pioneering recycling loop, Banner is fully focused on the mobility of tomorrow.
- Banner guarantees a closed recycling loop from production to re-processing
- Lead-acid batteries demonstrate a higher recycling capacity than glass and paper
- Banner invests some EUR 2 million annually in environmental protection
- Banner start-stop batteries are making a major contribution to fuel savings
- Banner is facing the challenges posed by the mobility of tomorrow
- Having spent over EUR 50 million at the Leonding location since 2011, Banner is currently continuing to pursue its ambitious Investment programme with a further EUR 15 million
Banner's responsible business approach is clearly demonstrated by its EFB* and AGM** technologies, which are employed in conjunction with so-called micro-hybrid systems and straightforward start-stop applications. Moreover, a ground-breaking recycling loop, which facilitates the reemployment of every used battery, constitutes a benchmark with regard to resource protection and sustainability. Start-stop batteries make a decisive contribution to the environmental
compatibility of motor vehicles. In the 2016/17 financial year alone, they provided fuel savings of around 66 million litres and a reduction in CO2 emissions of some 164,000 t.
* EFB = Enhanced Flooded Battery, the cycle resistant starter battery.
** AGM = Absorbent Glass Mat, which absorbs the battery acid and thus binds it in.
Further information see pdf-documents.
PDF MediaInfo
PDF Banner starter batteries for start-stop vehicles

PDF Banner production *

PDF The Banner battery recycling loop

PDF Andreas Bawart, the Banner GmbH Commercial CEO *

*Pictures 2 and 4: © Andreas Wenter/ Permanent Moment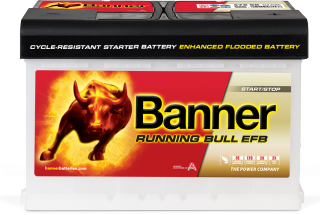 BMW OEM Supplier
Banner intensifies its teamwork with premium class car.
- EFB batteries as a cost-effective alternative to AGM technology.
- Lead-acid batteries offer a high degree of recyclability.
From 2018 onwards, Banner will not only continue to supply the BMW Group with AGM batteries*, but also its EFB range**. As Banner Commercial CEO, Andreas Bawart, explains: "Deliveries are to be made to a total of four BMW Group locations in Europe and in view of our technical innovations, we are making a significant contribution to a reduction in the CO2 emissions from modern vehicles. Moreover, many of our OEM customers have recently switched to EFB batteries as a cost-effective alternative to the AGM versions."
* AGM = Absorbent Glass Mat, which absorbs the battery acid and thus binds it in.
** EFB = Enhanced Flooded Battery, the cycle resistant starter battery.
Picture text: The Banner Running Bull EFB for start-stop vehicles without energy recuperation, which is now also being used for the first time in cars with energy recuperation.
Further information see pdf-document.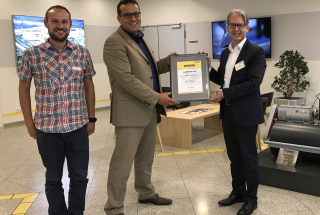 TOP OE Supplier
BOMAG Supplier Award.
Banner got the award, for the third time (AAA)!
BOMAG, manufacturer of compaction machines, uses extremely cycle and vibration resistant EFB- and AGM-Batteries made by Banner. BOMAG Compaction Machines are used from garden and landscape construction to road construction and dam engineering.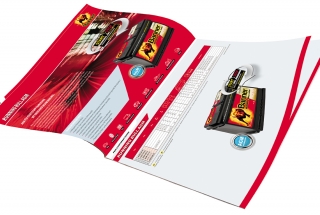 NEW! Type list starter batteries export 2017/18.
Available now!
With over 40 pages containing a wealth of information concerning:
- concentrated product data on the complete range of starter batteries
- clearly designed battery type lists
- up-to-date fast fitment guide of cars with the most new registrations
Simply click our website right away.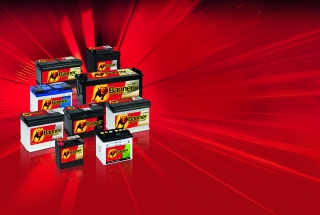 The austrian brand battery.
Power to the world.
Banner is one of the largest battery manufacturers in Europe and produces starter batteries, which constantly meet the highest technical demands of current vehicles, industrial batteries (traction - device - stationary batteries), wheel weights and a tailor-made programme of accessories.

PDF Banner product family starter batteries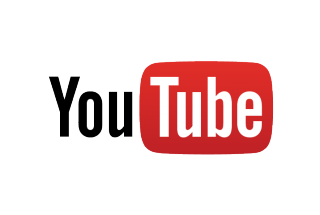 Banner goes YouTube.
The video channel for battery know-how, an effective marketing tool of the future!
Videos are not only informative, but also hip, which is something that market researchers and pioneers already predicted some years ago.
The best evidence of these facts is provided by the steadily growing preference of social media users for moving images. However, in spite of the fact that YouTube is an ideal, corporate marketing tool, companies in Europe often regard it with a degree of reticence.
Content is sometimes not produced specifically for YouTube, but nonetheless owing to the information provided can generate surprisingly high call-up figures on the large, global video platforms. With over a billion active and regular users monthly, YouTube accounts for a third of all Internet users worldwide. Every day, YouTube presents videos that add up to several hundred million hours of images and generate billions of call-ups. In particular, the young target group (14-34 years) is increasingly represented on YouTube and watches traditional television to an ever-diminishing extent. Put in a nutshell, there is no way to avoid YouTube.
Banner has now launched its own YouTube channel with the videos currently at its disposal. In addition, informative "how-to videos" are in preparation, e.g.
- How do I provide correct start assistance?
- What must I note when recharging a battery?
- How do I put my newly purchased motorcycle battery into operation?
- ... etc.
Our aim is to share our professional battery know-how with you as a user. This will take the form of important topics such as battery maintenance, charging, storage, exchange and installation,...
Simply scroll through this website to the footer (centre right, bottom line) and click on the integrated YouTube Logo.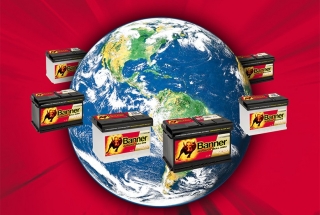 Büffelpost
The Banner customer magazine with the latest news!
SUPPLY CHAIN MANAGEMENT. EVEN STRONGER. EVEN BETTER. EVEN MORE EFFICIENT.
Top news short noticed:
- INNOVATION. Banner EFB BATTERIES ARE FIT FOR THE FUTURE.
- INTERNATIONALISATION. NEW WEBSITE AS A SERVICE PLATFORM.
- SHOWTIME. SHEALTHY DEMAND AT TRADE FAIRS.

Further information see pdf-document.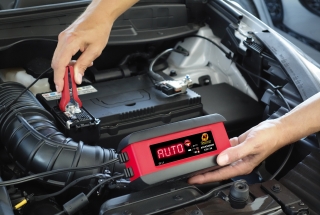 Battery-tip
Charging inside the vehicle.
– Before charging, check the electrolyte level and top up if necessary with
deionized or distilled water to the maximum acid level mark or to 15 mm above the upper edge of the plates.
– Batteries must only be charged with direct current. Connect the positive (+) battery terminal to the positive (+) terminal of the charger, and the negative (-) battery terminal to the negative (-) terminal of the charger.
– Do not switch on the charger until after the battery has been connected. When charging is finished, switch off the charger before disconnecting the battery.
– It is recommended that the charging current be equal to one tenth of the capacity. (e.g. 44 Ah divided by 10 = 4.4 A charging current)
– The temperature of the acid must not exceed 55 °C during charging. If the temperature rises above 55 °C, the charging process must be discontinued.
– Charging is finished if the current drops to 0 or stops falling, or if the automatic charger switches off.
– Charging must be performed in a well-ventilated room.

Caution: Detonating gas is formed during charging! Fires, sparks, open flames and smoking are strictly prohibited!
Running Bull AGM/BackUp: Only recharge with a voltage controlled Banner Accucharger (max. 14,8V)! The use of standard, non-voltage controlled chargers will destroy the battery through overloading and cause the electrolyte to escape!
Further valuable tips regarding Banner batteries in compact form - see Technical Guide.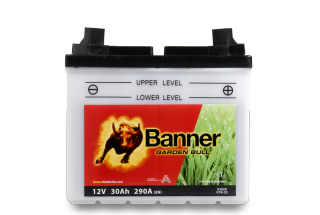 Garden Bull
Professional power for garden lawns.
Springtime and the gardening season are approaching and Banner has
already prepared the ground in timely fashion by enlarging its product portfolio with the new Garden Bull battery line. This has been specially designed for garden equipment such as tractor and ride-on mowers, and was launched onto the market during February.
Banner, which is based in Leonding, Upper Austria, has for many years been successfully manufacturing starter batteries for the sport and leisure segment, which are installed in motorcycles, quads, jet skis,
ATVs, scooters and snowmobiles. Now, Banner is additionally covering the gardening equipment market with its new, top quality Garden Bull batteries, which were specifically designed for this purpose. These are equipped with the latest lead battery technology and not only offer maximum user-friendliness and operational safety, but also outstandingly low self-discharge rates and high levels of cold start power. Furthermore, the Garden Bulls provide excellent performance and reliability in combination with a long
service life.
As Andreas Bawart, Banner's Commercial CEO states: "We are proud of the fact that with this addition to our portfolio we can attain market coverage of around 90 per cent. This has been achieved through the offer of six different battery versions for the garden mower segment." These six models have capacities ranging from 18 to 30Ah and as Andreas Bawart adds: " One of our key focal points during the creation of the Banner Garden Bull was on the type of terminal generally used for ride-on mowers. This was naturally taken into account and the design matched accordingly."
The quality Garden Bull is dry pre-charged and is supplied with a pack containing a precisely measured quantity of electrolyte. Once this is filled into the battery, it is immediately ready for use. The Banner Garden Bull is a maintenance-free wet battery, which when installed vertically offers safety against tipping and leakages. Owing to its first class design, it also offers up to thirty per cent more starting energy than standard batteries and if charged up in winter will remain reliable and powerful, not just for a season but
many years. For this purpose, Banner recommends the use of a suitable Banner Accucharger device.
Further information see pdf-document.
PDF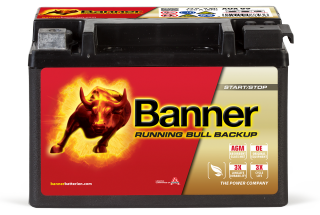 E-mobility is an opportunity for Bull power.
E-mobility is an important business area for Banner and deliveries are already being made to numerous partners.
E-mobility has for quite some time been the dominant topic of discussion in the automotive branch. Consequently, as an established manufacturer of lead-based starter batteries, Banner is confronting the resultant challenges to a greater extent than ever before.
With its AGM and EFB batteries, Banner is making a significant contribution to sustainable emobility.
It is still impossible for any e-vehicle to operate without a 12V lead-acid battery on board for the supply of its electrical systems and therefore apart from future-oriented start-ups, Banner is also supplying leading automotive manufacturers such as the BMW Group with its quality batteries. For example, the electrical system in the BMW i3 is stabilised by a Banner Running Bull AGM Backup, which feeds power to the car's 12V consumers.
The German Post Office also delivers with Banner.
For more than a year, Deutsche Post (Germany Post Office) has been using DHL e-transporters for short delivery runs. In the so-called StreetScooters, which are the product of an innovative start-up, the battery is installed behind the driver's cab and must therefore be maintenance-free. At present, Banner is supplying the required power with a Starting Bull and an 8A charger has also been installed in order to allow the simultaneous recharging of the 12V and high-voltage batteries over night.
Lead-acid batteries supply flexible energy.
Future-oriented, fuel-saving vehicles require a reliable energy source. Therefore, owing to their high levels of cyclical resistance, in particular advanced lead-acid batteries in the form of absorbent glass mat (AGM) and enhanced flooded batteries (EFB) are employed in micro-hybrid concepts. Above all, the AGM battery, which uses glass webs, is an extremely efficient battery technology that allows the flexible and extensive energy management that is vital for the vehicle technologies of tomorrow.
An emphasis on research and development
The automotive industry sees lithium-ion technology as possessing the greatest future potential for full hybrid vehicles. And although Banner is regarded as one of the leading suppliers of AGM and EFB batteries for micro-hybrid vehicles with start-stop systems, as an innovative company it is careful not to rest on its laurels. For as Andreas Bawart, the Banner Commercial CEO, explains: "A number of development projects are in progress, which are aimed at further boosting the efficiency of the AGM
battery. We have set ourselves the target of improving power charging and discharge through optimised cell design, additives in the active mass and various design measures."
Further information see pdf-document.
Download Mediainfo
Bull Power referenser
Våra OE-kunder, ert förtroende.
(Original Equipment)