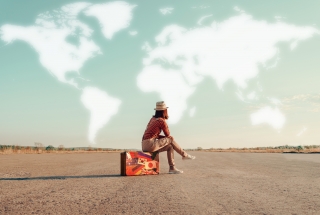 Battery-tip: Heat causes car batteries to sweat!
"Summertime blues" for batteries.
Those needing a new battery in winter have generally made a mistake in summer. The problem is that high temperatures cause the battery water to evaporate to such as extent that the plates are literally left out to dry. The battery becomes weak and fragile.
Banner professional tip: Make a battery check, on every vehicle, in the workshop run!
Control for longer life.
A battery supplies energy permanently when its optimum state is maintained. With the banner test and inspection devices you can test charge conditions, voltage, the status of the battery acid and much more. This way you know immediately if and which measures are necessary to maintain full battery power.
Regularly check the electrolyte level in wet batteries and, if necessary, top up demineralised or distilled water to the maximum acid level or 15 mm above the upper edge of the plate.
There is no need to top up water on Banner's absolutely maintenance-free wet starter batteries (applies to Starting Bull, Power Bull/PRO and Running Bull EFB). Under normal operating conditions, no water needs to be refilled for the entire battery life of the Bull product variants mentioned above.
In case of high water loss, the controller voltage should be checked by a specialist.
Never top up acid!
Please note with Running Bull AGM batteries:
The screw connections of the AGM batteries must not be opened! An acid density measurement or refilling of distilled water is not possible or not necessary!
Battery check with banner testing devices - important routine control for optimal performance and longer life of every car battery.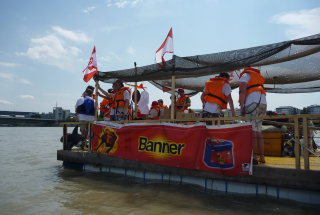 Mit Banner Power entlang der Donau unterwegs!
Von Adony nach Veliko Gradiste
Bereits zum zweiten Mal brach die ehemalige F5b Maturaklasse 2012/13 der HTL Mödling mit einem selbstgebauten Floß inklusive Banner Batterie zu einer abenteuerlichen Reise entlang der Donau auf.
Wir bedanken uns sehr herzlich bei der Firma Banner, die uns bereits zum zweiten Mal eine Batterie kostenlos zur Verfügung gestellt hat - großartig!", so Franz Gadermaier, der Klassenvorstand der ehemaligen Maturaklasse.
Nach Anfahrtsschwierigkeiten starteten die Flößer von Adony nahe Budapest los:
"In gemächlichen Etappen begann die Fahrt problemlos - geradezu harmlos: T-Shirt in der Schraube, Nahbekanntschaft mit einer Boje - und erreichten nach drei Tagen Mohacs. Doch es stellte sich heraus, dass unser Floßführer einen fatalen Fehler begangen hatte: Er hatte die ungarische Genehmigung bis Mohacs beantragt, in der Annahme, das sei die Grenze zu Serbien. Nein, die Grenze liege 12 km unterhalb von Mohacs, teilte uns ein ungarischer Wasserpolizist mit und untersagte uns die Weiterfahrt. Was tun? Letztendlich stellen wir einen Antrag für die 12 km Donau von Mohacs bis Bezdan und erhielten auch die Genehmigung, die uns teuer zu stehen kam.
Danach ging es endlich weiter nach Serbien: Unglaublich unbürokratische Behörden und freundliche Menschen: Plötzlich legte während der Fahrt eine Zille am Floß an, ein Fischer reicht uns einen Karpfen und eine Brasse und wünschte uns guten Appetit. Auf dem Fußmarsch mit leeren Kanistern zur Tankstelle bleibt ein Wagen stehen, transportiert uns zur Tankstelle und zum Floß zurück. Sogar eine Landesflagge bekamen wir geschenkt", berichtete Gadermaier voller Begeisterung.
Nach insgesamt 11 Tagen kamen die Abenteurer in Veliko Gradiste an und planen jetzt schon eine Weiterfahrt, die das Floß 2019 nach Serbien und Rumänien führen soll.
Does the supply battery in a motorhome/caravan differ from a conventional starter battery?
Yes, essential.
A conventional starter battery is, as the name suggests, basically designed to provide a high short energy boost to start the vehicle.
As soon as the engine is running, the vehicle's charging system ensures that the energy taken from the battery is recharged and supplies all other electrical loads.

When compared to running, the starter battery of the Sprinter and the long-term discharge battery would be a marathon runner.
A long-term discharge battery in the hobby/leisure time range is required in order to supply a considerably lower current for the on-board power supply and a large number of electrical/electronic consumers over a longer period of time; it is also discharged and recharged several times.
This means that the technology and components differ significantly from those of a starter battery, so that the use of a starter battery in a cyclic application can lead to premature battery wear or even total battery failure in the first months of operation.
Banner Tip: For a long service life of an on-board battery.
An on-board battery should be discharged to a maximum of 50% charge. In principle, the lower the discharge, the shorter the expected service life. Please ensure immediate and sufficient recharging after each discharge.

Energy Bull - the cycle-proof long-term discharge battery for the hobby/leisure sector. Portable energy for motorhomes, caravans and camping or sailing and electric boats.
Accucharger - for professional battery charging and charge maintenance. Guarantees a safe start, optimum on-board power supply and prolongs the service life of every battery.
BBT Digital Voltmeter DV1 - for voltage testing of all automotive batteries. This is a handy measuring device that measures the battery voltage quickly and reliably. The display is an easy-to-read LCD display.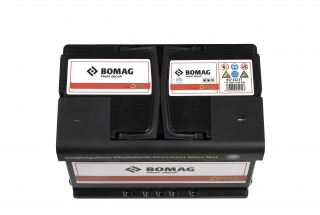 BOMAG supplier award
BOMAG Supplier Award for Banner!
Banner has been awarded by BOMAG for the fourth time in a row.
Banner wurde zum vierten Mal in Folge von BOMAG ausgezeichnet.
BOMAG, manufacturer of compaction machines, uses extremely vibration and cycle resistant EFB and AGM batteries from Banner.
The world market leader in the soil compaction sector regularly assesses its suppliers in detail and has now awarded batteries from Banner four times in succession: Banner was again able to increase slightly and, with an overall result of over 96%, will again receive the top supplier classification "A-supplier" for the year 2017.