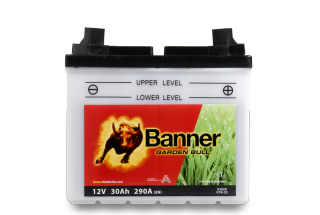 Garden Bull
Professional power for garden lawns.
Springtime and the gardening season are approaching and Banner has
already prepared the ground in timely fashion by enlarging its product portfolio with the new Garden Bull battery line. This has been specially designed for garden equipment such as tractor and ride-on mowers, and was launched onto the market during February.
Banner, which is based in Leonding, Upper Austria, has for many years been successfully manufacturing starter batteries for the sport and leisure segment, which are installed in motorcycles, quads, jet skis,
ATVs, scooters and snowmobiles. Now, Banner is additionally covering the gardening equipment market with its new, top quality Garden Bull batteries, which were specifically designed for this purpose. These are equipped with the latest lead battery technology and not only offer maximum user-friendliness and operational safety, but also outstandingly low self-discharge rates and high levels of cold start power. Furthermore, the Garden Bulls provide excellent performance and reliability in combination with a long
service life.

As Andreas Bawart, Banner's Commercial CEO states: "We are proud of the fact that with this addition to our portfolio we can attain market coverage of around 90 per cent. This has been achieved through the offer of six different battery versions for the garden mower segment." These six models have capacities ranging from 18 to 30Ah and as Andreas Bawart adds: " One of our key focal points during the creation of the Banner Garden Bull was on the type of terminal generally used for ride-on mowers. This was naturally taken into account and the design matched accordingly."

The quality Garden Bull is dry pre-charged and is supplied with a pack containing a precisely measured quantity of electrolyte. Once this is filled into the battery, it is immediately ready for use. The Banner Garden Bull is a maintenance-free wet battery, which when installed vertically offers safety against tipping and leakages. Owing to its first class design, it also offers up to thirty per cent more starting energy than standard batteries and if charged up in winter will remain reliable and powerful, not just for a season but
many years. For this purpose, Banner recommends the use of a suitable Banner Accucharger device.

Further information see pdf-document.
will follow within the next few days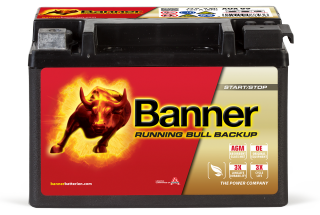 E-mobility is an opportunity for Bull power.
E-mobility is an important business area for Banner and deliveries are already being made to numerous partners.
E-mobility has for quite some time been the dominant topic of discussion in the automotive branch. Consequently, as an established manufacturer of lead-based starter batteries, Banner is confronting the resultant challenges to a greater extent than ever before.
With its AGM and EFB batteries, Banner is making a significant contribution to sustainable emobility.
It is still impossible for any e-vehicle to operate without a 12V lead-acid battery on board for the supply of its electrical systems and therefore apart from future-oriented start-ups, Banner is also supplying leading automotive manufacturers such as the BMW Group with its quality batteries. For example, the electrical system in the BMW i3 is stabilised by a Banner Running Bull AGM Backup, which feeds power to the car's 12V consumers.
The German Post Office also delivers with Banner.
For more than a year, Deutsche Post (Germany Post Office) has been using DHL e-transporters for short delivery runs. In the so-called StreetScooters, which are the product of an innovative start-up, the battery is installed behind the driver's cab and must therefore be maintenance-free. At present, Banner is supplying the required power with a Starting Bull and an 8A charger has also been installed in order to allow the simultaneous recharging of the 12V and high-voltage batteries over night.
Lead-acid batteries supply flexible energy.
Future-oriented, fuel-saving vehicles require a reliable energy source. Therefore, owing to their high levels of cyclical resistance, in particular advanced lead-acid batteries in the form of absorbent glass mat (AGM) and enhanced flooded batteries (EFB) are employed in micro-hybrid concepts. Above all, the AGM battery, which uses glass webs, is an extremely efficient battery technology that allows the flexible and extensive energy management that is vital for the vehicle technologies of tomorrow.
An emphasis on research and development
The automotive industry sees lithium-ion technology as possessing the greatest future potential for full hybrid vehicles. And although Banner is regarded as one of the leading suppliers of AGM and EFB batteries for micro-hybrid vehicles with start-stop systems, as an innovative company it is careful not to rest on its laurels. For as Andreas Bawart, the Banner Commercial CEO, explains: "A number of development projects are in progress, which are aimed at further boosting the efficiency of the AGM
battery. We have set ourselves the target of improving power charging and discharge through optimised cell design, additives in the active mass and various design measures."
Further information see pdf-document.
Download Mediainfo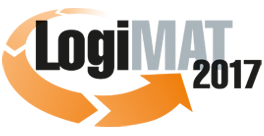 LogiMAT 2017
15. Internationale Fachmesse für Distribution, Material- und Informationsfluss
Das Banner Team freut sich, Sie auf der LogiMAT 2017 von 14. bis 16. März in Stuttgart begrüßen zu dürfen.
Den Banner Messestand finden Sie ganz leicht: Folgen Sie den Wegweisern zur Region "Halle 8" und dann biegen Sie beim Stand 8A65 scharf ab! Es erwartet Sie ein tolles Programm, nette Unterhaltung und eine Fülle von Neuheiten.
Weitere Infos folgen in Kürze.

Bis bald am Messestand.

Ihr Banner Team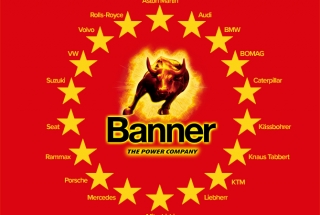 Büffelpost
The Banner customer magazine with the latest news!
THE FUTURE. BULL POWER FOR E-MOBILITY.
Top news short noticed:
- DIGITISATION. Banner WEBSITE & SERVICES FIT FOR THE FUTURE.
- COMMERCIAL VEHICLE BATTERIES. BUFFALO BULL SHD PROFESSIONAL OPTIMISED.
- BRAND NEW. INNOVATIVE PRODUCTS & EXCITING FEATURES.
Further information see pdf-document.
Download Büffelpost