Running Bull AGM
AGM 570 01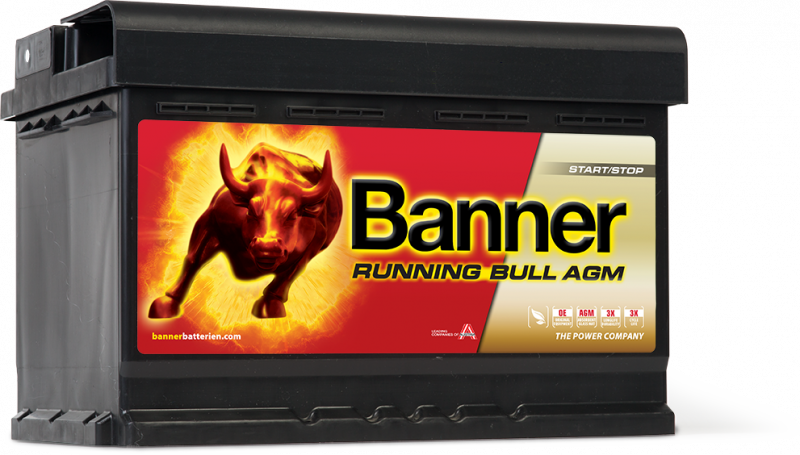 Fits the following applications
Sustainability
SAVE FUEL AND CO2 AND THEREBY REDUCE ENVIRONMENTAL IMPACT
with the sustainable batteries from Banner. 100% environmentally compatible used battery recycling.

original equipment
OE= ORIGINAL QUALITY FOR RETROFITTING.
Banner batteries meet exactly the stipulations of leading German automotive manufacturers. These power packs are designed for modern vehicles with high energy requirements.
AGM
AGM = absorbent glass mat, which absorbs the battery acid and thus binds it in.

Above all, AGM technology is employed in the start/stop systems with energy recuperation used in mid-range and premium class cars, as well as in motorcycle batteries.
3x longlife durability
Three times the service life of standard starter batteries.
3x cycle life
Three times the cycle resistance of conventional starter batteries; E4/M3 classification pursuant to EN 50342-1.
RUNNING BULL AGM
AGM FOR START/STOP VEHICLES
WITH ENERGY RECUPERATION.

Over 70 per cent of all new vehicles will be fitted with an engine start/stop function, in order to achieve the CO2 limitation targets set by the EU by means of sustained fuel consumptionsavings and emission reductions. In general, two differing starter battery types are employed in these environment-friendly vehicles, consisting of the absorbent glass mat (AGM) and the enhanced flooded battery (EFB) systems. The use of the appropriate technology depends largely on the fuel and CO2 savings that can be attained.
By and large, AGM technology is employed for start/stop systems with maximum energy requirements and braking energy recuperation.
Within this context, in particular the Running Bull AGM constitutes the optimum solution for mid-range to premium and luxury class vehicles.
TECHNICAL DATA AND INFORMATION
Valve-regulated AGM battery (VRLA)
Range of five types with capacities from 60-105 Ah
Three times greater cycle resistance than conventional starter batteries: highest E4/M3 classification pursuant to EN 50342-1
Leak-proof owing to electrolyte bonding into an absorbent glass mat
Zero maintenance owing to recombination technology
Highest V3 vibration resistance pursuant to EN 50342-1
Maximum starting performance due to very low internal resistance
Installation in a lateral position possible (max. 90° angle)
Flexible use as a starter and on-board power supply battery
Cold discharge test current EN (A)
Banner GUIDE
WHEN RETROFITTING THE RUNNING BULL AGM PLEASE NOTE:
WHEN RETROFITTING THE RUNNING BULL AGM PLEASE NOTE:
Do not exceed the maximum charging voltage of 14.8V! Therefore, always examine the layout of the vehicle generator.
Only use voltage-regulated chargers with an IU-characteristic and the AGM/GEL charging programme.
Do not open the screws of the Running Bull, as this results in an imbalance in the hydrogen-oxygen ratio and a loss of performance.
Only allow a specialist company to retrofit a Running Bull.
* AGM = absorbent glass mat, which absorbs the battery acid and thus binds it in.
We recommend the following charger

FOR CONSUMERS
Banner Accucharger 6A Recovery
UNIVERSAL CHARGER

Fully automatic 8-step charging with automatic charge retention and special recovery mode for deeply discharged batteries.

FOR PROFESSIONAL USERS
Banner Accucharger Pro 25A
25A PROFESSIONAL DEVICE FOR THE WORKSHOP

Fully automatic battery charging system with special 16V refresh mode for deeply discharged batteries.
Our upgrade recommendation

You have already selected the best Banner battery with optimal performance and maximum lifetime for your usage.