ACCUCHARGER


UNE CHARGE TOTALEMENT AUTOMATIQUE !

TRACTION BULL
BLOC AGM

L'ENERGIE DE VOS LOISIRS !

STAND BY BULL

Emmagasinez l'énergie solaire !

TRACTION BULL

L'Energie de traction

STAND BY BULL

L'ALIMENTATION DES ALARMES !

TRACTION BULL

IDEALE POUR LES ENGINS ELECTRIQUES


STAND BY BULL GEL

STOCKER L'ENERGIE QUE PROCURE LA NATURE !

STAND BY BULL

POUR LES SYSTEMES DE COMMUNICATION

RÉSISTE AUX CONDITIONS CLIMATIQUES DIFFICILES

PUISSANCE EN TOUTE SAISON
À LA RECHERCHE DE
LA BATTERIE ADÉQUATE ?
NOUVELLES! BUFFALO BULL EFB
THE LONG-DISTANCE TRUCK POWER.
Sans entretien (pas d'appoint d'eau) dans des conditions d'exploitation normales
Offre de 2 tailles de batterie standard (bac B et C) avec 190 Ah ou 240 Ah

Meilleure résistance aux cycles grâce à la composition de la masse active et le revêtement en fibres de verre

Design robuste et excellente résistance aux secousses grâce à une fixation de plaques spéciale

Meilleure résistance à la corrosion de la grille grâce à l'utilisation continue de procédés de fabrication

Technologie calcium permettant une consommation d'eau minimale
DOMAINES D'UTILISATION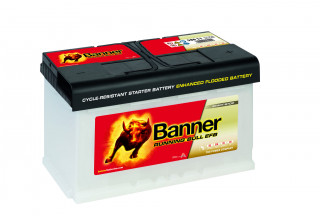 Banner at the Automechanika 2018
Rester les meilleurs en proposant des batteries de haute technologie
L'élément clé de la mobilité du futur repose sur des batteries innovantes et techniques
Banner travaille de manière continue à la recherche et au développement de batteries répondant aux demandes de la mobilité de demain. Nous exposerons sur Automechanika 2018 nos dernières nouveautés dans les gammes de batteries VL, PL et d'accessoires
Günther Helmchen, Directeur de Banner Allemagne, présente cette année à Automechanika des solutions adaptées à la mobilité durable. "Avec les batteries EFB et AGM, pour les véhicules micro-hybrides avec systèmes Start&Stop, nous contribuons à préserver l'environnement et à économiser nos ressources naturelles. On estime ainsi, sur l'exercice passé, que nous avons contribué à une économie d'environ 66 millions de litres de carburant et 164 000 tonnes de CO2. Nous pouvons également souligner que les batteries sont recyclée à 100%".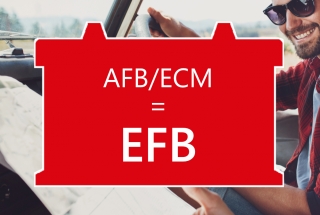 Is it possible that AFB and ECM batteries are also used for start/stop applications or generally for high energy requirements in cars?
Yes.
This is exactly the same technology as the Banner Running Bull EFB batteries.
There are often different names used on the market for start/stop technology in the battery sector:
AFB = Advanced Flooded Battery
ECM = Enhanced Cyclic Mat
EFB = Enhanced Flooded Battery

AFB and ECM car batteries can be replaced by the Banner Running Bull EFB. In identical housing and identical performance class.
PDF Banner Running Bull EFB:
EFB technology is mainly used in start/stop systems with high energy requirements. The Running Bull EFB battery is the ideal solution for small cars up to the upper middle class.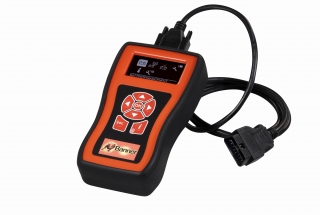 Test du Banner Battery Service Tool (BBST)!
C'est génial!
Le Magazine MRA Professionnel publie un essai de notre BBST dans son édition de juillet-août
Les test réalisés par un dépanneur professionnel ont été 
tout à fait satisfaisants. 
"Le BBST couvre plus de 41000 VL et plus de 30000 VUL/PL. La  
liste d'affectation du BBST est très complète !" 
En savoir plus sur le test du magazine MRA professionnel 
PDF Le BBST est l'outil indispensable pour le changement  
de la batterie des véhicules équipés d'un Battery Management System.  
Le BBST configure la batterie dans le BMS, efface tous les codes erreurs  
liés au changement de la batterie et enregistre la nouvelle batterie dans  
le système électronique du véhicule.  
Is it possible that VRLA batteries are also suitable for start/stop applications or generally for the highest energy consumption in cars?
Yes.
This is exactly the same technology as Banner Running Bull AGM batteries.
Only different designations from different suppliers are used. For example, Mercedes notes VRLA on the top label of AGM start/stop car batteries.
VRLA car batteries can be replaced by the Banner Running Bull AGM. In identical box and in the same performance class.
AGM = Absorbent Glass Mat, the acid is absorbed in the glass fleece and thus bound.
VRLA = Valve Regulated Lead Acid, a valve-regulated lead/acid battery with AGM technology.
PDF Banner Running Bull AGM:
AGM technology is mainly used in start/stop systems with maximum energy consumption and brake energy recovery. The Running Bull AGM battery is the ideal solution here, primarily for medium and luxury vehicles.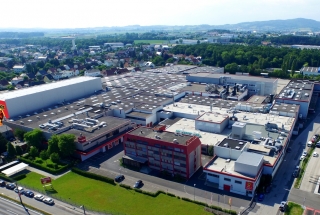 Banner breaks through the €300 million sales revenue barrier for the first time
Sales revenues increased by more than eleven per cent as compared to the previous year and amounted to €302 million, which was the highest figure in the company's 80-year history. Banner is Austria's sole battery manufacturer.
As Andreas Bawart, Banner's co-owner and commercial CEO, explains: "Quality and reliability are two of our main success factors in the hotly contested battery market. This is borne out by our highly satisfactory figures and the fact that the BMW Group has opted for our EFB batteries is especially gratifying." Banner batteries are also first fitted into numerous models from Audi, Caterpillar, Jungheinrich, Kässbohrer, Liebherr, Mercedes, Mitsubishi, Porsche, Seat, Volvo and VW.
Banner can reflect upon a successful 2017/18 financial year (1 April 2017 to 31 March 2018):
- Record sales revenues of €302 million from across all business areas
- 4.6 million starter batteries sold
- Growth due to the strong demand for starter batteries for start-stop vehicles
- Deliveries of EFB batteries (Enhanced Flooded Battery = cycle-resistant starter battery) to the BMW Group from the beginning of 2018
- Investments of more than €30 million at the Leonding location since 2015
- A focus on environmental protection: 100 per cent recycling quota
For further information see press release
PDF The Banner Running Bull EFB for start-stop vehicles with a high energy requirement
PDF Andreas Bawart, the Banner GmbH Commercial CEO*
*© Andreas Wenter/Permanent Moments
Picture caption:
Factory shot Banner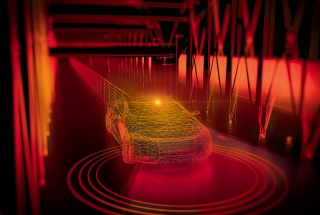 Büffelpost
The Banner customer magazine with the latest news!
SHAPING THE FUTURE WITH INNOVATIONS
Top news short noticed:
- PORTFOLIO. READY FOR TRENDS WITH NEW PRODUCTS
- FIRST FITTING. AGM & EFB POWER IN PREMIUM CLASS VEHICLES
- ENVIRONMENTAL MANAGEMENT. CONSERVING RESOURCES, FROM RAW MATERIALS TO RECYCLING
Further information see pdf-document.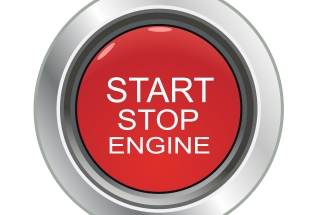 How does a start/stop system work?
Saves fuel at every red light, protects your wallet and is good for the environment.
The automatic start/stop switches the engine off and on again automatically, ...

... if you walk off or step on the clutch or brake during a stop. The savings potential: Depending on the driving situation, especially in city traffic, you use up to 0.8 l less fuel per 100 km!
The basic requirement: A particularly strong and cycle-proof start/stop battery that remains fully efficient even during frequent charging and discharging processes.
INNOVATIVE POWER FOR ENVIRONMENT-FRIENDLY MOBILITY.
Our top batteries for modern start/stop vehicles. Because Banner start/stop car batteries are real CO2 and fuel savers.

PDF With the highly specialised batteries of the Running Bull series, consisting of the Running Bull EFB*, Running Bull BackUp and Running Bull AGM**, Banner covers the entire energy supply segment in the start/stop vehicle area. Particularly high cyclical resistance makes the Running Bulls an ideal in-board power pack that safety masters the extreme loads created by frequent starts in micro-hybrid cars.
*EFB = Enhanced Flooded Battery, the cycle-resistant starter battery.
**AGM = Absorbent Glass Mat, which absorbs the battery acid and thus binds it in.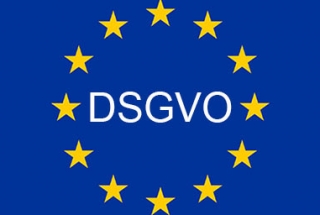 What does DSGVO mean?
Briefly simply General Data Protection Regulation.
The new EU Data Protection Ordinance (DSGVO) has been in force since 25 May 2018.
The main aim of the Basic Data Protection Ordinance is to regulate the handling of data uniformly throughout Europe.
The most important innovation of the DSGVO for website operators are the data protection regulations. Every website must contain a privacy policy. The data protection declaration is the text in which a company explains all data protection measures to its customers or visitors.
More information see PDF document.
PDF Banner Privacy Policy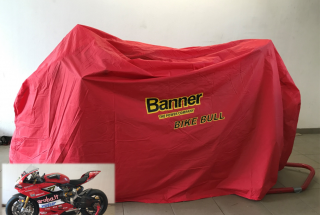 Motorcycle tarpaulin in red Banner Bike Bull Design "limited edition".
If you love your motorcycle, every biker does, he covers it.
Now with this opaque, lightweight and robust cover in Banner red colour for universal outdoor and indoor use.
This motorcycle cover offers optimum protection against rain, dust, dirt and UV radiation. Simply slip over, the elastic hem at the lower end gently and securely surrounds the more or less expensive vehicle.
Details:
• tensile and very light material (non-woven polypropylene)
• breathable material ensures a dry climate under the tarpaulin
• all around with elastic for a stable fit on the motorcycle
• front with sturdy eyelets for securing with a tension belt or a shackle or cable lock
• a tensioning belt with click fastener at the lower edge ensures a firm fit
• practical to pack in the waterproof storage bag supplied
Size XL: Length bottom/height front/height rear/width front/width rear: 280/146/118/67/66 cm

Weight: 1.050 g
PDF Special Edition: Available and in distribution, from selected Banner distributors, for the best customers.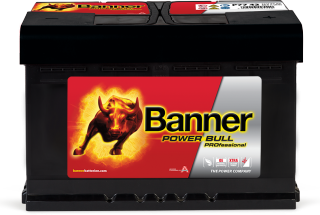 POWER BULL PROfessoinal - Original part quality for replacement needs.
Primarily used in small cars up to the luxury class.
These power packs are designed for modern cars with very high energy requirements but without a start/stop system.
The new top versions of the Power Bull PROfessional with increased performance are based on proven Power Bull technologyand fulfil precisely the requirements of leading German automotive manufacturers. These power packs are designed for moderncars with very high energy demands but without a start/stop system.
The Power BULL PRO – the PROlongation of a success story.
The triumphal progress of the Power Bull PRO starter batteries is set to continue, as the Banner top seller quite literally combines prizewinning product quality with premium performance in a perfect symbiosis. This is simply original part excellence for retrofitting.
Precisely for this reason, the product portfolio has been augmented with the following three battery types in T-boxes:
Power Bull
PRO P50 42 (T4/LB1 box – 50 Ah/400 A EN)
PRO P63 42 (T5/LB2 box – 63 Ah/600 A EN)
PRO P77 42 (T6/LB3 box – 77 Ah/680 A EN)
These represent intelligent additions to the range because numerous Ford and Vauxhall/GM models (without start/stop function or braking energy recuperation) require original battery replacements with a total height of 175 mm.
Power Bull PRO product/customer advantages in brief:
• Now 9 types with capacities of 50 Ah/63 Ah/77 Ah/84 Ah/100 Ah /110 Ah
• Double Top lid for twice the leak protection:
• and 100 per cent leak protection up to an angle of 55°
• Absolutely maintenance-free due to modern calcium technology
• A further improvement in cold start characteristics (A)
• OEM quality according to BMW and VW stipulations
• 175/190mm original height
• Improved cyclical behaviour thanks to an optimised mass recipe
In readiness for next season, at the latest the batteries will be available from the spring or summer of 2018.
Please take very careful note of these tips during battery exchanges!
Warning! Under no circumstances install a conventional wet battery in a vehicle (with start/stop function), which in serial production has been fitted with an AGM or EFB battery. Should an exchange be necessary, only use an AGM or EFB battery with an identical box and in the same performance class.
Banner Tip! A Power Bull battery can be upgraded to an even more powerful Power Bull PRO battery in T4/LB1 (44 Ah), T5/LB2 (60 Ah), H5/L2 (62 Ah), T6/LB3 (72 Ah), H6/L3 (74 Ah) and H8/L5 (95 Ah) boxes. Please contact your Banner customer advisor.
PDF The new, performance-enhanced top versions Power Bull PROfessional are based on the proven Power Bull technology and exactly meet the requirements for car batteries of leading german car manufacturers such as BMW and VW.
Références Bull Power
Nos clients OE, votre confiance.
(équipements d'origine)