À LA RECHERCHE DE
LA BATTERIE ADÉQUATE ?
NOUVELLES! BUFFALO BULL EFB
THE LONG-DISTANCE TRUCK POWER.
Sans entretien (pas d'appoint d'eau) dans des conditions d'exploitation normales
Offre de 2 tailles de batterie standard (bac B et C) avec 190 Ah ou 240 Ah

Meilleure résistance aux cycles grâce à la composition de la masse active et le revêtement en fibres de verre

Design robuste et excellente résistance aux secousses grâce à une fixation de plaques spéciale

Meilleure résistance à la corrosion de la grille grâce à l'utilisation continue de procédés de fabrication

Technologie calcium permettant une consommation d'eau minimale
DOMAINES D'UTILISATION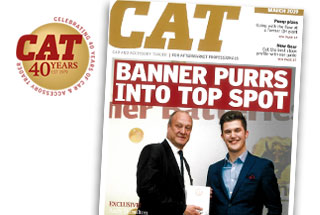 CAT Award Winner 2019!
Banner awarded as "Supplier of the Year"!
CAT (Car and Accessory Trader) magazine published the results of the reader survey in issue 03/2019 and awarded Banner as "Supplier of the Year"!
Around 16,000 CAT Magazine readers gave their personal ratings. Banner scored particularly well with the high quality of advice, products, services and after-sales, including the return of used batteries and environmentally friendly recycling through a closed product cycle.
Furthermore, Banner was able to convince with a professional training program for all sales partners and a battery accessory program optimally tailored to the automotive sector (chargers, boosters, test and inspection equipment through to interesting low-cost battery service articles).
This result is further proof that the Banner brand is highly regarded in the B2B sector - not only in the UK.
Banner thanks CAT magazine readers and editorial staff for the great trust they have shown in us and for giving us this prestigious, renowned award!
You can find the full article here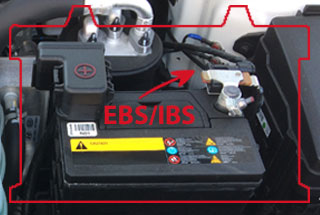 Battery tip: Application and function of the battery sensor.
What is the function of the sensor at the negative terminal of the starter battery?
The electronic battery sensor is an important part of energy management in motor vehicles. The sensor gives the car precise information about the battery status and controls the charging voltage and charging current accordingly.
The massively increased on-board currents in modern vehicle models and in particular the microhybrid applications start/stop and recuperation (=recovery) of braking energy place new demands on car batteries. More and more often, kinetic energy is also converted into electrical energy during coasting (=free rolling of the car), thus charging the battery.
Application and function of the sensor. Energy management continuously records parameters such as voltage, current and temperature via the battery sensor. These measured values are used to calculate important parameters such as charge status, functional status, overall battery status and a large number of other values.
The data is transmitted to the vehicle computer. The computer then decides on the energy balance in the vehicle and, if necessary, restricts the use of comfort consumers such as seat heating or air conditioning, deactivates the start/stop function and signals this to the driver on the display with corresponding instructions. If the alternator then recharges sufficiently, the control unit automatically reactivates all consumers and functions.
The customer benefit briefly noted. The primary aim is to ensure that the engine always starts and thus avoid vehicle failure. In addition, the sensor supports intelligent alternator control, which reduces CO2 emissions, saves fuel and protects the environment. If the battery no longer delivers the desired performance, "defective battery" is stored in the system and this early warning makes it possible to plan battery replacement.
Industry abbreviations quickly explained:
BEM - Battery Energy Management =
BMS - Battery Management System =
EEM - Electrical Energy Management =
EMS - Energy Management System
EBS - Electronic Battery Sensor =
IBS - Intelligent Battery Sensor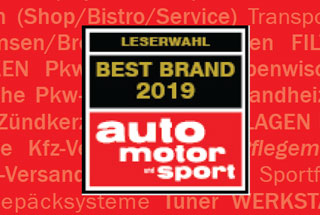 Winner podium at "auto motor und sport" reader survey 2019!
Banner among the "Best Brands"
In the new reader survey of Germany's renowned trade magazine "auto motor und sport" in issue 07.2019 we were again able to win a place on the podium!
In the survey, readers of "auto motor und sport" voted for those brands whose products particularly convinced them! In the "Batteries" category, Banner again took an excellent third place!
Many thanks to the readers for their confidence in Banner Batterien!
Detailed information on the reader survey (article in German)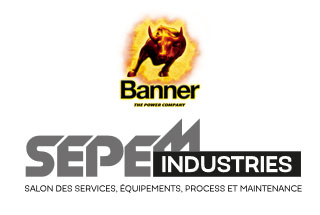 SEPEM DE TOULOUSE
26 au 28 mars 2019
Banner sera présent au SEPEM INDUSTRIES de Toulouse (31) - Salon des services, équipements, process et maintenance - du 26. au 28. Mars 2019 - Hall 3 Stand K10.
Nous aurons plaisir à vous y accueillir !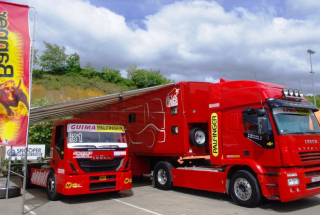 Team Truck Toulousain
Avec la pleine puissance Banner en route
Banner sponsorise le Team Truck Toulousain qui participe au championnat de France des Camions.
Ces camions, dont la puissance atteint 1000 cv, sont de véritables engins de courses qui se battent sur cinq circuits différents tout au long de l'année (Le Mans, Le Castellet, Nogaro, Charade et Albi).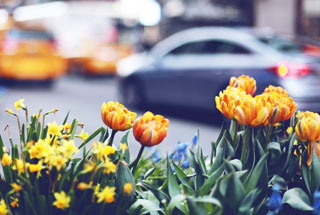 Make your car battery spring fit!
Battery tip: Get your car battery ready for spring!
Spring is the perfect time to check and recharge the battery.
Give the battery an extra portion of external recharging after winter.
Frequent short journeys, irregular driving profiles in combination with stop-and-go traffic, daily cold starts in icy temperatures in winter as well as additional electrical consumers such as seat, stand or rear window heating have lowered the energy level of your battery start for start and drive for drive. At the latest when changing tyres in spring, you should allow your battery an extra portion of external recharging!
Charge the car battery with the Banner Accucharger.

Banner Accucharger for professional battery charging and conservation. Guarantees a safe start, optimum on-board power supply and extends the service life of each battery (standard, AGM, EFB, start/stop and GEL batteries). Simple, fully automatic, safe and fast. In the video we show you how to charge your car battery correctly: Charging the car battery
Voltage test with the BBT Digital Voltmeter DV1.
The BBT DV1 is a handy measuring instrument that measures the battery voltage quickly and reliably. It is displayed on an easy-to-read LCD display with 2 decimal places. A voltage table on the device provides information about the battery charge status. Very simple application with high accuracy!
Further tips around the Banner battery can be found under the menu item Support.
We wish you a nice spring and a safe drive!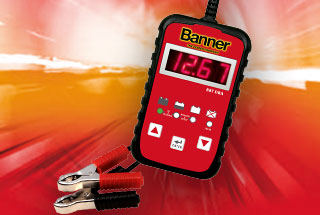 NEW: Banner Battery Tester DBA
12V battery tester incl. CCA test and charging system test.
We extend our range of accessories by a handy 12V quick tester.
The new Banner Battery Tester DBA is a handy test device for quick battery tests at an attractive price. The tester is ideal for use in workshops, battery dealers and service points for 12V standard, AGM and GEL batteries.
Further information, technical data and downloads can be found here.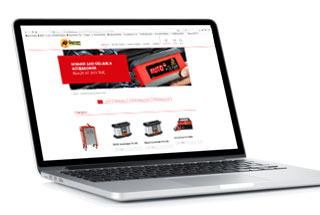 Extension Banner Website
Battery Accessories, Cross-Selling and Upgrading
From now on you will find an extended menu item "Accessories for cars and commercial vehicles", as well as new functions in the area of starter batteries.
- Extension menu item starter battery accessories:
For each charger, booster and test device there is now a separate detail page with all information to the article - images, technical data and further downloads.
- Extension Cross-Selling (= recommendation charger):
From now on there is a recommendation for a suitable banner charger for every battery type. There will be one recommendation for end users and one recommendation for professional users per battery type.
- Extension Upgrading (="Is there a stronger battery for my car?"):
For each battery type with upgrade option, an upgrade recommendation is now issued for higher energy requirements or higher cold start requirements. The values of the batteries can be compared at a glance.
We hope you enjoy browsing!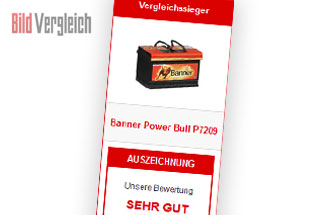 BILD.de car battery comparison 2019
BILD.de car battery comparison 2019 - Banner rated VERY GOOD!
Power Bull P72 09 awarded as "comparative test winner".
The test and comparison portal of BILD.de presented the best car batteries. The Power Bull P72 09 was able to assert itself.
In the current battery test 2019 of BILD.de in cooperation with "Vergleich.org", the Banner battery Power Bull P72 09 was awarded the best mark "VERY GOOD" and was awarded as the "comparative winner".
Here you can find the test results in detail (german):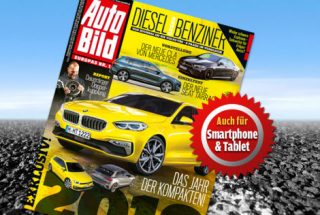 Starter batteries in "Auto Bild" magazin in comparison.
Is the cheap lead battery enough or does it have to be the expensive one?
This current question is answered by an interesting article in "Auto Bild" Nr. 2 - issue 10.01.2019.
In the column "Type customer for experts" the different battery technologies, their main applications and the respective load of the battery are explained and visualized in a simple and understandable way.
Find all information at a click and a glance (german):
PS: The magazine Auto Bild is the highest-circulation car magazine in Europe!
Références Bull Power
Nos clients OE, votre confiance.
(équipements d'origine)