ACCUCHARGER


VŽDY PLNĚ AUTOMATICKÉ NABITÍ

TRACTION BULL
BLOC AGM

DEEP CYCLE
GOLF POWER

STAND BY BULL

UKLÁDÁNÍ
SLUNEČNÍ
ENERGIE

TRACTION BULL

NEJEN PRO
VYSOKOZDVIŽNÉ VOZÍKY

STAND BY BULL

PRO
ZABEZPEČOVACÍ
ZAŘÍZENÍ!

TRACTION BULL

IDEÁLNÍ PRO
PROFI TAHAČE

STAND BY BULL GEL

UKLÁDÁNÍ VĚTRNÉ ENERGIE

STAND BY BULL

= TELE-
KOMUNIKACE

ODOLNOST PROTI POVĚTRNOSTNÍM VLIVŮM

PODZIMNÍ OBDOBÍ A LIJÁKY
NOVÉ! BUFFALO BULL EFB
THE LONG-DISTANCE TRUCK POWER.
Bez nároků na údržbu (nedolévá se voda) při normálních provozních podmínkách
Nabídka 2 standardních velikostí baterie (skříně B a C) se 190 Ah nebo 240 Ah
Zvýšená odolnost proti cyklickému namáhání díky receptuře aktivní hmoty a vrstvám rouna
Robustní konstrukce a optimální odolnost proti otřesům díky speciální upevňovací sadě
Zlepšená odolnost mřížky proti korozi díky použití kontinuálního výrobního postupu
Technologie legování na bázi vápníku zajišťuje minimální spotřebu vody
OBLASTI POUŽITÍ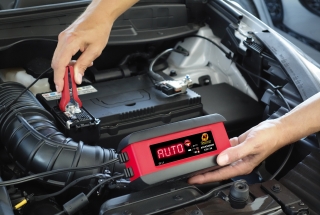 Charge your car battery now - that's the way it works!
Battery tip: charge car battery correctly!
Now is the perfect time to recharge the battery. We'll show you how to do it right!
HOW-TO VIDEO
Charging of conventional wet batteries and EFB batteries:
- Before charging, check electrolyte level and, if necessary, fill up desalinated or distilled water to the max. acid residue mark or 15 mm above the upper edge of the plate. The screw connections of the battery must not remain open during charging, it is best to close them again.
AGM batteries must not be opened, refilling with water is not possible or necessary.
- Connect the positive pole of the battery to the positive pole of the charger and the negative pole to the negative pole of the charger. Only switch on the charger after connecting the battery. Switch off the charger when charging is complete.

- A tenth of the capacity is recommended as charging current. (e.g. 44 Ah: 10 = 4.4 A charging current). With an automatic charger like the Banner Accucharger this setting happens, as the name suggests, automatically.

- Charging is complete when the current drops to 0 or no longer decreases or the automatic charger switches off. Provide good ventilation during charging. Attention: Highly explosive oxyhydrogen gas forms during charging! Fire, sparks, open light and smoking prohibited!
- AGM batteries must be charged with a voltage regulated charger, e.g. Banner Accucharger (max. 14.8V)!

As a general rule, fully automatic chargers (charging voltage limitation with 14.8V) are well suited for charging the battery installed in the vehicle. If your charger has an automatic mode with voltages >15.9V, the battery must be disconnected from the on-board electronics or removed from the vehicle. In the worst case the installed control units could be destroyed by overvoltages, the resulting damage would be enormous!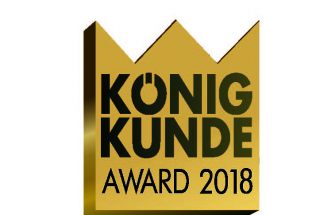 Banner on the podium!
Banner on the podium at the "King Customer" Award 2018!
Banner was able to convince in the "König Kunde" survey of the trade magazine Reisemobil International.
Every year, Reisemobil International, the trade magazine for motorhomes and motorhomes, conducts the "King Customer" survey. The survey asks how satisfied readers are with caravans and accessories. Reisemobil International calls the study "King Customer" because it is ultimately the customers who determine which brands are on the winners' podium.
Banner made it to third place in the accessories category "on-board battery".
More information can be found in the report "König Kunde" -Award 2018 (german)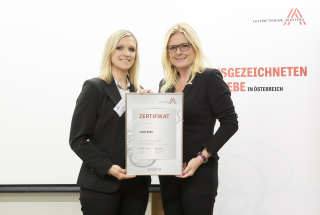 "LEITBETRIEBE AUSTRIA" award
Banner was again awarded as leading Austrian company!
Based on the evaluation procedure of the Leading Company Austria Institus, Banner was recertified for the years 2018/2019 as Austrian Leading Company.
Katrin Hilpold, Marketing Manager at Banner, accepted the certificate from Monica Rintersbacher, Managing Director "Leitbetriebe Austria", at the theme evening in St. Pölten.
Photocredit: Sabine Klimpt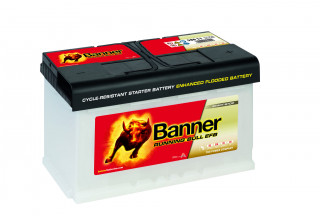 Banner at the Automechanika 2018
Staying in the fast lane with sustainable battery systems
As a key element in future mobility, innovative battery technologies are the object of increasing attention.
Therefore, Banner is working continuously on the development of optimum battery systems, which meets the demands of tomorrow. Consequently, the starter battery specialist's very latest product advances in the commercial vehicle, car and accessories areas will form the centrepiece of its exhibit at the Automechanika 2018.
Günter Helmchen, the CEO of Banner Batterien Deutschland GmbH, sees the premium supplier's presentation at this year's Automechanika as demonstrating that: "With the enhanced flooded battery (EFB) and absorbent glass mat (AGM) technologies for micro-hybrid drives and start-stop applications, we provide clear evidence of our sense of responsibility with regard to a resource-protective and sustainable business approach. During the past financial year alone, with our start-stop batteries we contributed to fuel savings of around 66 million litres and a reduction in CO2 emissions of approximately 164,000t. In addition, our new battery management systems for cars and commercial vehicles represent a systematic continuation of our successful strategy for the sustainable mobility of the future. In this connection, environmental protection and the common good constitute the number one priority, which is also linked to the fact that today lead-acid batteries can be recycled to an unsurpassed degree of virtually 100 per cent."
For further information see press release
PDF Banner Running Bull EFB for start-stop vehicles with a high energy requirement
PDF Banner's location in Leonding numbers among Europe's most modern battery plants
PDF Günter Helmchen, CEO, Banner Batterien Deutschland GmbH (centre), with the Banner Group's CEOs, Thomas Bawart (l.) and Andreas Bawart (r.)
PDF Leading automotive manufacturers trust Banner batteries
PDF The Banner recycling loop
Fotocredit: Banner Batterien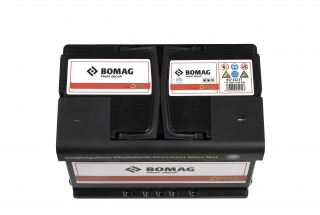 BOMAG supplier award
BOMAG Supplier Award for Banner!
Banner has been awarded by BOMAG for the fourth time in a row.
BOMAG, manufacturer of compaction machines, uses extremely vibration and cycle resistant EFB and AGM batteries from Banner.
The world market leader in the soil compaction sector regularly assesses its suppliers in detail and has now awarded batteries from Banner four times in succession: Banner was again able to increase slightly and, with an overall result of over 96%, will again receive the top supplier classification "A-supplier" for the year 2017.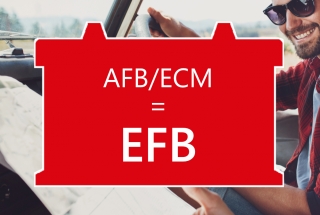 Is it possible that AFB and ECM batteries are also used for start/stop applications or generally for high energy requirements in cars?
Yes.
This is exactly the same technology as the Banner Running Bull EFB batteries.
There are often different names used on the market for start/stop technology in the battery sector:
AFB = Advanced Flooded Battery
ECM = Enhanced Cyclic Mat
EFB = Enhanced Flooded Battery

AFB and ECM car batteries can be replaced by the Banner Running Bull EFB. In identical housing and identical performance class.
PDF Banner Running Bull EFB:
EFB technology is mainly used in start/stop systems with high energy requirements. The Running Bull EFB battery is the ideal solution for small cars up to the upper middle class.
Is it possible that VRLA batteries are also suitable for start/stop applications or generally for the highest energy consumption in cars?
Yes.
This is exactly the same technology as Banner Running Bull AGM batteries.
Only different designations from different suppliers are used. For example, Mercedes notes VRLA on the top label of AGM start/stop car batteries.
VRLA car batteries can be replaced by the Banner Running Bull AGM. In identical box and in the same performance class.
AGM = Absorbent Glass Mat, the acid is absorbed in the glass fleece and thus bound.
VRLA = Valve Regulated Lead Acid, a valve-regulated lead/acid battery with AGM technology.
PDF Banner Running Bull AGM:
AGM technology is mainly used in start/stop systems with maximum energy consumption and brake energy recovery. The Running Bull AGM battery is the ideal solution here, primarily for medium and luxury vehicles.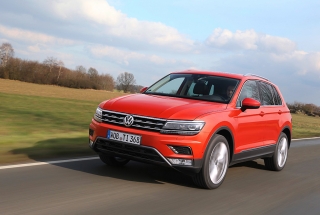 What is recuperation?
Quite simply, brake energy recovery.
When you accelerate or brake, some of your car's kinetic energy is usually lost. Part of this energy is recovered through the recuperation process.
This is because the alternator (also called generator) intentionally puts more strain on it in this phase, the voltage of the alternator is raised so that the charging process is accelerated and thus more energy is supplied to the battery. The alternator converts the kinetic energy into electricity, in principle like a bicycle dynamo. In acceleration phases and in normal operation, the output of the alternator can be partially reduced or even set to zero, which means more energy is available for the drive.
The reason: The vehicle now uses the energy that the battery has previously stored. This saves fuel and emissions.
Because Banner Running Bull series car batteries are real CO2 and fuel savers.
Energy for the environment.
Brake energy recovery and start/stop systems make modern cars much more environmentally friendly. With sustainable fuel savings and CO2 emission reductions.
Basic requirement: An extremely cycle-resistant start/stop battery Banner Running Bull, which reliably delivers maximum performance at start for start and drive for drive.
PDF Running Bull EFB*, Running Bull BackUp and Running Bull AGM**: With the highly specialized batteries of the Running Bull series, Banner completely covers the segment of power supply for start/stop vehicles. The particularly high cycle stability makes Running Bull the ideal on-board power plant that safely masters the extreme loads caused by the multiple starting processes of micro-hybrid vehicles.
EFF = Enhanced Flooded Battery, the cycle-proof starter battery
AGM = Absorbent Glass Mat, the acid is absorbed in the glass fleece and thus bound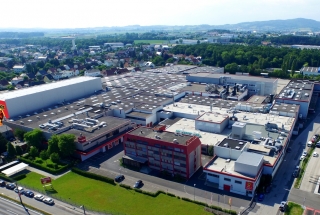 Banner breaks through the €300 million sales revenue barrier for the first time
Sales revenues increased by more than eleven per cent as compared to the previous year and amounted to €302 million, which was the highest figure in the company's 80-year history. Banner is Austria's sole battery manufacturer.
As Andreas Bawart, Banner's co-owner and commercial CEO, explains: "Quality and reliability are two of our main success factors in the hotly contested battery market. This is borne out by our highly satisfactory figures and the fact that the BMW Group has opted for our EFB batteries is especially gratifying." Banner batteries are also first fitted into numerous models from Audi, Caterpillar, Jungheinrich, Kässbohrer, Liebherr, Mercedes, Mitsubishi, Porsche, Seat, Volvo and VW.
Banner can reflect upon a successful 2017/18 financial year (1 April 2017 to 31 March 2018):
- Record sales revenues of €302 million from across all business areas
- 4.6 million starter batteries sold
- Growth due to the strong demand for starter batteries for start-stop vehicles
- Deliveries of EFB batteries (Enhanced Flooded Battery = cycle-resistant starter battery) to the BMW Group from the beginning of 2018
- Investments of more than €30 million at the Leonding location since 2015
- A focus on environmental protection: 100 per cent recycling quota
For further information see press release
PDF The Banner Running Bull EFB for start-stop vehicles with a high energy requirement
PDF Andreas Bawart, the Banner GmbH Commercial CEO*
*© Andreas Wenter/Permanent Moments
Picture caption:
Factory shot Banner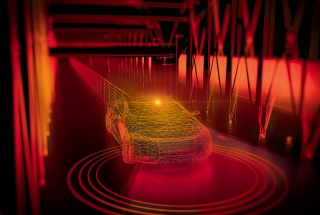 Büffelpost
The Banner customer magazine with the latest news!
SHAPING THE FUTURE WITH INNOVATIONS
Top news short noticed:
- PORTFOLIO. READY FOR TRENDS WITH NEW PRODUCTS
- FIRST FITTING. AGM & EFB POWER IN PREMIUM CLASS VEHICLES
- ENVIRONMENTAL MANAGEMENT. CONSERVING RESOURCES, FROM RAW MATERIALS TO RECYCLING
Further information see pdf-document.
Reference Bull Power
Naši zákazníci v oblasti originálního vybavení, Vaše důvěra.
(Original Equipment)