ACCUCHARGER


VŽDY PLNĚ AUTOMATICKÉ NABITÍ

TRACTION BULL
BLOC AGM

DEEP CYCLE
GOLF POWER

STAND BY BULL

UKLÁDÁNÍ
SLUNEČNÍ
ENERGIE

TRACTION BULL

NEJEN PRO
VYSOKOZDVIŽNÉ VOZÍKY

STAND BY BULL

PRO
ZABEZPEČOVACÍ
ZAŘÍZENÍ!

TRACTION BULL

IDEÁLNÍ PRO
PROFI TAHAČE

STAND BY BULL GEL

UKLÁDÁNÍ VĚTRNÉ ENERGIE

STAND BY BULL

= TELE-
KOMUNIKACE
NOVÉ! BUFFALO BULL EFB
THE LONG-DISTANCE TRUCK POWER.
Bez nároků na údržbu (nedolévá se voda) při normálních provozních podmínkách
Nabídka 2 standardních velikostí baterie (skříně B a C) se 190 Ah nebo 240 Ah
Zvýšená odolnost proti cyklickému namáhání díky receptuře aktivní hmoty a vrstvám rouna
Robustní konstrukce a optimální odolnost proti otřesům díky speciální upevňovací sadě
Zlepšená odolnost mřížky proti korozi díky použití kontinuálního výrobního postupu
Technologie legování na bázi vápníku zajišťuje minimální spotřebu vody
OBLASTI POUŽITÍ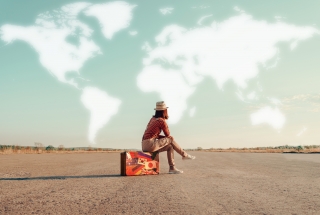 Battery-tip: Heat causes car batteries to sweat!
"Summertime blues" for batteries.
Those needing a new battery in winter have generally made a mistake in summer. The problem is that high temperatures cause the battery water to evaporate to such as extent that the plates are literally left out to dry. The battery becomes weak and fragile.
Banner professional tip: Make a battery check, on every vehicle, in the workshop run!
Control for longer life.
A battery supplies energy permanently when its optimum state is maintained. With the banner test and inspection devices you can test charge conditions, voltage, the status of the battery acid and much more. This way you know immediately if and which measures are necessary to maintain full battery power.
Regularly check the electrolyte level in wet batteries and, if necessary, top up demineralised or distilled water to the maximum acid level or 15 mm above the upper edge of the plate.
There is no need to top up water on Banner's absolutely maintenance-free wet starter batteries (applies to Starting Bull, Power Bull/PRO and Running Bull EFB). Under normal operating conditions, no water needs to be refilled for the entire battery life of the Bull product variants mentioned above.
In case of high water loss, the controller voltage should be checked by a specialist.
Never top up acid!
Please note with Running Bull AGM batteries:
The screw connections of the AGM batteries must not be opened! An acid density measurement or refilling of distilled water is not possible or not necessary!
Battery check with banner testing devices - important routine control for optimal performance and longer life of every car battery.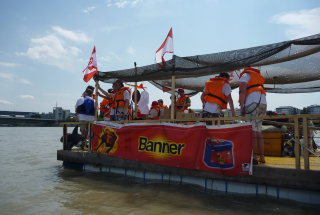 Mit Banner Power entlang der Donau unterwegs!
Von Adony nach Veliko Gradiste
Bereits zum zweiten Mal brach die ehemalige F5b Maturaklasse 2012/13 der HTL Mödling mit einem selbstgebauten Floß inklusive Banner Batterie zu einer abenteuerlichen Reise entlang der Donau auf.
Wir bedanken uns sehr herzlich bei der Firma Banner, die uns bereits zum zweiten Mal eine Batterie kostenlos zur Verfügung gestellt hat - großartig!", so Franz Gadermaier, der Klassenvorstand der ehemaligen Maturaklasse.
Nach Anfahrtsschwierigkeiten starteten die Flößer von Adony nahe Budapest los:
"In gemächlichen Etappen begann die Fahrt problemlos - geradezu harmlos: T-Shirt in der Schraube, Nahbekanntschaft mit einer Boje - und erreichten nach drei Tagen Mohacs. Doch es stellte sich heraus, dass unser Floßführer einen fatalen Fehler begangen hatte: Er hatte die ungarische Genehmigung bis Mohacs beantragt, in der Annahme, das sei die Grenze zu Serbien. Nein, die Grenze liege 12 km unterhalb von Mohacs, teilte uns ein ungarischer Wasserpolizist mit und untersagte uns die Weiterfahrt. Was tun? Letztendlich stellen wir einen Antrag für die 12 km Donau von Mohacs bis Bezdan und erhielten auch die Genehmigung, die uns teuer zu stehen kam.
Danach ging es endlich weiter nach Serbien: Unglaublich unbürokratische Behörden und freundliche Menschen: Plötzlich legte während der Fahrt eine Zille am Floß an, ein Fischer reicht uns einen Karpfen und eine Brasse und wünschte uns guten Appetit. Auf dem Fußmarsch mit leeren Kanistern zur Tankstelle bleibt ein Wagen stehen, transportiert uns zur Tankstelle und zum Floß zurück. Sogar eine Landesflagge bekamen wir geschenkt", berichtete Gadermaier voller Begeisterung.
Nach insgesamt 11 Tagen kamen die Abenteurer in Veliko Gradiste an und planen jetzt schon eine Weiterfahrt, die das Floß 2019 nach Serbien und Rumänien führen soll.
Does the supply battery in a motorhome/caravan differ from a conventional starter battery?
Yes, essential.
A conventional starter battery is, as the name suggests, basically designed to provide a high short energy boost to start the vehicle.
As soon as the engine is running, the vehicle's charging system ensures that the energy taken from the battery is recharged and supplies all other electrical loads.

When compared to running, the starter battery of the Sprinter and the long-term discharge battery would be a marathon runner.
A long-term discharge battery in the hobby/leisure time range is required in order to supply a considerably lower current for the on-board power supply and a large number of electrical/electronic consumers over a longer period of time; it is also discharged and recharged several times.
This means that the technology and components differ significantly from those of a starter battery, so that the use of a starter battery in a cyclic application can lead to premature battery wear or even total battery failure in the first months of operation.
Banner Tip: For a long service life of an on-board battery.
An on-board battery should be discharged to a maximum of 50% charge. In principle, the lower the discharge, the shorter the expected service life. Please ensure immediate and sufficient recharging after each discharge.

Energy Bull - the cycle-proof long-term discharge battery for the hobby/leisure sector. Portable energy for motorhomes, caravans and camping or sailing and electric boats.
Accucharger - for professional battery charging and charge maintenance. Guarantees a safe start, optimum on-board power supply and prolongs the service life of every battery.
BBT Digital Voltmeter DV1 - for voltage testing of all automotive batteries. This is a handy measuring device that measures the battery voltage quickly and reliably. The display is an easy-to-read LCD display.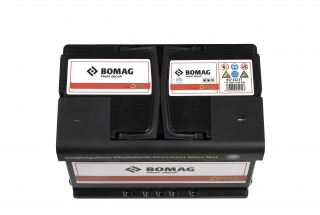 BOMAG supplier award
BOMAG Supplier Award for Banner!
Banner has been awarded by BOMAG for the fourth time in a row.
Banner wurde zum vierten Mal in Folge von BOMAG ausgezeichnet.
BOMAG, manufacturer of compaction machines, uses extremely vibration and cycle resistant EFB and AGM batteries from Banner.
The world market leader in the soil compaction sector regularly assesses its suppliers in detail and has now awarded batteries from Banner four times in succession: Banner was again able to increase slightly and, with an overall result of over 96%, will again receive the top supplier classification "A-supplier" for the year 2017.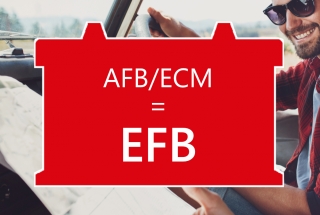 Is it possible that AFB and ECM batteries are also used for start/stop applications or generally for high energy requirements in cars?
Yes.
This is exactly the same technology as the Banner Running Bull EFB batteries.
There are often different names used on the market for start/stop technology in the battery sector:
AFB = Advanced Flooded Battery
ECM = Enhanced Cyclic Mat
EFB = Enhanced Flooded Battery

AFB and ECM car batteries can be replaced by the Banner Running Bull EFB. In identical housing and identical performance class.
PDF Banner Running Bull EFB:
EFB technology is mainly used in start/stop systems with high energy requirements. The Running Bull EFB battery is the ideal solution for small cars up to the upper middle class.
Is it possible that VRLA batteries are also suitable for start/stop applications or generally for the highest energy consumption in cars?
Yes.
This is exactly the same technology as Banner Running Bull AGM batteries.
Only different designations from different suppliers are used. For example, Mercedes notes VRLA on the top label of AGM start/stop car batteries.
VRLA car batteries can be replaced by the Banner Running Bull AGM. In identical box and in the same performance class.
AGM = Absorbent Glass Mat, the acid is absorbed in the glass fleece and thus bound.
VRLA = Valve Regulated Lead Acid, a valve-regulated lead/acid battery with AGM technology.
PDF Banner Running Bull AGM:
AGM technology is mainly used in start/stop systems with maximum energy consumption and brake energy recovery. The Running Bull AGM battery is the ideal solution here, primarily for medium and luxury vehicles.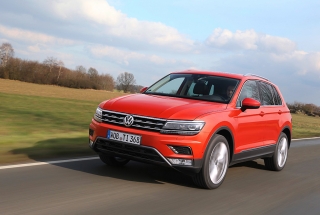 What is recuperation?
Quite simply, brake energy recovery.
When you accelerate or brake, some of your car's kinetic energy is usually lost. Part of this energy is recovered through the recuperation process.
This is because the alternator (also called generator) intentionally puts more strain on it in this phase, the voltage of the alternator is raised so that the charging process is accelerated and thus more energy is supplied to the battery. The alternator converts the kinetic energy into electricity, in principle like a bicycle dynamo. In acceleration phases and in normal operation, the output of the alternator can be partially reduced or even set to zero, which means more energy is available for the drive.
The reason: The vehicle now uses the energy that the battery has previously stored. This saves fuel and emissions.
Because Banner Running Bull series car batteries are real CO2 and fuel savers.
Energy for the environment.
Brake energy recovery and start/stop systems make modern cars much more environmentally friendly. With sustainable fuel savings and CO2 emission reductions.
Basic requirement: An extremely cycle-resistant start/stop battery Banner Running Bull, which reliably delivers maximum performance at start for start and drive for drive.
PDF Running Bull EFB*, Running Bull BackUp and Running Bull AGM**: With the highly specialized batteries of the Running Bull series, Banner completely covers the segment of power supply for start/stop vehicles. The particularly high cycle stability makes Running Bull the ideal on-board power plant that safely masters the extreme loads caused by the multiple starting processes of micro-hybrid vehicles.
EFF = Enhanced Flooded Battery, the cycle-proof starter battery
AGM = Absorbent Glass Mat, the acid is absorbed in the glass fleece and thus bound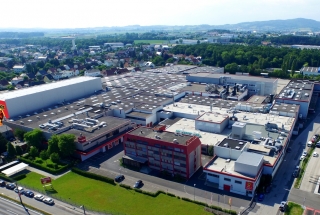 Banner breaks through the €300 million sales revenue barrier for the first time
Sales revenues increased by more than eleven per cent as compared to the previous year and amounted to €302 million, which was the highest figure in the company's 80-year history. Banner is Austria's sole battery manufacturer.
As Andreas Bawart, Banner's co-owner and commercial CEO, explains: "Quality and reliability are two of our main success factors in the hotly contested battery market. This is borne out by our highly satisfactory figures and the fact that the BMW Group has opted for our EFB batteries is especially gratifying." Banner batteries are also first fitted into numerous models from Audi, Caterpillar, Jungheinrich, Kässbohrer, Liebherr, Mercedes, Mitsubishi, Porsche, Seat, Volvo and VW.
Banner can reflect upon a successful 2017/18 financial year (1 April 2017 to 31 March 2018):
- Record sales revenues of €302 million from across all business areas
- 4.6 million starter batteries sold
- Growth due to the strong demand for starter batteries for start-stop vehicles
- Deliveries of EFB batteries (Enhanced Flooded Battery = cycle-resistant starter battery) to the BMW Group from the beginning of 2018
- Investments of more than €30 million at the Leonding location since 2015
- A focus on environmental protection: 100 per cent recycling quota
For further information see press release
PDF The Banner Running Bull EFB for start-stop vehicles with a high energy requirement
PDF Andreas Bawart, the Banner GmbH Commercial CEO*
*© Andreas Wenter/Permanent Moments
Picture caption:
Factory shot Banner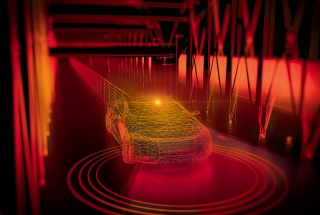 Büffelpost
The Banner customer magazine with the latest news!
SHAPING THE FUTURE WITH INNOVATIONS
Top news short noticed:
- PORTFOLIO. READY FOR TRENDS WITH NEW PRODUCTS
- FIRST FITTING. AGM & EFB POWER IN PREMIUM CLASS VEHICLES
- ENVIRONMENTAL MANAGEMENT. CONSERVING RESOURCES, FROM RAW MATERIALS TO RECYCLING
Further information see pdf-document.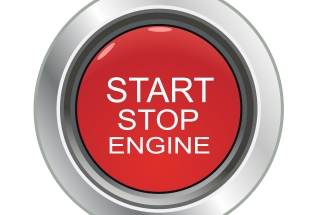 How does a start/stop system work?
Saves fuel at every red light, protects your wallet and is good for the environment.
The automatic start/stop switches the engine off and on again automatically, ...

... if you walk off or step on the clutch or brake during a stop. The savings potential: Depending on the driving situation, especially in city traffic, you use up to 0.8 l less fuel per 100 km!
The basic requirement: A particularly strong and cycle-proof start/stop battery that remains fully efficient even during frequent charging and discharging processes.
INNOVATIVE POWER FOR ENVIRONMENT-FRIENDLY MOBILITY.
Our top batteries for modern start/stop vehicles. Because Banner start/stop car batteries are real CO2 and fuel savers.

PDF With the highly specialised batteries of the Running Bull series, consisting of the Running Bull EFB*, Running Bull BackUp and Running Bull AGM**, Banner covers the entire energy supply segment in the start/stop vehicle area. Particularly high cyclical resistance makes the Running Bulls an ideal in-board power pack that safety masters the extreme loads created by frequent starts in micro-hybrid cars.
*EFB = Enhanced Flooded Battery, the cycle-resistant starter battery.
**AGM = Absorbent Glass Mat, which absorbs the battery acid and thus binds it in.
Reference Bull Power
Naši zákazníci v oblasti originálního vybavení, Vaše důvěra.
(Original Equipment)