JUMP STARTER
12V LITHIUM

MOBILE
START POWER

ACCUCHARGER


ВИНАГИ ПЪЛНО АВТОМАТИЧНО ЗАРЕЖДАНЕ

STAND BY BULL GEL

СЪХРАНЯВАНЕ НА ВЯТЪРНА ЕНЕРГИЯ
В ТЪРСЕНЕ НА
ПОДХОДЯЩИЯ АКУМУЛАТОР?
RUNNING BULL AGM
ВОДЕЩА ТЕХНОЛОГИЯ ABSORBENT GLASS MAT
AGM за старт-стоп на автомобили с рекуперация на енергията.
Защита срещу изтичане
благодарение на задържането на електролита в стъклена тъкан
СФЕРИ НА ПРИЛОЖЕНИЕ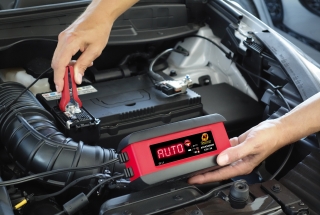 Charging car battery - that´s how it works!
Battery-tip: Charging inside the vehicle.
That´s how you do it right!
– Before charging, check the electrolyte level and top up if necessary with
deionized or distilled water to the maximum acid level mark or to 15 mm above the upper edge of the plates.
– Batteries must only be charged with direct current. Connect the positive (+) battery terminal to the positive (+) terminal of the charger, and the negative (-) battery terminal to the negative (-) terminal of the charger.
– Do not switch on the charger until after the battery has been connected. When charging is finished, switch off the charger before disconnecting the battery.
– It is recommended that the charging current be equal to one tenth of the capacity. (e.g. 44 Ah divided by 10 = 4.4 A charging current)
– The temperature of the acid must not exceed 55 °C during charging. If the temperature rises above 55 °C, the charging process must be discontinued.
– Charging is finished if the current drops to 0 or stops falling, or if the automatic charger switches off.
– Charging must be performed in a well-ventilated room.

Caution: Detonating gas is formed during charging! Fires, sparks, open flames and smoking are strictly prohibited!
Running Bull AGM/BackUp: Only recharge with a voltage controlled Banner Accucharger (max. 14,8V)! The use of standard, non-voltage controlled chargers will destroy the battery through overloading and cause the electrolyte to escape!
Further valuable tips regarding Banner batteries in compact form - see Technical Guide (page 46 charging tips).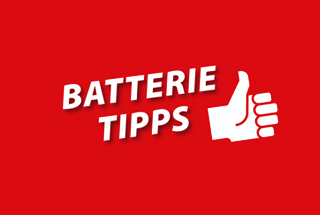 Seven short tips for extended battery life.
Full power for longer and no starting problems in winter!
How to get even better performance from your Banner battery.
1. Keep it active and on the move.
Inactive batteries start to discharge in a process during which lead sulphate forms of the battery plates and obstructs the current flow. A device like the Banner Accucharger keeps the battery in shape and prevents sulphation.
2. Keep it clean.
Ensure that the surface of the battery is clean and dry using an antistatic cloth. Moisture in the engine compartment causes current creepage, which consumes energy. In addition, do not use any so-called improvement agents.
3. Keep it safe in winter.
Battery starting performance declines in cold weather. Therefore, in order to have sufficient power, switch off additional consumers such as blowers and the heating until the engine is running. Moreover, turn them off before shutting down the engine.
4. Keep it running marathons.
During short trips cars often require more energy than the dynamo can generate and recharge, which means that the battery is subject to constant discharging. Therefore, if possible take the car out for longer runs in order to charge up the battery, or even better treat your battery to an external compensatory charge using a Banner Accucharger. The environment will be most grateful.
5. Keep it fit for winter with an extra charge.
Frequent short trips in combination with stop and start traffic reduce the energy level of the battery during every start and drive. Give your battery an extra portion of power with external charging, especially before the first cold winter weather arrives.
6. Keep your convertible in trim during hibernation.
Are you mothballing your car for the winter? If so and the battery is to stay in the vehicle, then remove the negative terminal. The battery must remain dry and cool (but frost-free) and at the very least be given <12.5V open-circuit recharging. The solution for these requirements of seasonally driven cars is provided by regular compensatory charges and charge retention using a Banner Accucharger.
7. Keep a Banner booster close at hand.
You can always rely on a well-maintained Banner battery, but what happens when a neighbour has starting problems? You naturally want to help and provide quick and simple assistance. However, one thing should be noted from the outset. Namely, that in view of the sensitive electronic components in the vehicle, as a rule starting assistance should only be given by means of a Banner Booster. This is because start assistance from vehicle to vehicle can lead to voltage peaks during the disconnection of the terminals, which can damage or even destroy car electronic systems.
Therefore, it is essential that the following procedure be strictly observed when using starter cables!
– Standardised starter cables (e.g. in accordance with DIN 72 553) should always be used when giving starting assistance.
– Observe the instructions for the use of the starter cables.
– Only connect batteries with the same nominal voltage.
– When connecting the terminals, switch off both vehicle engines!
First connect the two positive terminals (1) with (2). Then connect the negative terminal of the assisting vehicle (3) with (4), the blank metallic point on the vehicle requiring assistance, away from the battery. (Observe the instructions of the vehicle manufacturer.)
– Now start the vehicle needing assistance for a maximum of 15 seconds. Do not start the assisting vehicle.
– When disconnecting the terminals, remove the cables in the reverse sequence to the above.
PDF The Banner Accucharger ensures constant full power.
This is an intelligent charging device that employs the latest microprocessor technology with a multistage program for the best possible battery charging, maximum safety and the simplest operation. The Accucharger is ideal for charge retention in cars/convertibles and motorcycle batteries during the winter months.
PDF Even if your car has given up the ghost, a Banner Booster is certain to help.
What can one do when everything is dead? Banner Boosters supply mobile power at any time and anywhere. These portable starting devices are constantly ready for quick and uncomplicated operation. They are ideal for transportation in the boot and also offer versatility in the leisure area, as an energy source for coolers, televisions and other electrical equipment.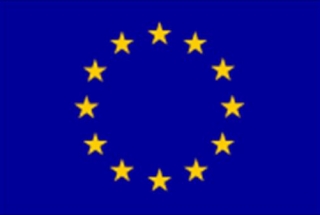 What is REACH?
The REACH-Regulation.
The word "REACH" is the abbreviation for Registration, Evaluation and Authorisation of Chemicals.
The REACH-Regulation is an EU Chemicals Regulation (1907 /2006/EC) and describes the setting up and updating of safety data sheets for substances and mixtures.

Please note: For articles – like lead batteries – according to european chemicals law REACH-Regulation safety data sheets are not required!
The transfer of a leaflet with "instructions for the safe handling of batteries" has to be interpreted simply as a product information. The following of the format of a REACH safety data sheet with the respective information is useful from a product- and working safety's view but should not be confused with the (legal) requirements of a REACH safety data sheet.
This leaflet addresses users of batteries and is meant to apply voluntarily. The notes are meant to help to comply with legal requirements but do not replace them.
PDF Banner Safety Daty Sheet
PS: This safety data sheet is online, for every type of battery without exception, integrated in the downloads.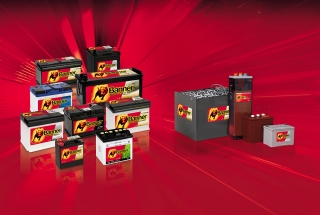 The austrian brand battery.
Power to the world.
Banner is one of the largest battery manufacturers in Europe and produces starter batteries, which constantly meet the highest technical demands of current vehicles, industrial batteries (traction - device - stationary batteries), wheel weights and a tailor-made programme of accessories.

PDF Banner product family starter and industrial batteries (traction - device - stationary batteries)
NEW! The complete Banner catalogue.
BOOK OF POWER - new issue now available.
With over 200 pages containing a wealth of information concerning:

- The Banner brand.
- Concentrated product data on the complete range of starter batteries, industrial batteries (traction-device-stationary), battery accessories and wheel weights.
- Clearly designed battery type lists.
- Up-to-date battery classifications for cars/vans/pickups, the entire commercial vehicle range, motorcycles, lawn tractors and much more besides.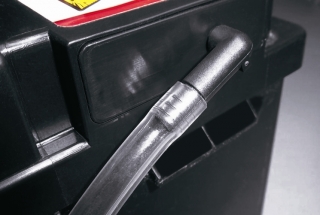 TOP FAQ 2
Can I change the degassing side of a Banner battery?
Yes, in the case of many battery types.
The Power Bull Europa types (total heights 175 or 190 mm), as well as the Running Bull AGM and EFB batteries have an opening for the central degassing connection in the battery lid, which is either on the left-hand side (-terminal side in batteries with connection 0) or on the right (+terminal side in batteries with connection 0).
If in your case, the side of the degassing opening is unsuitable, the white plug can be removed, but must then be reinserted on the other side in the degasification duct (in order to prevent the escape of oxyhydrogen gas).
In order to remove the plug, please use a wood screw with a diameter of approx. 5 mm. There is no need for concern, as the plug cannot be pushed into the battery.
P.S. The Starting Bull Europa types (total heights 175 or 190 mm) have an opening for the central degassing connection on the right-hand side (+terminal side in batteries with connection 0, -terminal side with connection 1). Please note that no change of degassing side is possible.

The current installation situation in brief:
For all the batteries in the latest BMW and Mercedes-Benz vehicles, degassing is on the + terminal side and therefore on the right in the case of batteries with connection 0.
In currently manufactured VW Group vehicles all batteries are degassed on the - terminal side and therefore on the left in the case of batteries with connection 0.

PDF GB instructions for starter batteries will follow shortly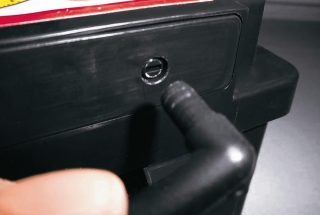 TOP FAQ 1
When installing a Banner battery in the interior/passenger compartment must I use a degassing hose?
Yes, always!
We prescribe the obligatory employment of a degassing hose (Part Number 1030001700 with a hose length of 90 cm including an elbow) when installing all types of lead-acid battery in the interior/passenger compartment.
Some vehicles are equipped with a degassing hose with an angled elbow to drain off the battery gases. If this applies to a vehicle, the hose must be inserted into the appropriate vent opening of the battery via the elbow. If a degassing opening is present on the other side, it must be closed with a closing plug!
In case of replacement of closing plugs/stoppers for battery degassing or degassing hose, please contact your Banner sales partner/sales consultant.
For your own safety, please constantly employ protective eyewear when handling lead-acid batteries.
PDF GB instructions for starter batteries will follow shortly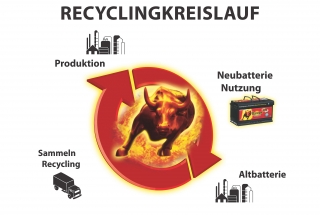 With its pioneering recycling loop, Banner is fully focused on the mobility of tomorrow.
- Banner guarantees a closed recycling loop from production to re-processing
- Lead-acid batteries demonstrate a higher recycling capacity than glass and paper
- Banner invests some EUR 2 million annually in environmental protection
- Banner start-stop batteries are making a major contribution to fuel savings
- Banner is facing the challenges posed by the mobility of tomorrow
- Having spent over EUR 50 million at the Leonding location since 2011, Banner is currently continuing to pursue its ambitious Investment programme with a further EUR 15 million
Banner's responsible business approach is clearly demonstrated by its EFB* and AGM** technologies, which are employed in conjunction with so-called micro-hybrid systems and straightforward start-stop applications. Moreover, a ground-breaking recycling loop, which facilitates the reemployment of every used battery, constitutes a benchmark with regard to resource protection and sustainability. Start-stop batteries make a decisive contribution to the environmental
compatibility of motor vehicles. In the 2016/17 financial year alone, they provided fuel savings of around 66 million litres and a reduction in CO2 emissions of some 164,000 t.
* EFB = Enhanced Flooded Battery, the cycle resistant starter battery.
** AGM = Absorbent Glass Mat, which absorbs the battery acid and thus binds it in.
Further information see pdf-documents.
PDF MediaInfo
PDF Banner starter batteries for start-stop vehicles

PDF Banner production *

PDF The Banner battery recycling loop

PDF Andreas Bawart, the Banner GmbH Commercial CEO *

*Pictures 2 and 4: © Andreas Wenter/ Permanent Moment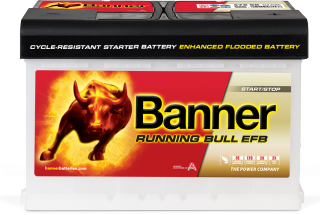 BMW OEM Supplier
Banner intensifies its teamwork with premium class car.
- EFB batteries as a cost-effective alternative to AGM technology.
- Lead-acid batteries offer a high degree of recyclability.
From 2018 onwards, Banner will not only continue to supply the BMW Group with AGM batteries*, but also its EFB range**. As Banner Commercial CEO, Andreas Bawart, explains: "Deliveries are to be made to a total of four BMW Group locations in Europe and in view of our technical innovations, we are making a significant contribution to a reduction in the CO2 emissions from modern vehicles. Moreover, many of our OEM customers have recently switched to EFB batteries as a cost-effective alternative to the AGM versions."
* AGM = Absorbent Glass Mat, which absorbs the battery acid and thus binds it in.
** EFB = Enhanced Flooded Battery, the cycle resistant starter battery.
Picture text: The Banner Running Bull EFB for start-stop vehicles without energy recuperation, which is now also being used for the first time in cars with energy recuperation.
Further information see pdf-document.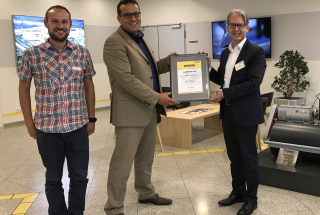 TOP OE Supplier
BOMAG Supplier Award.
Banner got the award, for the third time (AAA)!
BOMAG, manufacturer of compaction machines, uses extremely cycle and vibration resistant EFB- and AGM-Batteries made by Banner. BOMAG Compaction Machines are used from garden and landscape construction to road construction and dam engineering.
Референции за Bull Power
Нашите клиенти за оригинално оборудване, Вашето доверие.
(Оригинално оборудване)