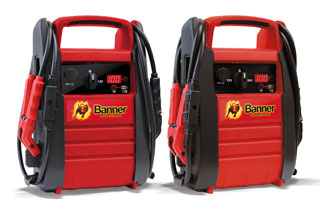 New Banner Power Boosters
Banner has enlarged its booster range with the new PB12 and PB12/24 models.
These modern devices in Banner design are fitted with a high-performance 23 Ah AGM battery and are suitable for every type of vehicle. Moreover, maximum power and new functions provide a wealth of advantages.
As Andreas Bawart, the Banner Commercial CEO, explains, "The new PB12 and PB12/24 Power Boosters combine optimum performance with proven technology and offer improved and new functions in Banner design." With these additions to its booster range, which are immediately available, Austria's largest battery manufacturer has launched new devices onto the market that employ a high-performance absorbent glass mat (AGM) battery and are suitable for any type of vehicle.
Buffalo power that is tangible in seconds
For many years, Banner has been supplying professional chargers, testing devices and boosters based on its precise knowledge of the demands and needs of starter batteries, which emanates from its manufacturing experience. This extensive range has now been supplemented with the PB12 und PB12/24 Power Boosters, which assist starting in extreme temperatures and beef up vehicles with buffalo power in seconds.
A full range of features
A12 Volt DC output facilitates battery charging from external sources, while an additional 2.1. A USB outlet can accommodate tablets smartphones and much more besides. The solid housing is suitable for demanding outdoor use and reverse polarity protection with an acoustic warning guarantees simple and safe handling. An on/off switch prevents both short circuits in the terminals and battery discharge, while an LED light on the tip of the negative, curved terminal makes working in the dark easier. In addition, a robust, flexible and long cable also serves to make things simpler. A large LCD display shows test functions such as the voltage of the vehicle and booster batteries in both volts and percentages.
For further information
see press release
PDF The new Banner PB12 and PB12/24 boosters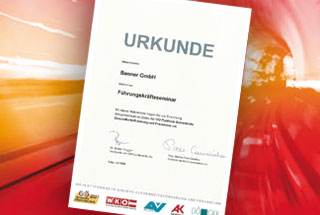 Award for Banner
The AUVA awarded us for the execution of the management seminar!
As a cooperation partner of the "Upper Austrian Platform for Workplace Health Promotion and Prevention", AUVA distinguished us.
We received the AUVA (allgemeine Unfallversicherungsanstalt/general accident insurance institution) award for conducting the management seminar.
With this sustainably effective measure, we contribute to the promotion of the health and safety of our employees.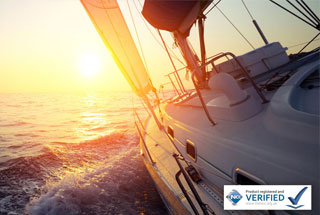 Battery tip: Professional handling of boat batteries
Checking, charging and storing
Our 5 tips help you learn everything you need to know about handling boat batteries.
Tip 1: Installation
Conventional wet batteries should, if possible, be installed in the boat along the longitudinal axis - this ensures greater leakage protection in extreme inclined positions.
Tip 2: Degassing
We prescribe the use of a degassing hose for all lead-acid batteries, which are installed in the interior/passenger compartment, mandatory. Some boat batteries are provided with a hose with attached elbow, for the discharge of the battery gases. If this applies to a boat, the hose must be inserted into the corresponding degassing opening of the battery via the elbow. If there is a degassing opening on the other side, it must be closed with a plug!
Tip 3: Charging
Ensure that the battery is sufficiently charged.
The next two points apply to conventional wet batteries.
- Before charging, check the electrolyte level and, if necessary, fill up desalinated or distilled water to the maximum acid level or 15 mm above the upper edge of the plate.
- The screw connections of the battery must not remain open during charging, it is best to close them again.
Attention: AGM batteries must not be opened! Refilling with distilled water is not possible or necessary.
- Observe the charging characteristics.
- Charging current should be 10% of the capacity.
- Charging voltage (at +25° C): AGM 14.40V - 14.80V constant voltage; conventional 14.4V - max. 16V
- Charging time approx. 12 - 24 hours
For AGM- and GEL-batteries please use a voltage regulated charger e.g. Banner Acchucharger (max. 14,80V)!
Fully automatic chargers with charging voltage limitation up to 14.8V are ideal for use with boat batteries. Depending on the capacity of the battery used, we recommend the following chargers:
- Batteries up to 72 Ah - Banner Accucharger 12V 3A
- Batteries up to 130 Ah - Banner Accucharger 12V 6A Recovery
- Batteries up to 230 Ah - Banner Accucharger 12V 10A Recovery
If your charger has an automatic mode with voltages >14.8V, the battery must be disconnected from the on-board electronics or removed from the boat. Please also observe the operating instructions of the boat manufacturer.
Tip 4: Wintering
If the battery remains installed during unused periods, you should disconnect at least one connecting cable (minus). The battery should always be kept charged, especially before and during the winter. Check the open-circuit voltage at regular intervals. Our battery tester BBT Digital Voltmeter DV1 is suitable for this purpose.
Recharge at 12.50V at the latest!
Tip 5: Storing
Store boat batteries in a cool (0° to 25° C) and dry place. Do not expose to direct sunlight. Ensure that the battery surface and terminals are clean.
If you follow these tips, a successful boating season is guaranteed!
New Büffelpost online.
The Banner customer magazine with the latest news!
With start-stop-batteries on the fast lane.
In the new issue of our customer magazine "Büffelpost" you will find exciting articles about the following topics:
- FIT FOR THE FUTURE
Start-stop batteries are forging ahead
- QUALITY DRIVE
Banner looks to shift up a gear
- FLEXIBILITY
Punctual delivery despite brexit & Co.
Read the customer magazine online now!