Banner
WIADOMOŚCI i PRASA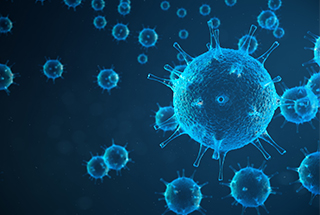 COVID-19
Measures relating to COVID-19
CUSTOMERINFO
The effects of the coronavirus can be felt in all sectors of the Austrian economy. Banner is putting special emphasis on complying with health, safety and environmental guidelines.
Here
you can find further information on our measures in relation to COVID-19.
As a result, guiding measures on the status quo are being taken with regard to the coronavirus outbreak.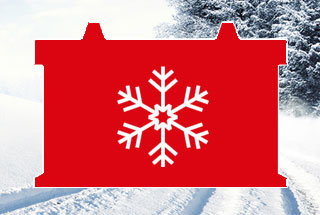 Seven tips for extended battery life
Full power for longer and no starting problems in winter!
How to get even better performance from your Banner battery.
1. Keep it active and on the move.
Inactive batteries start to discharge in a process during which lead sulphate forms of the battery plates and obstructs the current flow. A device like the Banner Accucharger keeps the battery in shape and prevents sulphation.
2. Keep it clean.
Ensure that the surface of the battery is clean and dry using an antistatic cloth. Moisture in the engine compartment causes current creepage, which consumes energy. In addition, do not use any so-called improvement agents.
3. Keep it safe in winter.
Battery starting performance declines in cold weather. Therefore, in order to have sufficient power, switch off additional consumers such as blowers and the heating until the engine is running. Moreover, turn them off before shutting down the engine.
4. Keep it running marathons.
During short trips cars often require more energy than the dynamo can generate and recharge, which means that the battery is subject to constant discharging. Therefore, if possible take the car out for longer runs in order to charge up the battery, or even better treat your battery to an external compensatory charge using a Banner Accucharger. The environment will be most grateful.
5. Keep it fit for winter with an extra charge.
Frequent short trips in combination with stop and start traffic reduce the energy level of the battery during every start and drive. Give your battery an extra portion of power with external charging, especially before the first cold winter weather arrives.
6. Keep your convertible in trim during hibernation.
Are you mothballing your car for the winter? If so and the battery is to stay in the vehicle, then remove the negative terminal. The battery must remain dry and cool (but frost-free). Recharge at the latest when an open-circuit voltage of 12.5V is reached. The solution for these requirements of seasonally driven cars is provided by regular compensatory charges and charge retention using a Banner Accucharger.
7. Keep a Banner booster close at hand.
One thing should be noted from the outset. Namely, that in view of the sensitive electronic components in the vehicle, as a rule starting assistance should only be given by means of a Banner Booster. This is because start assistance from vehicle to vehicle can lead to voltage peaks during the disconnection of the terminals, which can damage or even destroy car electronic systems.
Get through the winter safely and well!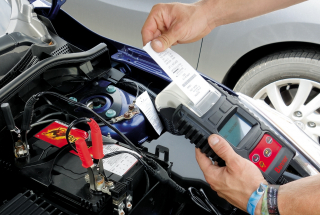 The Banner Heavy Duty Tester offers quick and reliable battery checks
Battery testing with buffalo power is as easy as pie!
Winter is just around the corner and along with it that feeling of uncertainty as to whether or not the vehicle can be depended upon to start.
Therefore, it is essential to have a fit battery that one can rely on even in low temperatures and a battery check at the beginning of the cold season should be just as much a matter of course as the switch to winter tyres, which is vital in some climates. Accordingly, with its Heavy Duty BBT HD1, Banner offers a perfect device for the measurement of motorcycle, car and truck batteries. This innovative tester, which is particularly easy on the batteries, is ideally suited to intensive garage demands.

Leonding, 5 November 2019. Using the Heavy Duty BBT HD1, the charging status, voltage and many other features can be tested without unnecessarily burdening the battery. For many years, Banner has been supplying professional testing devices that are based on its precise knowledge of the demands and needs of starter batteries, which emanates from its extensive experience as a manufacturer. As Andreas Bawart, the Banner Commercial CEO, explains, "With the Heavy Duty BBT HD1 we have added a light and safe to operate tester to our range that provides quick and reliable checking of motorcycle, car and truck batteries. The device is ideal for 6V and 12V standard, start/stop and truck batteries."
For further information see press release
PDF1 The Banner Heavy Duty BBT HD1 battery tester

Photo credit: Banner GmbH, reprints free of charge. Specimen copy requested.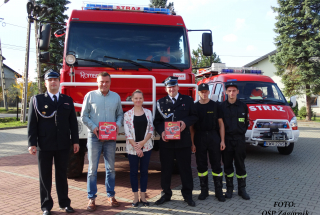 Podarunek dla Ochotniczej Straży Pożarnej w Zagórniku
16. października 2019 roku
Ekipa Banner Polska odwiedziła strażaków z OSP Zagórnik
Nasz Dyrektor Sprzedaży Dariusz Panchyrz oraz Kierowniczka Biura Dominika Sprawka-Rojek udali się z wizytą do OSP Zagórnik. Chcąc choć w małym stopniu przysłużyc się tym dzielnym strażakom, podarowaliśmy im dwie ładowarki marki Banner: Accucharger 10A Recovery oraz Accucharger 10/24. Jesteśmy przekonani, że nasze prostowniki zdadzą egzamin i pomogą utrzymać strażacki sprzęt w dobrej kondycji, na długie lata.